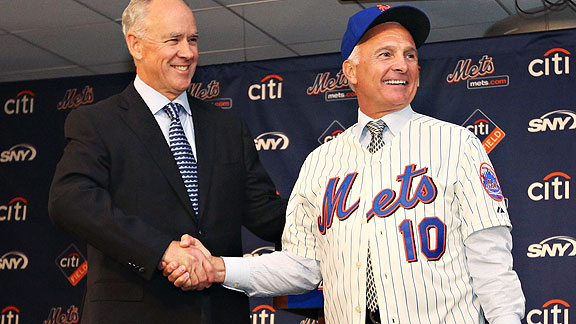 Chris McGrath/Getty Images
Terry Collins is introduced as manager. No. 10 is a tribute to Jim Leyland.
Terry Collins said he intends to wear No. 10 as a tribute to Detroit Tigers manager Jim Leyland.
"He gave me my shot to get to the big leagues," Collins said, referring to their days with the Pirates. "And he's a great friend. So I wanted to wear it for him.
"Plus, my wife thinks I'm a 10. ... That's a joke."
Other No. 10's in Mets history:
Rod Kanehl (1962-1964)
Kevin Collins (1965)
Greg Goossen (1966-1968)
Mike Jorgensen (1968)
Duffy Dyer (1969-1974)
Rusty Staub (1975, 1981-1985)
Ken Henderson (1978)
Kelvin Chapman (1979)
Dave Magadan (1990-1991)
Jeff Torborg (1992-1993)
Butch Huskey (1993)
David Segui (1994)
Tom McGraw (1995-1996)
Gary Thurman (1997)
Kevin Morgan (1997)
Roberto Petagine (1997)
Rey Ordonez (1998-2002)
Rey Sanchez (2003)
Joe Depastino (2003)
Jeff Duncan (2004)
Brian Buchanan (2004)
Joe Hietpas (2004)
Shinjo Takatsu (2005)
Endy Chavez (2006-2008)
Gary Sheffield (2009)