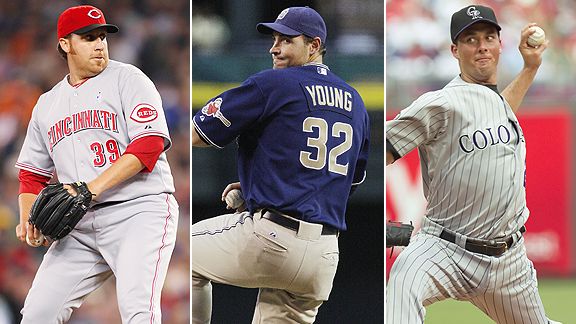 Getty Images, AP Photo, Icon SMI
The Mets need at least one starting pitcher from outside the organization. The free agents include Aaron Harang, Chris Young and Jeff Francis.
With the Mets now acknowledging Johan Santana will not be available at the start of the season, the Mets clearly need to add at least one established starting pitcher from outside the organization, even if Dillon Gee joins Mike Pelfrey, Jon Niese and R.A. Dickey in the rotation.
Here is the list of available free-agent starters, sorted by their 2010 salaries. Remember, Sandy Alderson has indicated the Mets will not be aggressive free-agent bidders, so skip past Cliff Lee, and perhaps some of the other higher-end names.
Jeremy Bonderman, 28, Detroit, $12.5 million
Aaron Harang, 32, Cincinnati, $12.5 million
Kevin Millwood, 35, Baltimore, $12 million
Andy Pettitte, 38, NY Yankees, $11.75 million
Javier Vazquez, 34, NY Yankees, $11.5 million
Ben Sheets, 32, Oakland, $10 million
Brandon Webb, 31, Arizona, $8.5 million
Cliff Lee, 32, Texas, $8 million
Carl Pavano, 34, Minnesota, $7 million
Chris Young, 31, San Diego, $6.25 million
Brad Penny, 32, St. Louis, $6 million
Jeff Francis, 29, Colorado, $5.75 million
Jorge De La Rosa, 29, Colorado, $5.6 million
Jon Garland, 31, San Diego, $4.7 million
Doug Davis, 35, Milwaukee, $4.25 million
Dave Bush, 31, Milwaukee, $4.215 million
Vicente Padilla, 33, LA Dodgers, $4.025 million
Kevin Correia, 30, San Diego, $3.6 million
Justin Duchscherer, 33, Oakland, $1.75 million
Erik Bedard, 31, Seattle, $1.5 million
Freddy Garcia, 34, Chicago Sox, $1 million
Kris Benson, 36, Arizona, $650,000
Bruce Chen, 33, Kansas City, $650,000
Rodrigo Lopez, 34, Arizona, $650,000
Mike Hampton, 38, Arizona, $400,000
Jeff Suppan, 35, St. Louis, $400,000
Meanwhile, remember, that a wave of less-heralded -- and less expensive -- pitchers hits the market on Dec. 2, at the nontender deadline. Basically, those pitchers have between three and six years of major league service time, making them arbitation-eligible, and their clubs do not want to pay those salaries and cut them loose. That's the expected fate of John Maine, who is arbitration-eligible and made $3.2 million this year.
You can follow ESPN's free agent tracker here.