Here is a look at the week ahead for the Mets: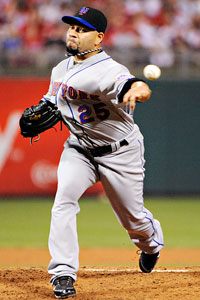 Howard Smith/US Presswire
Pedro Feliciano must decide by Tuesday whether to accept the Mets' arbitration offer, which could net him a one-year deal worth $4 million.
Tuesday: The deadline for Pedro Feliciano to accept or reject the Mets' arbitration offer. Agent Melvin Roman told Newsday the durable left-handed reliever is considering accepting, but that may be mostly designed to entice other teams to put in bids. If Feliciano accepts, he returns on a one-year deal. An arbitrator could award him as much as $4 million if Feliciano accepts and the team and Roman cannot agree on a number before the hearing.
But how bad would the market have to be for Feliciano to accept? If there's likely to be even a two-year, $7 million deal out there at some point this offseason, the extra guaranteed year is probably worth making an average salary of $3.5 million a year over the potential to earn $4 million in one year with the Mets.
If Feliciano declines, it does not preclude the Mets from re-signing him this offseason, which differentiates this from the situation with Hisanori Takahashi, who is definitely headed elsewhere. By offering Feliciano arbitration, the Mets will pick up a supplemental draft pick between the first and second rounds if Feliciano ultimately signs elsewhere.
The problem is that if Feliciano does go elsewhere, the Mets must bring in a couple of left-handed relievers anyway. That's because Pat Misch is probably the best major league-ready bullpen option from the left side right now, with prospect Eric Niesen (4-6, 5.14 ERA at Double-A Binghamton last season) probably needing to develop more consistency in the minors after walking 60 batters and hitting 10 batters in 77 innings with the B-Mets.
The Mets' bullpen in general needs an overhaul, with not much to count on besides Francisco Rodriguez and Bobby Parnell.
You can view the list of available relievers on ESPN's Free Agent Tracker here.
Thursday: Two days after Feliciano's decision is the nontender deadline. That's when teams cut loose some arbitration-eligible players (who have between three and six years of major league service time).
Since an arbitration-eligible player needs to make at least 80 percent of his previous year's salary -- and players rarely receive salary cuts in the arbitration process -- the Mets have to cut loose John Maine by Thursday.
Maine made $3.3 million last season, so even the lowball 80 percent figure -- $2.64 million -- is too much to guarantee.
Maine has indicated he is recovering well from July 24 shoulder surgery performed in Philadelphia by Dr. Michael Ciocotti, who is not affiliated with the Mets, to repair a tear in the capsule.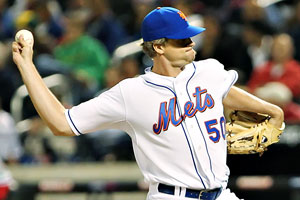 Anthony Gruppuso/US Presswire
John Maine's days as a Met appear numbered. Sean Green (above) is a more difficult decision.
The more interesting decision will come with right-handed reliever Sean Green. The lone remaining piece from the three-team, 12-player trade that also brought in J.J. Putz and Jeremy Reed on Dec. 11, 2008, the Mets made Green a Chad Bradford-style dropdown reliever last spring training. Green believes the unfamiliar delivery of the submarine motion caused the stress fracture in a rib that landed him on the disabled list into August after one April appearance.
Under the old regime, Green -- who has returned to his customary three-quarters arm slot -- appeared headed out. But given the fact that he made $975,000 last season, and with the lack of bullpen arms under control, perhaps the new front office will make a different evaluation.
It's unlikely Green would warrant a raise. So if evaluators do not like what they see in spring training, they could just cut him a check for 30 days' pay in March -- roughly $160,000 -- and bid farewell then.
Next week: The winter meetings will be held Dec. 6-9 at Disney's Dolphin & Swan hotels.