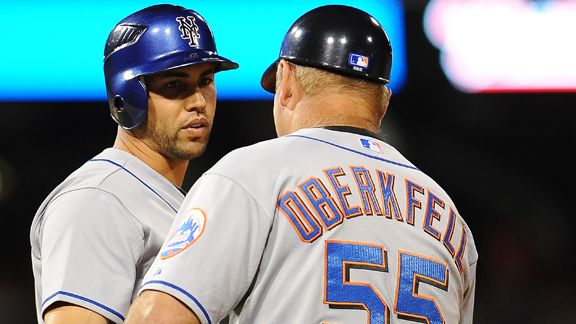 Duncan Williams/Icon SMI
Ken Oberkfell, the Mets' longtime Triple-A manager, who led Escogido to last year's Carribean Series title, is expected to be named Mets bench coach.
Ken Oberkfell doesn't hide the fact that he wants to manage in the big leagues one day. For now he's waiting to be named the Mets bench coach on Terry Collins' staff.
"Waiting to hear," said Oberkfell of the organization's announcement. "I'm pretty sure it's going to happen but until they say something officially, I don't know."
He was one of the 10 candidates interviewed for the manager's position that became available once the Mets decided not to bring back Jerry Manuel.
"Well, you always want to get to the big leagues," Oberkfell said this week in the Dominican Republic. "Any opportunity you have to be on a major league staff is great. It was a great experience doing the interview for them. It's good experience. I am excited and hopefully everything works out."
Oberkfell became manager of the Mets Triple-A farm club when it was located in Norfolk, Va., and has held that role through stops in New Orleans and Buffalo, except for serving as Mets first base coach during the second half of the 2007 season after Willie Randolph and coaches were fired.
Former Met Tim Teufel managed Double-A Binghamton last year and is expected to head to Triple-A to lead the Bisons next year.
Oberkfell led the Escogido Lions to the Caribbean Series title last year and enjoyed his time so much, he returned for his second season of winter ball this season.
"It was awesome," he said. "It was great. Last year and this year have been a lot of fun. It's something I will always remember. It's great experience and I've enjoyed every minute of it. We, as baseball or as professional athletes, you go in there wanting to win. That's what you are there for -- to win. For us to do that last year was pretty awesome. I guess they hadn't done it here in a while in Escogido. That made it even extra special. For me being in my first time being in the Dominican as far as managing winter ball, it was pretty fun."
Among one of the things that he's learned has been how to manage his pitching staff, since in the Dominican Winter League you can change rosters on a daily basis.
"What I've learned in the two years I have been here is really how to handle a bullpen," Oberkfell said. "You've got s lot of pitchers every day. You can change every day. The game is pretty quick as far as getting guys up and down. My big learning experience has been pitching, and I think it's a big plus."