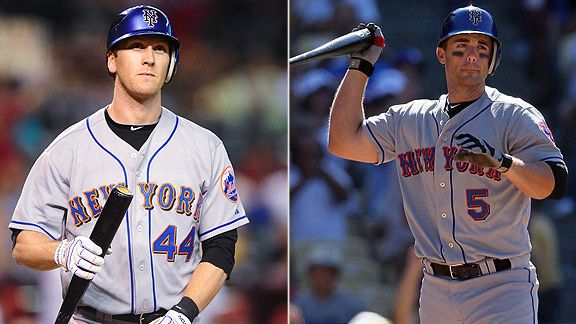 Getty Images/US Presswire
Jason Bay and David Wright are among those who will look to new hitting coach Dave Hudgens to help fix what ailed them in 2011.
New Mets hitting coach Dave Hudgens has a couple of months to get familiar with his new students before spring training begins in February.
This is a group that should be eager for his assistance, considering that much of a roster that ranked 14th in the National League in runs scored and 13th in on-base percentage will return next season.
Most of the Baseball Tonight analysts I've talked to say the role of the hitting coach is not to make major adjustments, but instead to watch the player and make sure he's sticking with what works best for him.
Hudgens happens to be not just a hitting coach, but a blogger, writing for SwingAwayBlog.com. He's shared his philosophies on a wide range of hitting-related subjects, some of which could be applicable to members of the current team.
With that in mind, here are three items that Hudgens may want to put on his to-do list for 2011:
Get Jose Reyes back to thinking about walks
Jose Reyes is probably going to be eyeballed more closely by management than any player on the Mets roster. There are some things Reyes did in 2010 that we get the feeling this new regime isn't going to like very much. It's on him now to change them, with a little help.
It took the Mets a couple of years to convince Reyes there was nothing wrong with taking an occasional walk. But Reyes reverted back to some of the bad habits from earlier in his career in 2010, swinging at 27 percent of the pitches out of the strike zone, an increase from 21 percent in 2008.
In 2007 and 2008, Reyes drew unintentional walks in 8.1 percent of his plate appearances. In 2010, that shrunk to 4.5 percent. Over the course of a 600-plate appearance season, that represents 17 fewer walks.
Think of the damage Reyes could do if he were on base 17 more times.
The get-on-base mindset would be even more beneficial when leading off an inning. Reyes' on-base percentage in such situations last year was .321, a major drop from his best work (.372 in 2006, .363 in 2008). From 2006 to 2008, Reyes walked seven percent of the time when he led off an inning. His 2010 rate was about half that. That's an extra eight to 10 times on base per year.
What is the value of Reyes reaching base when leading off an inning? Consider this stat from Bill James Online: Last season, the Mets scored 87 runs in the 83 innings in which Reyes led off by getting on base (1.05 per inning). In the 163 innings he didn't reach, the Mets scored 35 runs (.21 per inning)
Hudgens likely approach:"The walk is a by-product of having a good strike zone and not giving in to the pitcher by swinging at his pitch. … Hitters that consistently swing and make outs early in the count are actually fearful hitters. They fear striking out. They'll hit the first thing close that they see. Contrast this to the confident hitters who do not fear getting deep in the count and making the pitcher work. This philosophy gives you the best of both worlds, that is, if you're disciplined enough and mentally tough enough to use it."
-- Hudgens, Hitting Philosophy: Aggressive under control
Get David Wright back to being a feared two-strike hitter
We've reviewed the numbers related to Wright in this space numerous times, but let's restate them here.
From 2005 to 2008, Wright ranked seventh in the majors in two-strike slugging percentage, putting him in the same company with Albert Pujols, Barry Bonds and Chipper Jones. Over the next two seasons, Wright's plummet was significant. From 2009 to 2010, he ranked 146th.
David Wright
MLB Ranks as 2-Strike Hitter
For those who blame this issue on Citi Field, that's misguided. Here are Wright's 2010 two-strike slashlines by location.
Home: .217 BA/.323 OBP/.377 Slug Pct
Road: .159 BA/.205 OBP/.265 Slug Pct
Wright's two-strike OPS at home is down 135 points from what it was in 2008 (from .835 to .700). His road OPS has sunk 261 points (from .731 to .470), largely due to his significantly larger strikeout rate on the road.
As for pitch-type issues, he's had a lot of problems with the slow stuff (breaking balls and changeups). Against those pitch types, Wright had an .888 two-strike OPS in 2008 and that's dipped to .469 in 2010. Most surprising was a huge performance drop against two-strike slow stuff from lefties -- from a 1.329 OPS in 2008 to .583 in 2010.
We've taken educated guesses in this space before related to these woes, but let's leave the fresh analysis to Hudgens. The data makes it clear something is amiss.
Hudgens likely approach: We feel good about Hudgens being able to figure out what ails Wright. Among the titles of his blog posts –- "Seeing the Ball Properly," "The Right Approach," "Timing Breakdown," "How To Hit Offspeed Pitches," "Playing in Pressure Situations," and "Fear of the Ball."
"Different folks do it different ways. Most pick up seam/spin pattern as an early warning sign to react to. But it demands an early and clean visual pickup. I believe that in a clean early visual pickup and good followup, you're focused so well on the ball that you don't sense the background, and all you see is ball. But if the pickup, etc., aren't right, you're forced to separate the ball from the background, you see it all, so the ball looks smaller.
-- Hudgens, Seeing the Ball Properly
Make Jason Bay a Road Warrior
It was known that Jason Bay's numbers were going to drop making the transition from Fenway Park in 2009 to Citi Field in 2010. What wasn't expected was how much he'd struggle hitting in the other NL ballparks.
Jason Bay
On Road, Last 3 Seasons
Playing on the road for the Pirates from 2004 to 2008, Bay had a .279 batting average, .531 slugging percentage, and averaged a home run every 16.2 at-bats.
In his first year with the Mets, Bay hit .243, with a .354 slugging percentage and a home run every 63 road at-bats. If he'd homered at his 2004 to 2008 road rate, he should have had 12 home runs at the time of his injury. He had three.
Bay did something in road games that was causing him to drive the ball less frequently than usual. Inside Edge's video review team has done distance estimations for every ball put in play the last three seasons. As you can see from the accompanying chart, there's definitely an issue.
What did Bay do to cause this? We'll leave that to Hudgens to figure out. He's the expert. We're just here to show him a target for improvement.
Hudgens likely approach: "If you make contact at extension there will be a loss of power. There are many coaches that teach contact is made at extension. However video has disproven that statement. Making contact just before extension allows the hitter the ability to hit through the ball."-- Hudgens, Extension