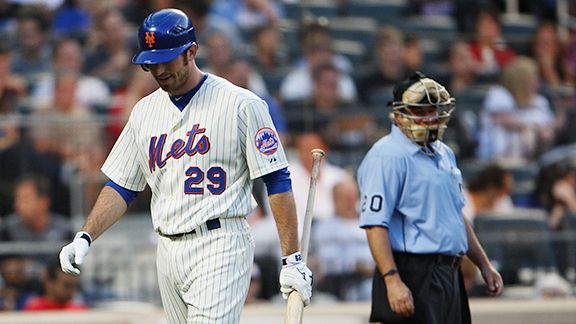 Andrew Burton/Getty Images
The Mets should resolve not to take too many walks to the dugout with their heads down in 2011
With the calendar turning tomorrow, and New Year's Resolutions always in vogue, I thought I would take a look at some Mets-themed resolutions for 2010.
But in the spirit of doing things a little differently, I decided to tie each resolution to some statistical analysis. Consider this the companion piece to one we did a couple weeks ago, timed to Dave Hudgens hiring as hitting coach.
The folks at Inside Edge, a Minnesota-based track every pitch in the major leagues, visually recording data related to performance by pitch type. Their clients include ESPN, as well as a number of major league teams (if you look closely, you can see their binders in team dugouts on some TV camera shots).
One of their tools allows us to look at a player's year-to-year performance and find the areas in which they've struggled most.
So I've done that for some Mets, looking back to 2010 and ahead to 2011. In the case of players who didn't have multiple years of experience (IE: Ike Davis), I picked from the areas in which their performance differed from the league average by the largest amount.
Jason Bay
Resolution: I will see the low fastball better than I did
Bay had a lot of difficulties adjusting to Citi Field in 2010 and it got him out of sync in certain areas. One was that he had an extraordinary amount of trouble making contact against fastballs thrown in the lower-third of the strike zone and below.
Inside Edge had him missing on 33 percent of such swings, up from 16 percent in 2008, 23 percent in 2009, and more than double the major league average, 15 percent. When Bay was able to make contact on such pitches, he did fine (a .380 batting average when he made contact), but he missed on enough swings to limit his effectiveness
Carlos Beltran
Resolution: I will get back my two-strike mojo
Carlos Beltran 2-Strike HR
With Mets
David Wright wasn't the only hitter who had issues in two-strike counts last season. Beltran's slashline with two strikes - .134/.165/.241 – was the worst of his career. His production, power-wise, was about half of what it should have been, based on his career totals. Over the previous four years, he averaged a home run every 29 two-strike plate appearances. In 2010, he had none in 112 turns.
Luis Castillo
Resolution: I will do something (anything) with inside fastballs
The biggest difference statistically for Castillo from 2009 to 2010 was that last season, he literally couldn't do anything with a fastball that jammed him. He hit .169 against fastballs in, nearly 100 points below a typical big leaguer. Inside Edge charts hits per swing and calculated that Castillo got hits on 18 percent of his swings versus inside fastballs in 2007. Last season, that dropped to nine percent.
Ike Davis
Resolution: I will not be fooled as much by the breaking ball
Davis missed 42 percent of the breaking balls he swung at, a rate 12 percent higher than the major league average. Not surprisingly, his big issue was with the sweeping breaking ball from a lefty. He missed on 48 percent of those swings.
When Davis made contact with a hanger, he made pitchers pay. When Davis made contact with a breaking ball from a lefty he got a hit 48 percent of the time (12 hits, 25 balls in play), though that would seem to be a tough rate to sustain (the big league average is 32 percent).
Davis struggled against breaking balls from a right-hander too. He had 40 strikeouts and only 13 hits against breaking balls from right-handers. That 3-to-1 strikeouts-to-hit ratio is about double that of an average lefty hitter.
Angel Pagan
Resolution: I will turn on inside fastballs
In making the transition from fourth outfielder to everyday player, Pagan eventually got exposed in an area similar to Castillo. He hit just .229 against inside fastballs, a 132-point decline from 2009, and rarely hit those balls hard. His well-hit average, .115, was well below the .193 of an average major leaguer.
Jose Reyes
Resolution: I will get back to driving the eye-high fastball
Jose Reyes When Making Contact
vs High Fastballs, 2010 Season,
Remember when Reyes could crush a high fastball? He didn't do that with any sort of regularity in 2010. His slugging percentage against high fastballs was considerably lower both than league average and from what Reyes had done previously.
Reyes also had an unusual amount of trouble putting curves and sliders into play, particularly from right-handed pitchers. That was something he did on 43 to 50 percent of his swings from 2007 to 2009, but only managed 32 percent of the time in 2010.
Josh Thole
Resolution: I will hit the slow stuff
The same notes we made for Davis, we could make for Thole. The rookie catcher showed he could hit the fastball, as most major leaguers can, but his numbers against everything slow (curves, sliders, changeups), were below-average. Thole's OPS against non-fastballs was .363. For everyone in the sport, it was .625.
David Wright
Resolution: I will not be overeager against the changeup
We've been through this one a bunch of times. Statistically speaking, the biggest drop-off performance wise for Wright was against changeups. Over a three year period Wright's miss rate on changeup swings has doubled from 18 percent to 36 percent, and the rate at which he put changeups into play sunk from just over half of the time to one-third. To borrow a line we used before: that's how an A-level hitter has a B+ season.