Right-hander Brad Holt does not sugarcoat his 2010 regular-season control issues.
"I had a few games where I was throwing some to the backstop," said Holt, the 33rd overall pick in the 2008 draft, when the Mets had three first-round selections, including supplemental picks, and also selected Ike Davis (18th overall) and infielder Reese Havens (22nd).
The 24-year-old Holt, a product of UNC Wilmington, opened last season at Double-A Binghamton, where he stumbled to a 1-5 record and 10.20 ERA in 10 appearances (nine starts). He was demoted to Class A St. Lucie, where he then went 2-9 with a 7.48 ERA. Between the two stops, he walked 79 batters and hit 17 in 95 innings.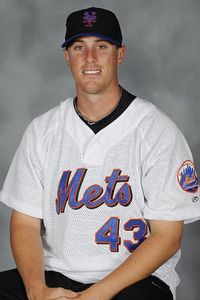 Courtesy of New York Mets
Brad Holt
But at the organization's subsequent fall instructional league in Fort Myers, Fla., Holt showed signs of a turnaround. He then continued that progress in the Arizona Fall League, going 2-1 with a 2.92 ERA in 12 1/3 innings over five appearances before being shut down with a mild elbow issue.
"I could never pinpoint what started the downfall at the beginning of the season because the spring training went great," Holt recalled Monday, after working out at the Mets' complex in Port St. Lucie, Fla. "We kind of agreed on it being a 'mental year.' And so when I got down there [for the instructional league], nobody was trying to change my delivery or anything, trying to figure out what was wrong. They told me just to go back to whatever was comfortable for me.
"I was filling up the strike zone in my bullpens. Everything just kind of cleaned up on its own. The first batter I was a little shaky, but after that I settled down nice. I think that was the reason they eventually sent me out to Arizona. It was all mental. It was really for a week and a half after the end of the [regular] season being able to go home and being around friends and family. It cleared my head. That was a huge factor in me loosening up and relaxing."
The 6-foot-4 Holt was even selected for the Rising Stars Game in the AFL, but he was scratched when his right elbow had a flare-up while working an inning out of the bullpen trying to line him up for that all-star appearance. Holt had a bone spur, common among pitchers, it turned out. He did not need to have it surgically removed.
He has been throwing for a few weeks in Wilmington, N.C., with roommate Scott Moviel, the organization's second-round pick in 2007. The duo recently headed south to Florida to work at the team's complex because the weather in North Carolina, generally warm enough to throw this time of year, dipped too low.
"They wanted to get me in for an inning where I could throw in the all-star game, and I was looking forward to that," Holt said about the AFL. "I think it was a little bit on me not being out of the bullpen in a while. I think I kind of rushed it getting loose. It just kind of made something flame up in there. I threw another bullpen that following Monday -- took the weekend off -- and I told them, 'If this was during the season, I probably wouldn't say anything.' But I didn't want to push it. That was kind of the end of it. They sent me to get it looked at. It was nothing serious."
Still, Holt pronounced the AFL showing another step forward.
"Things were going great," he said. "We had some of the coordinators out there, and I was talking to them. It started a little bit in instructs, but I think it finally clicked out there: I was used to being a power pitcher. For whatever reason the velocity was coming and going, off and on throughout the year. And I was always trying to be that overpowering, 95, 96 mph. And it was getting me nowhere. I was ending up having balls in the backstop. I think out there I finally figured out if you can keep it at the knees, 91, 92 mph is plenty. And the results showed out there. I think it was another step of developing and understanding myself better. I think it got me back headed in the right direction for this year."