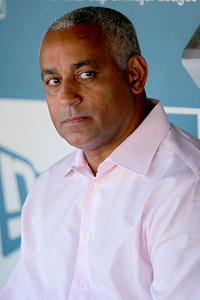 Jeff Gross/Getty Images
Omar Minaya should come back, Fred Wilpon says.
Mets owner Fred Wilpon told ESPNNewYork.com's Ian Begley on Thursday that he would like to see Omar Minaya rejoin the organization.
"I think Omar is a very good man and a very good person also," Wilpon said at the Police Athletic League's 18th annual Sportsnite at Cipriani Restaurant. "I think [finding] the right position for Omar is going to be helpful for Omar and helpful for this organization."
Wilpon has spoken with Minaya recently.
"I care about him and I care about his family," Wilpon said. "They're really good people.
"I'm hoping that will happen," he continued, referring to Minaya's return. "But he needs some time now and I think that's good."
Read the full news story here.