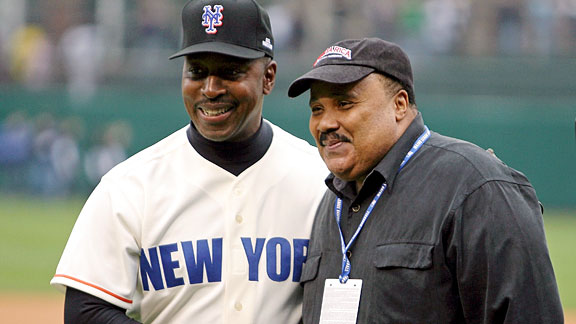 Andy Lyons/Getty Images
Martin Luther King III, pictured with Willie Randolph after throwing out the ceremonial first pitch before the Civil Rights Game in Memphis in March 2008, acknowledged interest in sports ownership in a statement.
Martin Luther King III on Sunday night released a statement to the Atlanta Journal-Constitution acknowledging his interest in exploring the purchase of the Mets, while citing the lack of minority ownership in sports:
"I believe in the merit and American value of creating an example, and if I personally, or as part of a collective, can advance the vision of a more diverse ownership group in professional sports, domestically or internationally, then, like my father, I am prepared to act in that spirit," King said in the statement to the newspaper. "... There has been a lot of discussion and speculation about my participation in the acquisition of the New York Mets. The public release of those discussions was premature."
King reportedly plans to meet with Mets officials later this week.