The New York Mets' ownership group may be strapped for cash -- just don't expect former All-Star catcher Mike Piazza to come to their aid.
Piazza, who according to baseball-reference.com made more than $120 million during his 16-year major league career, said he has no interest in buying a minority share of the franchise -- for now.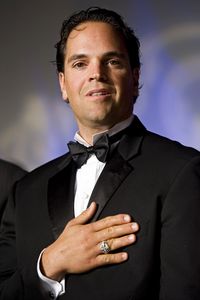 AP Photo/Cliff Owen
Mike Piazza
"This thing just came to light. I don't know. We'll see," said Piazza, who was honored Tuesday night at the 31st annual Thurman Munson Awards Dinner in Manhattan. "I see myself getting involved in the game down the line, but right now I'm enjoying my time [being retired] and doing cool stuff like this. It's fun to not care about who wins, sit back and just enjoy it."
Piazza, however, hasn't enjoyed seeing all the reports that have come out since principal owner Fred Wilpon, chief operating officer Jeff Wilpon and team president Saul Katz on Friday announced their intention to sell 20 to 25 percent of the team to satisfy any judgment or settlement in a sealed lawsuit filed by the trustee trying to recover funds for victims of convicted felon Bernard Madoff's Ponzi scheme.
"It's frustrating," Piazza said. "Let's be honest, all the facts aren't out yet. We're speculating a lot, so I don't know the exact situation. Obviously, that will continue to unfold. For me, I think of the fans [who] are frustrated, and I get a little frustrated for them because they have been truly loyal to the team. Again, they have a beautiful new stadium and a lot of great fans. I feel they have some good pieces in place, but they're competing against some very good ballclubs.
"But maybe there's a silver lining. Maybe there's someone that will get involved who has deep pockets and wants to put the team back in the spot they belong."
That someone won't be Piazza, who belted 220 of his 427 career home runs with the Mets from 1998-2005.
"I never say never," Piazza replied after being asked if he'd ever join the front office someday. "I did this [played in the majors and minors] for 20 years. And who knows? I'm at a place where if the opportunity comes along, I'll look at it. I don't know."