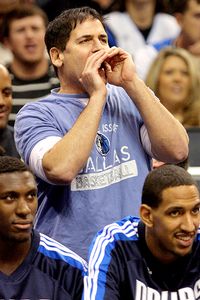 Douglas Jones/US Presswire
Mark Cuban
Dallas Mavericks owner Mark Cuban inidicated he is not going to be the initiator in investing in a Major League Baseball team after his treatment while pursuing the Texas Rangers and Chicago Cubs. Still, Cuban said he would accept a call and investigate the business sense if his involvement is valued.
"On the Mets, I'm not gonna chase it, I'm not gonna call out [to them]. If they want to contact me, if they have an interest and they think I'd be a good owner, I'd take their call and I'd be more than happy to discuss it," Cuban said Wednesday night before the Knicks-Mavericks game. "But I'm done chasing and bidding on baseball teams."
Read the full story here.