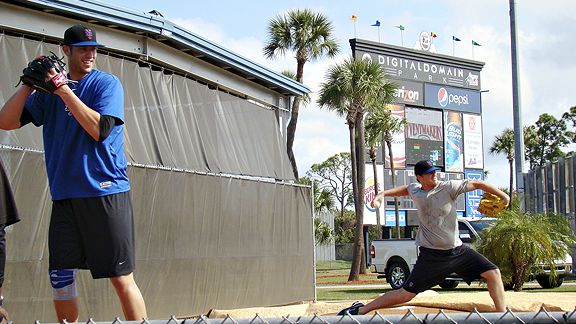 Adam Rubin
Minor league pitchers Scott Moviel (foreground) and Brad Holt throw bullpen sessions Monday at Port St. Lucie.
Don't look for David Wright, or anyone else, to be captain in 2011. Terry Collins said he's not a fan of slapping a "C" on anyone's chest.
Other tidbits:
• Steven Matz, the Mets' top pick (second round) in 2009, who graduated from Ward Melville High School on Long Island, is in camp early and throwing on flat ground, according to Collins. Matz had Tommy John surgery last May and is not yet on a mound.
• For those who remember bullpen catcher Dave Racaniello riding his bicycle from New York to Florida before last spring training, he went more conventially this year -- by plane.
• 2007 second-round pick Brant Rustich, a reliever from UCLA, may finally have persistent arm woes behind him. After visiting Dr. James Andrews in September, Rustich was sent to a Texas Rangers doctors, who referred him to a nerve specialist. Eventually, Rustich had an upper rib and muscle removed that was pressing on a nerve and creating numbness throughout his right arm. Rustich may not break camp with a minor league team, but he should not be that far behind. The issue was known as thoracic outlet syndrome.
• Mike Nickeas spent most of his winter in Atlanta, but he did catch five weeks of winter ball in the Dominican Republic with Estrellas, primarily during the round-robin playoffs.
• Twenty-seven players participated in voluntary workouts Monday at the Mets' complex. The group included Wright, Daniel Murphy, Nick Evans, Chris Capuano, Bobby Parnell, Taylor Tankersley, Dillon Gee, Luis Hernandez and Kirk Nieuwenhuis. Josh Thole was slated to fly from Arizona to Florida and should be at the complex for the first time this year on Tuesday.