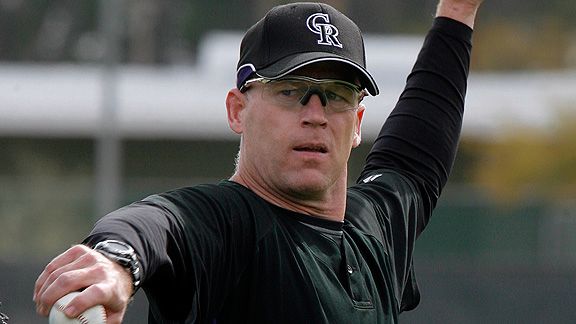 AP Photo/John Miller
Brad Andress throws batting practice for the Colorado Rockies during spring training in 2008.
Brad Andress has been hired as Mets strength and conditioning coordinator, succeeding Rick Slate, who was not retained by the new front office. Here's Andress' bio, from the Mets release:
Andress, 48, served nine years, from 2000-08, with the Colorado Rockies as the strength coach and quality control administrator. In that role he monitored the players' year-round strength and conditioning programs and assisted Manager Clint Hurdle in all areas, including travel, scheduling and administrative duties.
Prior to joining the Rockies, Andress was the Detroit Tigers' strength and conditioning coordinator from 1990-99. The Elyria, Ohio, native worked under Bo Schembechler at the University of Michigan for four years as the strength and conditioning coach, including assisting the Wolverines 1989 NCAA Men's Basketball National Champions.
Andress, who graduated from Penn State with a B.A. in exercise physiology and received a Master's in exercise physiology from Michigan, spent the last two years in private business as a strength and conditioning consultant.
An offensive guard, Andress played four years under Joe Paterno at Penn State and was a member of the 1982 national championship team, which beat Georgia in the Sugar Bowl.