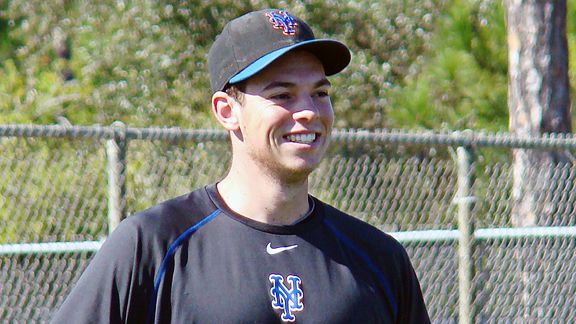 Adam Rubin
Stony Brook, L.I., native Steve Matz works out in Port St. Lucie on Wednesday.
To say 19-year-old left-hander Steve Matz is champing at the bit to throw a professional pitch would be an understatement.
The Mets' top pick in the 2009 draft out of Ward Melville High School on Long Island, Matz signed that August.
But nine months after being selected in the second round (72nd overall), Matz required Tommy John surgery last May 18, and has yet to appear in an official minor league game in his career.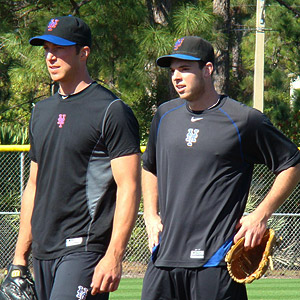 Adam Rubin
Matz has been quizzing Chris Capuano (left), a two-time recipient of Tommy John surgery.
"It's real tough to be patient, but that's part of this whole surgery. That's half the battle," Matz said Wednesday at the organization's minor league complex. "That's what I've got to do."
Matz, nearly nine full months into his recovery from the procedure, hopes to be assigned to a short-season team -- perhaps Brooklyn, which opens play in June. While he has not returned to a mound, he is currently throwing on flat ground at 60 feet -- down from the 120 he was attempting earlier before feeling "a little tight."
Matz also has been quizzing pitchers who have undergone the procedure, including newly signed Chris Capuano, who actually has had Tommy John surgery performed twice.
"It's good to have guys like that in here to talk to me, just to let me know the rundown of what to expect," Matz said. "Anyone who has had it, I just pick their brains, how they went through the whole process and stuff."
Matz works out with fellow Mets farmhands Cam Maron (a catcher from Hicksville and 34th-round selection in 2009) and Carlos Guzman as well as Mets Rule 5 pick Pedro Beato at Professional Athletic Performance Center in Garden City on Long Island. Guzman and Beato hail from Brooklyn.
Matz had been living at home and training at the Nassau County facility since the procedure, until recently arriving in Port St. Lucie.
"Pedro Beato, he came back in like nine months," Matz said, referring to Tommy John surgery, which Beato underwent while attending Xaverian High School. "I don't think I'm going to be a guy who is back in 10 months -- but maybe, hopefully, by the short season. Maybe. Hopefully. It's tough to say."
That could mean playing for the Brooklyn Cyclones.
"That would be pretty cool, but whatever," said Matz, who had started to register 90 mph with his fastball before the draft, and who also possesses a curveball and changeup. "I just want to freaking play again."
Matz, while spending last season unable to throw at home in Stony Brook, attended Cyclones games.
"Last summer I went a lot," Matz said about visiting Coney Island. "I'm good friends with [outfielder] Darrell Ceciliani and all of them. I just called them up and we would meet down there."