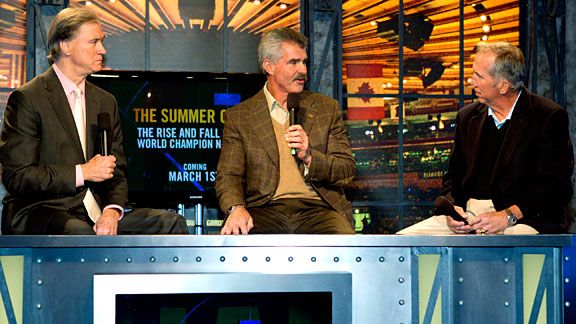 Angela Cranford/MSG Photos
Fran Healy (left), Bill Buckner (center) and Davey Johnson (right).Former Yankee Fran Healy had a burning question for Davey Johnson: 25 years after Mookie Wilson's ground ball hit in Game 6 of the 1986 World Series went through Bill Buckner's legs, did he have any sympathy for the former Red Sox first baseman?
"No, I was happy," Johnson said with a big smile.
Healy, now a MSG host, was moderating a panel discussion between Johnson and Buckner at MSG Studios Tuesday night to celebrate the launch of MSG Network's "Summer of '86: The Rise and Fall of the World Champion Mets."
The chat, for the most part, centered around that infamous infield mishap. But Johnson, the Mets manager during that year's title run, defended Buckner's error. "Don't just judge him on that Mookie Wilson ground ball," he said. "He was a great hitter and he was also a great fielder." In fact, Johnson was happy to share some advice with Buckner, who was named manager last month of the Brockton Rox (Mass.), a pro baseball team in the independent Can-Am League.
At first, Johnson joked around and said, "I know how much you love the game and you're a very smart guy. Why are you doing it?" But he went on to tell him, "As long as you put the players in the situation where they can succeed, they're going to like you. If you kind of manage like you're a fan, and it's kind of an audition, you're going to fail. You have to make decisions about who's going to play and let them compete, and if you do that, you're going to be very successful."
Johnson said Buckner's going to be a player's manager -- and one the Mets could use. "He knows how to play the game; he played it very well," he said. "He's going to be a guy who understands the problems of the players they're facing. He's going to be a great manager. I'm glad to see him doing that. I wish he was in the Mets organization. He'd probably get a lot of press [laughs]. He helped us in '86 and he'd help us in 2011."
Buckner says he was asked to manage last year, but he wanted to spend more time with his son, Bobby, to work on his game. He's now a junior infielder for the Texas Longhorns. Buckner admires the Can-Am League for the opportunity to help young players get another shot at the majors.
"What intrigues me about the independent league is there's always that small percentage of the players who have that desire to make it to the major leagues," Buckner said. "These are guys, most of them who have been released. There's a small percentage of those guys who get re-signed and there's been a few guys who've gotten back to the major leagues. If it wasn't for independent baseball, they wouldn't have gotten there. It's a lot like Double-A baseball, which is pretty good baseball. That intrigues me -- having the opportunity to help a young guy who loves the game as much as I do to be able to live that dream that I was able to live for 21 years as a player and a few years as a coach. It's a great way to make a living."
"Summer of '86," which premieres March 1 and includes 30-minute episodes over four consecutive nights, features over 70 interviews with former players and coaches, New York celebrities and dignitaries who watched from the stands, and writers who got a first-hand look at that memorable season.
Event notes:
• Buckner on what he was thinking after that error: "People ask me, 'What went through your mind when you missed that ball?' I kind of had the feeling the way the mojo was going in the game, we weren't going to win the game. The first thought that went through mine is that I was going to get to play in the seventh game of the World Series in New York City. It doesn't get any better than that." Buckner joked around that Game 7 was the only time in his career that his first at-bat in an opposing ballpark received a standing ovation.
• Buckner had a burning question himself for Johnson: "Things didn't look good for the Mets there in the sixth game. You had two outs, Gary Carter had two strikes on him, he was having a tough time catching up to Calvin Schiraldi and then he gets the base hit. You get a couple of more hits and then Kevin Mitchell gets a base hit. They say that Mitchell was in the clubhouse packing his bags and eating a hot dog, and then when he came up to hit, he had mustard all over his shirt. Is that true?" Johnson replied, "Yeah," which left the crowd in laughter.
• Special guests included WFAN radio hosts Boomer Esiason and Craig Carton, current Knick Landry Fields and NBA legend Walt Frazier, the Rangers' Brandon Prust and Brian Boyle, and "The Sopranos" star Steve Schirripa.