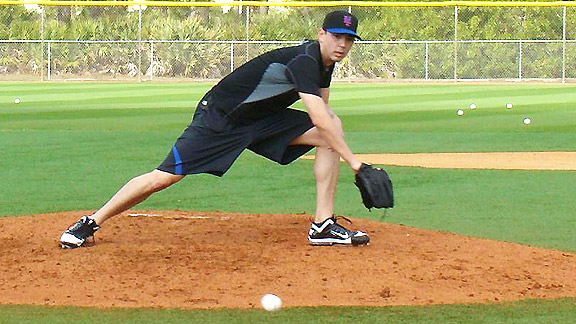 Adam Rubin
Mike O'Connor ranges for a ground ball during a pitcher fielding drill Thursday in Port St. Lucie.
Taylor Tankersley and Tim Byrdak have received the most frequent mentions in the competition for a left-handed relief role with the Mets as Pedro Feliciano's successor. But Terry Collins has advised not to discount Mike O'Connor, either.
O'Connor, 30, spent last year entirely at Triple-A Buffalo. He went 5-2 with a 2.67 ERA and six saves in seven chances, although he actually had more success against righty batters (.231 opponent average) than lefty batters (.269).
"He's very deceptive," said Daniel Murphy, who faced O'Connor in the Dominican winter league this past offseason. "He's got a pretty good feel for a little cut slider to lefties. It was a tough AB for me. I got to face him twice."
O'Connor made 21 appearances (20 starts) for the Nationals in 2006, going 3-8 with a 4.80 ERA. His only other major league duty came in '08, with five appearances, also with Washington.
His career highlight? His second major league start, which happened to take place on May 2, 2006 against the Mets at Shea Stadium.
In that game, O'Connor surrendered a first-inning solo homer to Paul Lo Duca, then tossed six scoreless frames. He ultimately topped John Maine in a 6-2 win by the Nats.
"I guess that would be the highlight," O'Connor said about his 2006 season. "They were the big team then. It was [Carlos] Delgado, [Carlos] Beltran, [Jose] Reyes, David Wright. So it was a big win. It was my second start in the big leagues."
O'Connor, who joined the group of players participating in voluntary workouts on Thursday, was a minor league free agent after last season, but elected to re-sign with the Mets.
"I felt comfortable here," he said. "After the season I told my agent I probably wanted to sign back. I talked to the coaches at the end of the season and they said they wanted to sign me back. After the season you kind of take a little time to think about it. And once free agency started, my agent called them and they said they wanted to sign me back and it got done."
All of the competitors for the lefty specialist role are on minor league contracts, unless you lump Oliver Perez (owed $12 million) in that group. Tankersley and Byrdak have more major league experience than O'Connor. Casey Fossum also has agreed to a minor league deal, but is not expected in big league camp.
With Hisanori Takahashi and Feliciano departed as free agents, left-handed relief is among the biggest battlegrounds of spring training, along with second base.
"It helps that those guys aren't here for me personally," O'Connor said, referring to Feliciano and Takahashi. "I mean, I still have to earn a spot and see what happens. We'll see who else comes in."
O'Connor is a known commodity to Collins, who oversaw the minors last season, and bench coach Ken Oberkfell, who managed O'Connor last season in Buffalo. Oberkfell's Escogido team and O'Connor's Licey team actually shared a stadium in the Dominican Republic, too.
O'Connor went 1-0 with a 1.98 ERA in 19 regular-season relief appearances for Licey, spanning 13 2/3 innings.
"I think that definitely helps when people know who you are, and at least have a track record with you and have seen you," O'Connor said.
Collins has been complimentary of O'Connor's ability to throw several pitches for strikes as well as the southpaw's deceptive delivery.
With Buffalo last season, O'Connor pitched more than one inning in 21 of 51 appearances. Eleven of his final 13 relief outings were scoreless, including nine straight. Only nine of 35 inherited runners scored during the season, and he had a .191 opponent batting average with runners in scoring position.
"I've got a little herky-jerky delivery," O'Connor said. "My changeup, curveball, slider, fastball -- I feel like I can throw them whenever. I felt like I had a really good year and felt like I got back to throwing how I did in the past. I feel like I'm throwing as well as I have at any point."