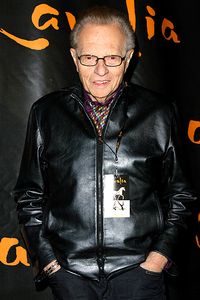 Valerie Macon/Getty Images
Larry King
In an interview on Thursday at his Beverly Hills, Calif., home with T.J. Quinn of Outside the Lines, Larry King said his wife asked Wilpon for a recommendation of an investment company and Wilpon spoke of "this guy Madoff, who's very good, [but] he doesn't take everybody."
According to King, Wilpon recommended to Madoff -- whose family and Wilpon's family were longtime friends -- that he take on King and his brother as clients. Madoff accepted King as an investor but turned down King's brother.
Wilpon also recommended fellow Lafayette High alumnus Sandy Koufax, and the Hall of Fame Dodgers pitcher invested with Madoff, too. Through a spokesman, Koufax declined an interview request.
King said that during several years of investing with him he "never heard a bad word about Bernie Madoff." He said that beyond reliable returns from investments it was reassuring that Madoff's staff always acted immediately in wiring funds upon request.
"In fact, my wife said to me one day," King recounted, "'Why don't we put everything with him?'"
Read the full story on the King-Wilpon-Madoff connection here.
And be sure to watch Outside the Lines' report on the Mets and the Bernard Madoff case, by Quinn, William Weinbaum and associate producer/editor Chris Kalohn when it airs at 9 a.m. ET Sunday on ESPN and 10 a.m. ET on ESPN2.