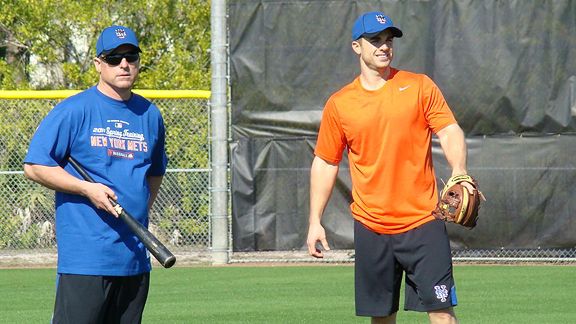 Adam Rubin
Third base/infield coach Chip Hale chats with David Wright in Port St. Lucie.
David Wright's arm certainly appeared stronger in the minor leagues and early in his career than recent seasons, and perhaps that's inevitable because starting nearly 162 games a year takes its toll. Still, Mets third base/infield coach Chip Hale sent Wright home last winter with instructions for long tossing exercises to build up his arm strength and return more zip.
"We just wanted him to throw long," Hale said. "He did that all winter and he's been continuing it right now. To be honest, I haven't seen him throw too much at the position [yet] -- just warming up and just throwing really long, which is important early in spring training. I've more been on the field with the 'middle' guys. We just wanted to get his arm stronger and more fit for the season. A lot of times what we do as baseball players is only throw as long as our position makes us. So what I really wanted him to do was just lengthen it out."