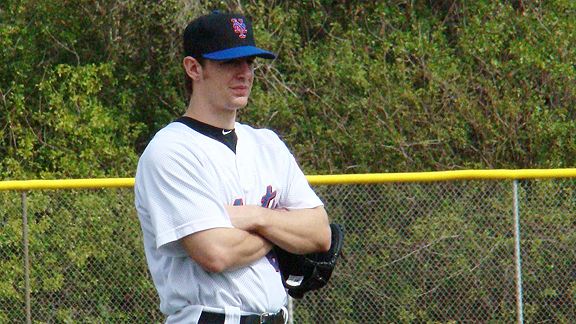 Adam Rubin
Greg Peavey, the Mets' sixth-round pick in the 2010 draft, is one of the invites to a camp for the organization's top minor league prospects.
The Mets selected right-hander Greg Peavey in the sixth round of last year's draft out of Oregon State University. Peavey did not throw a professional pitch last season, but he has been invited to the Mets' early camp for top prospects. Here's a Q&A with the 22-year-old pitcher, who was drafted by the Yankees out of high school but did not sign.
You attended Oregon State, the same school as reliever Eddie Kunz, the Mets' top pick in the 2007 draft. Ever cross paths?
"He came back to Oregon State, and I got the opportunity to meet and talk to him quite a bit about what I was going into. He's just a great guy, and apparently was a good teammate, too."
You were projected to go early in the draft out of high school, but teams were scared off by your asking price and you went to Day 2 -- the 24th round by the Yankees. You didn't sign, but I guess it worked out for the most part?
"It worked out great. It was a good opportunity for me to grow as a person mentally and physically. As a high schooler, I didn't think I was quite ready yet. And I got a great opportunity at Oregon State."
But was there some disappointment that you didn't go in the first round, or as a sandwich pick?
"That was hard for me at the time, because I didn't really understand the draft process and what was going on. But, looking back, it was a great learning experience for me."
Your father Tom once was drafted, in 1969?
"The first year the Montreal Expos came into expansion, he was drafted that year out of high school. He opted not to go there. He went to Washington State and played."
He ended up hurting his shoulder in college?
"Yeah, he ended up getting hurt."
Did you keep that in mind when you were coming out of high school -- maybe have an incentive to turn pro and get that contract rather than take any risk at college?
"Not really. He wanted me to do the best decision for me, and went out of my way to tell me: 'Don't do what I did. You just do what's comfortable for you.' That's what I did."
I read your family didn't like the Yankees, at least when you were growing up.
"No, no, no. Growing up, being on the West Coast, I was a Mariners fan. And so the first postseason I remember was the 1995 postseason, where it was the Yankees versus the Mariners. And we won at the Kingdome. So naturally growing up I wasn't the biggest Yankee fan because I was a Mariners fan. But when they took me [out of high school], obviously you're a fan whoever you get taken by."
In one article when you got drafted by the Yankees, it said your family had a card game called "Red Sox Uno" because you disliked the Yankees.
"Red Sox Uno is something by grandma got me, because I loved baseball cards growing up. She actually thought they were baseball cards, and got the Uno game. So we had Red Sox Uno."
You volunteered this past offseason with your former high school's basketball team?
"I coached high school basketball -- an assistant coach where I went to high school. I love it. I was a shooting guard. I got to play in high school, and man I miss it. I've got to say, I'm much better at baseball."
But you would go to practice every day this winter before coming to Port St. Lucie?
"Yeah. I'd get my workout in the morning as far as baseball went and then I'd go coach basketball in the afternoon."
Last season in college, Oregon State played in the Gainesville NCAA regional. Did you come across Mets' fifth-round pick Matt den Dekker there, with the University of Florida?
"I got to watch him play. He's an electric player. I got to watch him play quite a bit because we were down at the Florida regional, so he'd be playing on TV. He's a fast player. He's got great power from the left side, and he was just a fun player to watch. He got the fans on their feet. And the Florida team just loved him."