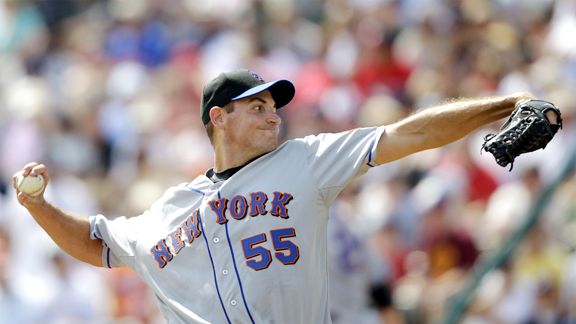 AP Photo/David J. Phillip
Chris Young tossed two scoreless innings in his first Grapefruit League appearance as a Met.
The reports of Chris Young throwing with more life on his fastball during spring-training bullpen sessions were not an exaggeration.
Young, who sat in the 83-84 mph range in September with the San Diego Padres after returning from shoulder woes, fired two perfect innings Sunday against the Atlanta Braves at ESPN's Wide World of Sports while sitting at 87-88 mph with his fastball.
Young breezed through a representative Braves lineup, retiring Martin Prado on a flyout, Jordan Schafer on a bunt and Chipper Jones on a strikeout in the first inning and Dan Uggla on a groundout, Freddie Freeman on a strikeout and Alex Gonzalez on a flyout in the second inning.
Despite Oliver Perez allowing four runs over the next two innings, the Mets rallied for a 5-4 win when ex-Toronto Blue Jays infielder Russ Adams belted a three-run homer in the eighth inning off former Yankee Scott Proctor.
Pat Misch tossed three scoreless innings and Boof Bonser tossed two scoreless innings.
The Mets swept the day, also winning with a split squad against the University of Michigan, 7-1, in Port St. Lucie. Chris Capuano allowed one run and three hits while striking out four and walking none against the Wolverines. Dillon Gee, Bobby Parnell, Blaine Boyer and Tim Byrdak followed with a combined six scoreless innings. Jason Bay had two RBIs and outfielder Cody Holliday, an 18th-round pick in 2009, had a two-run homer.
• Young agreed he had more life on his pitches than September with the Padres.
"It feels that way," he said. "I don't look at velocity. I always read swings. There were more foul balls late last season, the ball was put in play a little bit easier. Today there were more foul balls. There's still, I feel like, some arm strength to come where some of those foul balls turn into swings and misses. I think I see it more on my breaking pitches -- the sharpness -- where I can throw it with the same arm speed and the pitch is a little bit harder and sharper. That's where I think I've noticed the difference.
"When I was pitching in September last year I felt it was an abbreviated spring training. I had two months off in the middle of the season from throwing. And then I started mid-July throwing and I was in games by September, in competitive games in a pennant race. I felt like I was thrown into the fire a little bit. I had to perform and I didn't get the time to build up the arm strength. What I was able to do is continue that into the offseason. And all offseason my arm has felt really good. It gets me excited about where I am, but there's still a lot of work to be done."
During the past three weeks, Young has been "tinkering" with a split-finger fastball that dives in the zone, to balance out his four-seam fastball up in the zone. He did not use it in Sunday's game, though. He mostly concentrated on his fastball and slider.
Mike Pelfrey has been working with Young on the splitter as they have been "catch partners" this spring. Pitching coach Dan Warthen also has provided assistance.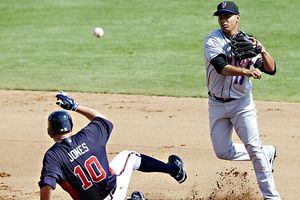 AP Photo/David J. Phillip
Chipper Jones tries to break up shortstop Ruben Tejada's double-play attempt during the fourth inning.
"It's a pitch that I wanted to play around with last year, and my arm got hurt before I could," Young said about the splitter. "But I think it's a good pitch for me. I think it's a pitch that will look like a fastball out of my hand, and it's not as much of a 'feel' pitch for me as my changeup has been. So if I can bring that along, I think it will be a good pitch I can use to bounce down in the zone, and have a fastball going up and maybe something going down too. We'll see, though. It's a long ways away."
• Young and Capuano should round out the rotation, but Misch technically remains in the race. Because he is out of options and cannot be sent to the minors without being exposed to waivers, he appears the best bet to ultimately end up in a long-relief/spot starter role like Darren Oliver had on the NLCS team in 2006.
Misch required only 28 pitches to navigate three innings.
"I don't want to take Pat Misch out of a chance to start," Collins said. "I don't want to make it sound like he's looking at the bullpen. But he gives us a great option as one of those guys, especially a guy like him who can deal with right-hand hitters. He's a luxury where, pretty much, you can put him in any situation."
Said Misch: "I've been blessed that I don't get sore too often. I think part is my work ethic. Part, I think, is God blessed me with that. I also don't throw as hard as I possibly can and throw my arm out. I feel like that's a plus. Wherever they need me is where I'll be. … I work hard in the offseason not to play in the minor leagues. I want to play in the big leagues. I want to play Major League Baseball. And that's the top level. That's how I work. That's what I want to do."
• Adams, who had the decisive three-run homer off Proctor, appeared in 286 games for the Toronto Blue Jays between 2004 and '09, including making 37 starts at second base during that span. Yet he is "not really" in the second-base mix, according to Collins, and very likely is ticketed for Triple-A Buffalo.
Collins indicated Adams is competing for a bench spot that would include backing up at third base, but a seven-man bullpen -- presuming that's the direction the Mets go -- leaves room for only five bench players. That's likely Ronny Paulino, Chin-lung Hu, Scott Hairston, Willie Harris and Daniel Murphy (if Brad Emaus is the second baseman). That scenario playing out also leaves out-of-options Nick Evans on the outside looking in.
"I want [Adams] to play multiple positions," said Collins, who plans to start Murphy at first base on Monday against the Nationals, then have Adams play the latter innings. "He played first today. He's going to play second some here. He's got a shot to back up at shortstop. I saw what he did last year, the damage he did in Buffalo -- 15 home runs from a guy playing second base. He can do some damage against right-handed pitching. I'm telling you."
• Ryota Igarashi and Mike O'Connor made the two-hour trek from Port St. Lucie to Disney only to go unused. Collins said he was obligated to hold the pitchers back in a tight game because Major League Baseball frowns on tie games being called after nine or 10 innings because a team ran out of arms.
• In Port St. Lucie, Sandy Koufax watched Capuano's outing. A week earlier, Capuano spoke with the Hall of Famer about pitching. "He's pretty astute and a good observer. It's pretty special," Capuano, who threw 31 of his 37 pitches for strikes, said to the Associated Press. "I just try to take advantage of him while he's here."
• Monday's scheduled pitchers against the Nationals in Port St. Lucie are Mike Pelfrey, Josh Stinson, D.J. Carrasco, Manny Alvarez and Jason Isringhausen. Washington plans to bring phenom Bryce Harper to get a late pinch hit as well as pitchers Chad Gaudin, Craig Stammen, Brian Broderick, Doug Slaten and Todd Coffey. Pelfrey had a 6.18 ERA last year in the Grapefruit League before opening the season 9-1.