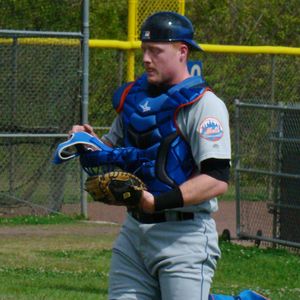 Adam Rubin
Catcher Blake Forsythe was the Mets' third-round pick in last year's draft.
Catcher Blake Forsythe, the Mets' third-round pick last year out of the University of Tennessee, hit .238 with three homers and eight RBIs in 101 at-bats in the draft. He talks about his brief pro baseball career and his older brother, Logan, an infielder who plays in the San Diego Padres organization.
Here's a Q&A with Forsythe, who is part of an early, invite-only camp for the Mets' top prospects.
Your brother Logan plays professional baseball too?
"He's with the Padres. He's two years older than me. We actually played one year together in high school. He was a senior. I was a sophomore. We won the state championship. It was an awesome experience to play with him."
He's a second baseman now?
"They moved him around a lot. He was a third baseman all through his life -- college. His first year of pro ball he was at third. And then last year they moved him to second. This year they're even putting him a little at short. I guess they're just trying to get him up to the big leagues somehow."
So in the offseasons you'll train together?
"Well, he trains at Arkansas, where he went to college. And I train up in Knoxville, at Tennessee, where I went to college."
At least that's not the biggest Southeastern Conference rivalry.
"It's not the biggest, but within our family it's a rivalry, obviously. It's not as big as like a Tennessee-Alabama or a Tennessee-Florida. That's just off the scale. Arkansas didn't join the conference until late. It's not that big of a rival."
So you overlapped one year in college?
"Yes. We played against each other my freshman year in college. I actually didn't catch the first two games [of the series]. I caught the Sunday game. My parents were so thrilled. We had a bunch of family come up that weekend. It was amazing. Of course, my brother is talking to me while he's hitting, telling me little things and talking about my last at-bat, trying to give me pointers. He's always been there for me."
You knew what pitches to call?
"Absolutely. But it was fun. It was a blast."
On to your Mets career. You threw out 33 percent of the runners. Defensively, your first professional season went well?
"I take a lot of pride in my catching. ... I can control the running game. I have to give my pitcher that confidence. We have to work on that level. If I can control the running game, it just allows the pitcher to do more of what he's capable of. So I take a lot of pride in my defense, as well as the offense and hitting."
Playing at Tennessee, you would have played against Matt den Dekker from the University of Florida. What do you remember about him from those Tennessee-Florida series?
"He was amazing. He was one of the best center fielders I've seen in the league. He's just quick, good reads. Everything he did caught my eye. Before Matt even came here, I just knew we were getting another good player."