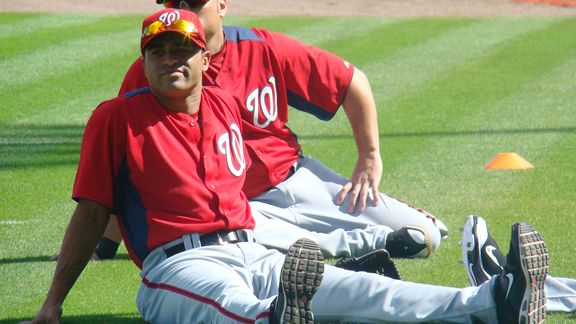 Adam Rubin
Jerry Hairston Jr. stretches before Monday's game against the Mets in Port St. Lucie.
With Carlos Beltran's move dominating the talk in Mets camp and 18-year-old phenom Bryce Harper's first Grapefruit League appearance the storyline on the other side, brothers Scott Hairston and Jerry Hairston Jr. hardly got any attention.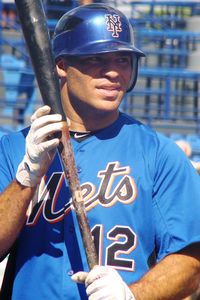 Adam Rubin
Scott Hairston
The siblings are the third generation of Hairstons to appear in the majors, and played together in San Diego last season. Scott, 30, started in right field for the Mets on Monday, while Jerry, 34, started at third base for the Nationals.
"It's always cool to see who I call my 'little brother,' even though he's about three or four inches taller than I am," Jerry said. "I'm glad he's getting the opportunity here in New York. He was banged up a lot last year and he's finally healthy. I look forward to having him have a good year."
Both brothers said it was a coincidence they signed as free agents in the same division.
"It's not by design. Just coincidence," Jerry said. "We go where we're wanted. I think it's a good fit for him in New York and me in D.C."
Jerry said his younger brother did not call him after homering twice in the intrasquad game, and that wasn't surprising.
"Scott's very low key," he said. "Me and him are a little different. Scott doesn't say a whole lot. He's very quiet. He goes about his business. I'm vocal."
The brothers planned to share a meal together after Monday's game, which the Nationals won, 9-3.
"I guess I'm going to be paying for it," Jerry said.
Said Scott: "Oh, he better."