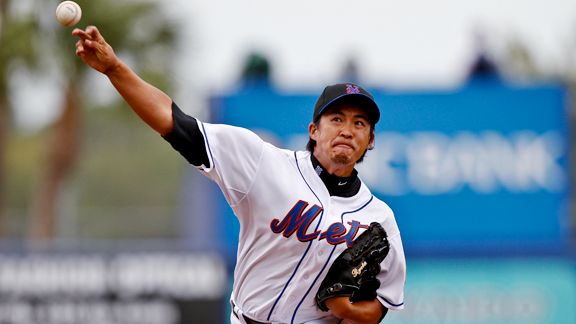 Derick E. Hingle/US Presswire
Ryota Igarashi tossed a scoreless inning with one walk and two strikeouts in only his second Grapefruit League appearance this spring.
Lucas Duda's tiebreaking solo homer in the eighth inning off right-hander Alex Wilson lifted the Mets to a 6-5 win over a skeleton Boston Red Sox team on Sunday afternoon before 7,413 spectators, the largest Grapefruit League crowd in Port St. Lucie history.
Game details:
• Carlos Beltran went 1-for-3 in his first Grapefruit League appearance, while serving as DH and batting from both sides of the plate.
"I thought his bat looked good," Terry Collins said. "As a matter of fact, I hadn't seen him hit a lot left-handed. That first base hit, his bat was short to the ball. We hadn't seen much left-handed pitching obviously this spring. And he hadn't seen any. So I'm not sure how much he has swung right-handed in batting practice."
Collins said he was surprised to see Beltran waved home from second base in the second inning on Daniel Murphy's single to right.
"As a matter of fact," Collins said with a laugh, "I asked [third base coach] Chip Hale, 'What the hell to score him?' He said, 'I'm testing him. What the heck.' But he showed when he came around third base he was running good. I watched him the whole way. That was a more brighter spot than what he did at the plate for me. He was running good."
Provided Beltran arrives at the complex feeling good Monday, he again will DH for three at-bats, or thereabouts.
"If he can, I'd like him to get a couple of more [ABs] and let him dictate how he feels as the game goes," Collins said. "If he can get three, I'll take three. If he can go two, I'll take two. He told me he'd tell me in the morning how he felt. I told him that was great."
• Jon Niese, who is scheduled to pitch the season's second game, allowed two earned runs and four hits while striking out four and walking none in 3 2/3 innings. Niese effectively used his cut fastball to strike out Daniel Nava and end the top of the first. Two of the four hits the southpaw allowed came off the bat of Jed Lowrie, on a two-out double to right-center in the first inning and a leadoff line single to center in the fourth. Juan Carlos Linares homered on a four-seam fastball to lead off the third inning.
"The work volume is increasing, and the arm felt good," Niese said after throwing 55 pitches, including an inordinate number of changeups to work on the pitch.
• Ike Davis had a two-run homer in the third inning off left-hander Andrew Miller for the other long ball by the Mets. Duda is a natural first baseman, but is slated to play both first base and left field with Triple-A Buffalo this season because he is blocked by Davis at the major league level.
• Jason Bay went 2-for-3 with an RBI and two runs scored against his former employer. Both of Bay's singles went to center field.
"I like what they're doing with him offensively," Collins said. "I think once he gets a better feel for it, you're going to see the power that we know he has. But I'll take some of those base hits up the middle too with guys in scoring position, which I think we'll have. The leadoff hitter is going to create some runs. We get guys in scoring position, we need hits. Home runs are nice. But we'll take some hits too."
• The Mets used their Opening Day order through the top six slots in the lineup, with Jose Reyes leading off, followed by Angel Pagan, David Wright, Beltran, Bay and Davis.
• Francisco Rodriguez tossed a 1-2-3 frame in his second spring appearance. K-Rod struck out Luis Exposito, retired Marco Scutaro on a groundout to shortstop and retired Ryan Kalish on a flyout to center field. Rodriguez expects to have more than double his normal spring workload because of all his idle time since being suspended in August. He next is scheduled to be used in Tuesday's home split-squad game.
"The ball was jumping out of my hand quick," Rodriguez said. "I felt that snap at my release point. Usually you get it half[way] through the spring, or almost when the spring is over. I felt strong today. My location, a couple of pitches that I should make, I tried to bury, but left over the plate. But everything was positive."
Said Collins: "He's ahead of where I thought he would be. I think he pitched one inning in winter ball. When he came in here, he told me he hadn't picked up a ball in three weeks. But I told you guys, the closer is just a different animal. As a matter of fact, I thought he threw better today than the other day. He's going to be fine."
• Wright went 0-for-3. He is hitless in nine at-bats this spring, although he does have a pair of sacrifice flies that have scored Reyes. Wright has only struck out once, though.
• Murphy started at second base and went 1-for-3 with an RBI. He still has yet to get a double-play chance at the position in the Grapefruit League.
• Ryota Igarashi issued a walk and struck out two while tossing a scoreless frame in only his second Grapefruit League appearance. Igarashi is scheduled to work again Monday.
• Infielder Luis Hernandez, who suffered a broken right foot fouling off a Tim Hudson pitch in September, before homering on the next pitch and then requiring surgery, expects to play his first game since then on Monday.
• On Monday, the Mets host Detroit. R.A. Dickey, Bobby Parnell, Igarashi, Jason Isringhausen, Mike O'Connor and Tim Byrdak are scheduled to pitch. It will be the first of back-to-back appearances for Isringhausen in order to test his durability.