Darrell Ceciliani, the New York-Penn League batting champ last season, struck out with Jordany Valdespin at third base to end the Mets' 5-4 split-squad road loss to the Houston Astros at Kissimmee on Tuesday.
Back in Port St. Lucie, the Mets also lost, 4-3 to the Washington Nationals in 10 innings. Mike Morse and Jerry Hairston Jr. homered off Chris Capuano and Brian Bixler homered off Jason Isringhausen, who was working for the second straight day. Cory Vaughn, a fourth-round pick from San Diego State who played at Brooklyn last season, had a two-run homer in the eighth for the Mets. Ex-Tampa Bay Ray Dale Thayer, borrowed from minor league camp, allowed the decisive run in the 10th on Laynce Nix's RBI double.
Details:
• Oliver Perez's velocity was better than his last outing, ranging between 84-88 mph, but the southpaw had a rocky first inning with Sandy Alderson watching. Perez ultimately was charged with three earned runs on four hits and two walks while striking out one in three innings.
Terry Collins pledged to meet with pitching coach Dan Warthen and Alderson before making a firm decision on Perez, but the next step clearly is to reassign Perez to the lefty specialist competition, as an intermediate step toward being released.
"We'll come up with a next step," Collins said.
As for what he saw from Perez, Collins added: "I thought his fastball was better than it has been. I don't have a gun reading, but it looked like it came out of his hand better today. The first inning when I went out to the mound I told him he's got to pitch. I told him, 'Use your changeup. Use your cutter.' He then had two pretty good innings after that. I thought he was better. We'll meet and decide what the next step is."
• Brad Emaus went 1-for-3 and committed an error at second base.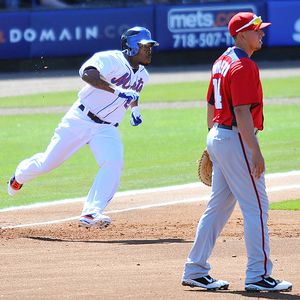 Steve Mitchell/US Presswire
Willie Harris (22) rounds the bases after hitting double a during an exhibition spring training game against the Washington Nationals at Digital Domain Park.
• Left-hander Tim Byrdak got the royal treatment in his return to Astros camp, getting chauffeured around the complex in a cart looking for old acquaintances. Byrdak, 37, was 5-5 with a 3.53 ERA in 199 relief appearances for the Astros the past three seasons. For his career, left-handed batters are hitting .202 against him.
Byrdak allowed two hits and produced a strikeout in a scoreless inning Tuesday. The decided favorite for the lefty specialist role on Opening Day, he has yet to allow a run in 3 1/3 Grapefruit League innings.
"Arm strength is going to be the biggest thing," Byrdak said. "It will probably take me another two or three weeks to get that fully developed. And once it's there, the slider should develop and we'll go from there."
• Ex-Met Nelson Figueroa allowed one run on three hits while striking out one and walking one in three innings. The lone run he surrendered came on a Zach Lutz sacrifice fly that scored Emaus. Figueroa is competing for the fifth starter's spot, but otherwise would end up in the Astros' bullpen. He has a $900,000 contract -- the biggest payday of his career.
• Collins said he was unconcerned about whether Carlos Beltran could get acclimated to right field with time dwindling until the April 1 opener and Beltran idle at least for the week.
"Not for me," Collins said about being concerned. "That's the biggest question. He knows it's a new position for him. And I told him, 'You're an awfully good center fielder. You're an awfully good outfielder. I think you can make the adjustment just fine, especially when you know your legs aren't bothering you.' I think he'll make the adjustment fast. He'll make it easy. I'm not that concerned."
• In Port St. Lucie against the Nationals, Isringhausen was working a second straight day to test his durability. After Bixler greeted him with a leadoff homer, Nyjer Morgan flied out, Ian Desmond grounded out to third base, Jerry Hairston Jr. was hit by a pitch and Morse flied out.
A scout said Isringhausen sat at 88-89 mph.
"I felt more free and easy today," Isringhausen said. "It's more important for them to see I can do it. Next time, I think I might go two innings. It's a test. That's what spring training for me is mainly. If I can stay healthy, like I've said before, I've got a shot to make the team, but they are going to test me to see what I can do. Back-to-back, two innings, multiple innings, that's the stuff I've got to do to prove to them that I can hopefully get through the season.
"Tomorrow will be a good judge of how I feel, but from what I feel now I don't foresee any problems. The first week was rough, but ever since then everything is getting better and better. I feel like I have a little more life on my fastball each time out there, the curveball is there, the cutter is there. I just need to quit falling behind people and we'll be all right."
• Capuano was charged with two runs on five hits and two walks while striking out one in four innings. The slider was his best pitch. "He just has such a small margin with all his pitches," a scout said. "He was a serviceable guy today -- not bad, not good. A No. 5."
• D.J. Carrasco and Jenrry Mejia tossed three innings apiece in simulated games on a back field against minor leaguers. Mejia allowed one hit and two walks while striking out four in a 57-pitch, scoreless effort. Carrasco allowed two hits and two runs while striking out three and walking none in a 55-pitch appearance.
• Wednesday, the Mets face Houston in Port St. Lucie. Chris Young, Josh Stinson, Blaine Boyer, Francisco Rodriguez, John Lujan and Manny Acosta are scheduled to pitch. For Houston, Ryan Rowland-Smith starts.
• Dillon Gee and Pedro Beato highlight Thursday's pitchers against the Marlins in Jupiter. On Friday, it's Jon Niese against Florida in Port St. Lucie. Saturday, R.A. Dickey returns to the mound, against the Braves at Disney.