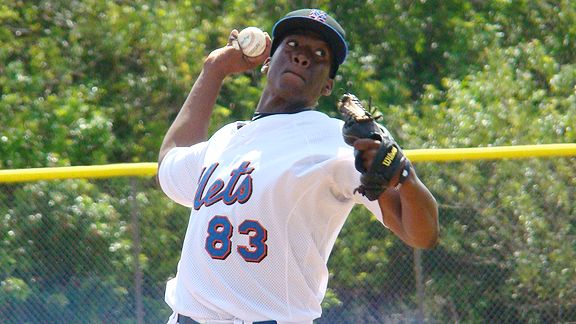 Adam Rubin
U.S. Virgin Islands product Akeel Morris throws batting practice Monday at Mets minor league camp.
Akeel Morris' mother Corlette is an insurance agent originally from Antigua. His father Kenneth is a crane operator born in St. Kitts.
They raised Morris in the U.S. Virgin Islands. And he auditioned for the Mets during a weekend trip to Santo Domingo in the Dominican Republic.
Now, nine months after the 18-year-old Morris was selected in the 10th round of the 2010 draft, the 6-foot-1, 170-pound right-hander is quietly, and rapidly, emerging as one the Mets' best pitching prospects.
"What do I like about him? I would have to say everything. He's a very, very poised kid," said Sandy Alomar Sr., who managed Morris last season in the Gulf Coast League, and who is now spending time with his Hall of Fame son Roberto in Tampa and not affiliated with any organization. "Actually, I used to call him Dwight Gooden. He was basically the same type of pitcher. I mean, the kid is quiet. He listens. Works hard. I think if he stays healthy, he will be a very good pitcher, because he's got a good fastball. He's got a good changeup. And he's got a good curve."
Morris made his professional debut by going 1-1 with a 2.19 ERA in eight appearances (six starts) spanning 24 2/3 innings with the GCL Mets after the draft. He struck out 28 while allowing 13 hits, 17 walks and hitting two batters.
Morris said his fastball ranged from 90-94 mph last season. He also throws a curveball and changeup, the latter pitch with a new four-seam grip after instruction from GCL pitching coach Hector Berrios last year.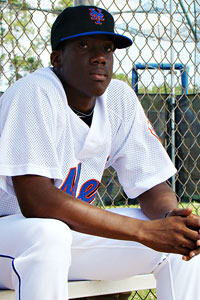 Adam Rubin
Akeel Morris
"I think he probably exceeded some expectations in terms of how talented he really was," farm director Adam Wogan said. "He's got a very good delivery. There's a lot of life in the arm. He's an intelligent kid, an intelligent pitcher. He's a guy who is very, very young, but shows good aptitude and is able to make improvements."
Of the 1,525 players selected in last year's MLB draft, four were born in the U.S. Virgin Islands -- Jabari Blash (eighth round, Mariners), Morris, James Sneed (14th round/Angels) and Jamaine Cotton (15th round/Astros). Players subject to the draft include those from the 50 states as well as Puerto Rico and other territories, but not international players from the Dominican Republic, Venezuela, Japan and other countries.
Morris' mother played in a local softball league in the U.S. Virgin Islands, while his father played high school basketball. They encouraged him to start playing baseball at age 5.
Morris said baseball is probably the No. 2 sport in his homeland, behind basketball.
"We've got the American channels," Morris said. "We saw the major league games there. Derek Jeter was my favorite player growing up, because I played middle infield first. But as I converted to a pitcher, I would say Josh Beckett was my favorite pitcher. I just liked how aggressive he was attacking the zone."
Morris suggested the most famous Virgin Islands baseball product he is aware of may be Callix Crabbe, who hit .176 in 34 at-bats with the San Diego Padres in 2008. Crabbe spent last season primarily in Double-A with the Toronto Blue Jays.
According to Baseballreference.com, 11 players have been born in the Virgin Islands and reached the majors: Jerry Browne (1986-95), Joe Christopher (1959-66), Horace Clarke (1965-74), Crabbe, Henry Cruz (1975-78), Midre Cummings (1993-2005), Elrod Hendricks (1968-79), Al McBean (1961-70), Jose Morales (1973-84), Calvin Pickering (1998-2005) and Elmo Plaskett (1962-63).
In the 10th grade, Morris joined a collection of other top Virgin Islands baseball players intent on getting more exposure to major league scouts.
"Baseball is now progressing. A lot more athletes there are getting more exposure and acknowledged by scouts," Morris said. "We have a program -- the Future Stars program – where [program director] Darren Canton, he's getting players noticed and sending them off to college and bringing pro scouts in to see us. That's the program most people have been going to. He started that about six years ago. What he did was he'd bring us up to Perfect Game tournaments and get us exposure. … To get scouts to see you, you actually had to either bring them in or you have to go find them."
Morris said he auditioned for the Mets in the Dominican Republic, with his parents funding the trip.
"They made a lot of sacrifices," he said.
Of course, comparing any 18-year-old to Gooden is unfair. But Alomar does not back off the assessment.
"In terms of everything -- the way he was pushing off the mound, his mannerisms on the mound," Alomar said about the similarities.