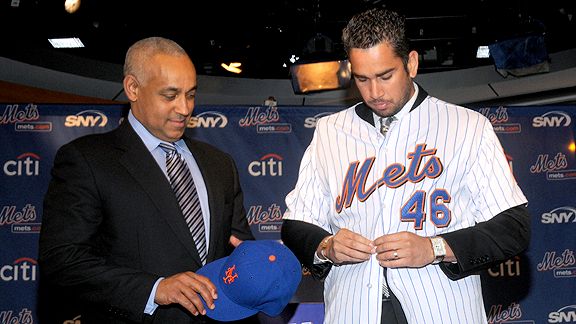 George Napolitano/FilmMagic
Omar Minaya joins Oliver Perez in discussing the southpaw's three-year, $36 million deal at a press conference on Feb. 3, 2009.
Assuming the Mets follow through and release Oliver Perez in the next day or so, which appears the likely path, $36 million would have bought them three wins.
It also would continue Sandy Alderson's purge of albatross contracts from predecessor Omar Minaya's tenure running the organization that included the release of second baseman Luis Castillo on Friday.
Perez, 29, is owed $12 million in the final season of a three-year, $36 million deal. He went 3-9 with a 6.81 ERA in 31 appearances (21 starts) during the first two seasons of that contract.
The Mets ate $6 million remaining in the final year of Castillo's four-year, $25 million contract.
The amount owed to Perez would rank No. 1 on an unofficial list of largest contracts eaten in organization history, with Castillo also high on the list.
At least, it may rank No. 1 depending on how Bobby Bonilla's deal is treated. When the Mets cut bait with Bonilla after the 1999 season, they were on the hook for $5.9 million. Instead, the Mets agreed to pay Bonilla $29.8 million between 2011 and 2035. Those annual $1,193,248.20 payments begin this July 1.
The Mets also have eaten:
• $9 million of $10 million owed to outfielder Roger Cedeno when they sent him to the St. Louis Cardinals at the end of spring training in 2004.
• $4.5 million when they sent infielder Kazuo Matsui to the Colorado Rockies in 2006.
• $3.75 million when they traded second baseman Roberto Alomar to the Chicago White Sox in 2003.
If not for Duaner Sanchez's taxi-cab accident in the early morning hours of July 31, 2006 on I-95 in Miami that severely injured the reliever's shoulder and ultimately derailed Sanchez's career, Perez may never have become a Met. While keeping Sanchez's accident hush-hush on trading-deadline day, the Mets reengaged the Pittsburgh Pirates in talks, reviving a deal then-GM Minaya had shelved earlier that month. The Mets agreed to send Xavier Nady to the Pirates for right-hander Roberto Hernandez and Perez, with Hernandez the more urgent need, to take over Sanchez's late-inning role.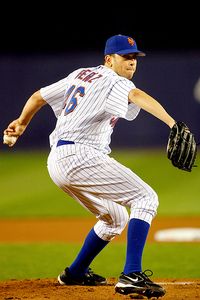 Andrew Gombert/Getty Images
Perez pitches during Game 7 of the 2006 NLCS.
Perez was 3-13 with a 6.63 ERA that season with the Pirates, and had been languishing at Triple-A Indianapolis for a month with sagging velocity and out-of-whack mechanics when the deal was consummated.
Under pitching coach Rick Peterson's tutelage, Perez became an unlikely cog in the Mets' push to within a game of the 2006 World Series.
It was Perez's final pitch of Game 7 of the NLCS that Scott Rolen nearly lifted over the left-field wall at Shea Stadium before Endy Chavez's dramatic catch led to a double play -- arguably the last great moment for the Mets as a franchise. In a game now remembered for Aaron Heilman serving up the game-deciding ninth-inning homer to Yadier Molina and Carlos Beltran staring at Adam Wainwright's curveball, Perez limited the St. Louis Cardinals to one run on four hits and two walks in six innings.
The following season, Perez matched John Maine for the team lead in wins with 15.
Perez allowed only one run in 26 innings to the Phillies in '08, but that season will be remembered by the Flushing faithful for the organization's second straight September swoon. It was not as dramatic as the previous year's squandering of a seven-game lead with 17 to play. But after Johan Santana's dramatic shutout performance in Game No. 161 in 2008 while pitching on short rest with torn meniscus cartilage off a career-high pitch count, Perez took the mound the following day and allowed two runs in 5 1/3 innings, the latter run scoring when Joe Smith inherited the bases loaded from Perez and walked Josh Willingham.
Perez received a no-decision. With the score tied at 2, Scott Schoeneweis served up a homer to Wes Helms to open the eighth. Luis Ayala entered and Dan Uggla greeted him with a homer too as the Mets lost to the Florida Marlins, 4-2, and were eliminated from postseason contention on the regular season's final day for the second straight season.
His agent Scott Boras parlayed Perez's early Mets success into the completion of a three-year, $36 million deal with the Mets on Feb. 2, 2009, after the Mets did not match the Atlanta Braves' offer to Derek Lowe of four years, $60 million.
It was straight downhill from there for Perez ... and the Mets.
Perez represented Mexico in the 2009 World Baseball Classic during spring training, and allowed five homers in 6 2/3 innings in the tournament, during a 19-day absence from camp. He apparently had done little work between his infrequent appearances with the Mexican team. When Perez returned to Mets camp late in spring training, pitching coach Dan Warthen criticized the southpaw for being unprepared for the upcoming season.
While earning $12 million in the first year of his free-agent deal, Perez made only 14 starts, his season interrupted by a two-month summer DL stint for right knee tendinitis. He went 3-4 with a 6.89 ERA and had surgery to clean out the joint late that August.
Perez's Mets tenure took a further negative turn last season. In seven early season starts, Perez was 0-3 with a 5.94 ERA. Mets officials wanted him to go to the minors. Perez, as a veteran, had the right to refuse, and did so. Instead demoted to the bullpen, he soon thereafter landed on the disabled list with more knee discomfort. Suspicious of the motivations for the DL trip given Perez's high-profile refusal to go to the minors, Major League Baseball asked for documentation to support an actual injury existed. Eventually, MLB backed off. Perez ultimately made four minor league appearances last season, but he was categorized as a major league player doing a rehab assignment for an injury during that stint.
When Perez returned to the Mets, manager Jerry Manuel showed no faith or interest in using him, as was the case with Castillo. So the Mets largely played with a 23-man roster that hamstrung their ability to maneuver in-game -- emblematic of the organization's perennial roster mismanagement. From July 21 until the end of last season, Perez made only six appearances, all in relief. Three came as a last resort in the 12th inning or later.
Perez went unused for a 25-game span in August, the longest stretch of being active and unused on a major league roster at that point in 2010, according to the Elias Sports Bureau.
On the final day of the regular season, Manuel felt terrible but nonetheless inserted Perez in the 14th inning against the Washington Nationals, subjecting the southpaw to an assault from the remaining fans at Citi Field. In what now appears his final regular-season appearance as a Met, Perez was charged with the loss. He plunked Adam Kennedy, then consecutively issued three walks to force in the deciding run.
During the press conference to announce the firings of Minaya and Manuel after the season, chief operating officer Jeff Wilpon indicated he would have authorized the releases of Perez and Castillo in-season if only Minaya had asked.
No one would have flinched if one of Minaya-successor Alderson's first actions as GM was to release Perez and Castillo, despite their combined $18 million price tag in 2011.
Instead, Alderson indicated he planned to view both in spring training and make evaluations with his own eyes. Castillo was released Friday. Perez's fate appeared cemented when he allowed consecutive homers to open a relief appearance against the Nationals on Saturday. Perez's Grapefruit League ERA swelled to 8.38.
The spring-training crowd jeered Perez after manager Terry Collins pulled Perez.
Perez's velocity has hovered mostly in the 85-mph range this spring. That might be enough for a control pitcher such as fellow left-hander Chris Capuano to succeed, but it left no margin for error for Perez.
When Perez threw 8-10 mph harder earlier in his career, batters needed to commit to pitches earlier, so that Perez's wildness was not as much of an impediment. Now batters have more reaction time to lay off balls and punish strikes.
Perez's propensity for walks -- he issued 32 in 39 2/3 innings in the Mexican winter league this offseason -- did not make him an effective left-handed specialist anyway. How could the Mets insert Perez to face, say, Philadelphia's Ryan Howard in the seventh inning of a tight ballgame with runners on base if Perez would be prone to issuing walks?