Not only will Willie Harris start on Opening Day in left field in place of injured Jason Bay (left rib-cage strain). Harris also will bat second in Terry Collins' first lineup as Mets manager.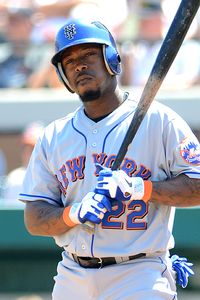 Mark Cunningham/MLB Photos via Getty Images
Willie Harris bats second and plays left field in his debut as a Met.
The reason: Harris is hitting .267 with one homer, two RBIs and seven walks in 22 career plate appearances against Marlins ace Josh Johnson -- good for a .500 on-base percentage.
"Strictly numbers," Collins said about selecting Harris over Lucas Duda or Scott Hairston. "We talked about the importance of getting out of the gate. This guy [Johnson] is one of the best in the league, one of the best in baseball. And if you've got a guy who hits this guy, it would seem to me you should get him in there."
Among major leaguers with double-digit career plate appearances against Johnson, Harris ranks seventh in OBP. The only players ahead of Harris: Fernando Tatis (.667, 12 PA), Nick Johnson (.643, 14 PA), Scott Rolen (.600, 10 PA), Bill Hall (.545, 11 PA), Aubrey Huff (.538, 13 PA) and Andre Ethier (.533, 15 PA).
"Facing Josh Johnson is no fun," Harris said. "But you go out there, you battle him, you grind him the whole at-bat you get. I've been fortunate enough to work some walks and get a couple of hits against him, but he's definitely one of the best pitchers in the game. When tomorrow night gets here, I'll go out there and try to give him H-E-L-L.
"Pretty much all my starts the last couple of years have been against No. 1 pitchers. I've somewhat become acclimated and used to facing the No. 1s. … When you have a role like I have, your job is to fill in for guys when they're banged up a little bit and be productive off the bench. It's unfortunate that our left fielder is hurt. But we're going to try to go out there and pick up the slack while he's gone and hopefully he gets back to help us real soon."
Collins said no part of the decision was to shield the rookie Duda from Opening Day, when jitters might be present. The manager added that Duda will start the majority of the time while Bay is on the disabled list -- although Hairston likely will start against any left-handers. The only southpaw starter the Mets should face on the season-opening six-game trip is Cole Hamels in Game 4, in Philadelphia.
"I truly believe when you bring a young player like that up here, he doesn't come up to sit the bench, because he's not prepared to do that," Collins said about Duda. "He's used to playing every day."
Collins reiterated the plan is for Carlos Beltran to start five of the season's first seven games, with Sunday sounding like the first day of rest, unless Beltran arrived at the ballpark and said: "Look, this is the best I've felt in two weeks. Send me out there. I've got tomorrow [Monday's team off-day] off anyway," according to the manager.
On those two occasions when Bay and Beltran are out of the lineup, Collins indicated he's more likely to play Duda in right field and Harris in left field.
Harris is not particularly comfortable in right field, either, although Duda has extremely limited experience there. Until he started seeing Grapefruit League action there when Beltran needed a cortisone shot in his left knee and was shut down during spring training, Duda had played only nine career games in right field, all in the minors, and seven of those with Class A St. Lucie in 2008.
"I think it's getting better," Duda said about his right-field play. "Obviously there is a lot of work to be done in both left and right. For me, right now, I think left is more comfortable. But where 'Skip' wants to put me, that's where I'll play and I'll try my best and see what happens."
As for being without Bay, Collins said: "Sure it's going to put a damper on, but you've got to address it. The Phillies have lost two pretty good players right at the start. Everybody has to play through some tough times. Right now I'd rather get it out of the way. If this is the only thing we're going to face -- losing Jason Bay for nine days -- we're going to have a pretty good season. We'll deal with it. We'll find the guys to pick up some slack. Everybody's got to perform. Everybody's got to play a part here. Everybody's got to contribute."