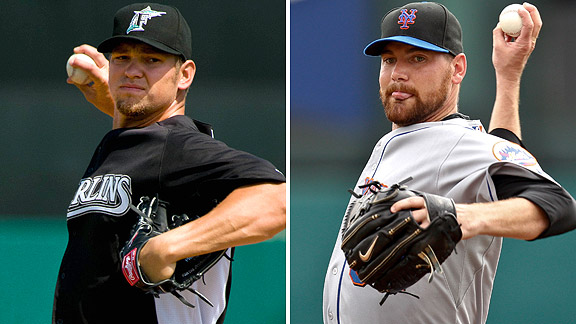 US Presswire
Mike Pelfrey's history of pitching badly on the road makes this a tough matchup against Marlins ace Josh Johnson
On paper, the Opening Day pitching matchup between Mike Pelfrey and Marlins ace Josh Johnson is a mismatch.
Why do we say that?
Because of where the game is being played.
Pelfrey would be a much better choice to start an opener at home than on the road. When pitching outside of Shea Stadium or Citi Field, Pelfrey has a history that is statistically unimpressive.
For his career, Pelfrey has a 5.32 ERA and .307 opponents batting average in road appearances, both rating among the worst by active pitchers who have made at least as many starts (49) on the road as Pelfrey has.
Worst Career Road ERA
Mets History (minimum 40 starts)
Last year, Pelfrey had a 4.95 ERA and .318 opponent batting average on the road. He would do well to emulate his last start -- seven innings of two-run, five-hit ball against the Marlins in Sun Life Stadium. Perhaps that's an encouraging sign. In his other four starts at that venue, he allowed 17 runs in 22 1/3 innings. So perhaps he's evolving.
But even if he is, he may be no match for Johnson, who posted one of the great home ballpark seasons ever in 2010.
The Marlins righty finished with a 1.57 ERA and .207 opponent batting average in Sun Life Stadium. After allowing three runs in five innings in his 2010 home debut, Johnson made 14 straight home starts in which he went at least six innings and allowed two runs or fewer. According to the Elias Sports Bureau, that's the longest such streak since 1900.
Within that, Johnson's streak also encompassed 13 straight starts in any ballpark, second-longest since 1920, trailing only Met-nemesis Mike Scott (14 straight, 1986).
Sabermetricians will tell you that the most important statistics for a pitcher are his strikeouts, his walks and his home runs allowed.
Last season, at Sun Life Stadium, Johnson struck out 127, walked 21, and yielded only two home runs in 103 1/3 innings. Those numbers too are virtually unmatchable. The only pitcher close to having a strikeout-to-walk rate AND a home runs per nine rate in his home ballpark like Johnson in the last 55 years was Greg Maddux, with the 1994 Braves (74 strikeouts, nine walks, two home runs allowed in 97 innings).
The Mets beat Johnson on Opening Day last season at Citi Field, snapping Johnson's seven-game win streak against them. Now the challenge is to beat him on his own turf, where he's 4-0, with a 1.99 ERA against them. It won't be easy by any means.