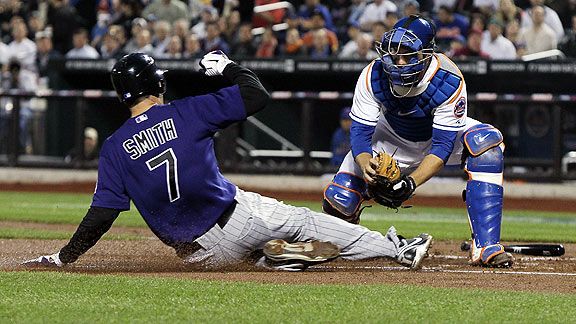 Jim McIsaac/Getty Images
Josh Thole tags out Seth Smith at the plate in the second inning after receiving a throw from second baseman Daniel Murphy.
Bobby Parnell said there was no carryover from his throwing error trying to get Dexter Fowler at the plate on Carlos Gonzalez's chopper to serving up a two-run homer to the next batter, Troy Tulowitzki.
"I made a bad play. That's all there is to it," said Parnell, who was charged with three runs and the loss. "You've got to buckle up and face the next hitter. Tulowitzki just got a fastball. I tried to get it up-and-in and missed. It wasn't a composure thing. I was focused. I was ready to go."
As for why he overthrew Josh Thole at the plate, allowing the go-ahead run Fowler to score, Parnell said: "I tried to make a tough play for any pitcher and I threw it to the backstop. It's not what you want to do in that situation. You want to make sure you get one out. I didn't do it. You're going from one throwing arm angle to another. It's a tough play. No matter who you are, it's a tough play. I know Fowler is a good runner and the ball is in the air for a long time. I tried to get rid of it as fast as I could and just got under it and threw it to the backstop."
As for Ryota Igarashi's misfire to the plate two innings earlier, on what should have been an inning-ending 1-2-3 double play, the reliever said through interpreter Mike Peters: "I wasn't able to grip the ball properly. And I was kind of rushing in that situation." With the inning continuing as a result of the inability to turn the double play, Gonzalez produced a broken-bat, opposite-field, two-run single that tied the score at 4.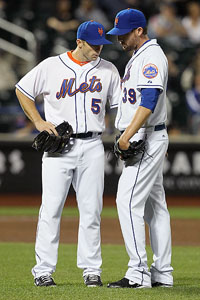 Jim McIsaac/Getty Images
Third baseman David Wright and right-hander Bobby Parnell converse during the Rockies' three-run eighth inning.
Also on the misplay round-up, Willie Harris said he flat-out lost Jonathan Herrera's third-inning liner in the Citi Field lights and played it into a double.
"I didn't see it," Harris said. "I've never played here on a regular basis, so that's the first time it's happened to me here. I saw it off the bat, then I didn't see it."
• Jason Isringhausen -- who stranded two runners in the seventh -- on his first appearance in a Mets uniform since July 31, 1999: "My heart was pumping a little bit. But I've always told myself when I don't feel that way, I don't want to be here anymore. I was nervous. But that's what makes it fun. I told them I'm ready whenever the phone rings, whenever they want to use me. I got used tonight. I got through it. And tomorrow's another day."
• Mike Pelfrey hardly was thrilled with getting charged with four runs (three earned) on six hits and four walks while striking out three in a 113-pitch effort that spanned 5 1/3 innings. Still, given his first two outings, Pelfrey pronounced it an improvement.
"I thought it was a step in the right direction from the first two starts," Pelfrey said. "I wasn't pleased with the walks. I wasn't pleased with the number of pitches in five innings. But I definitely thought it was a step in the right direction. I need to do better next time out and continue to pitch deeper into games."
Pelfrey wanted to concentrate on his two-seam fastball and splitter Monday after feeling like he was too dependent on his lesser pitches while allowing seven runs (six earned) in two innings in Philly his last start.
"I think I threw two curveballs and two sliders the whole game," Pelfrey said about Monday's outing.
• Daniel Murphy certainly looked sharp at second base -- throwing out a runner at the plate as well as diving to his left to catch Gonzalez's groundball smash to lead off the fifth and throw to first base in time for the out.
"It's actually not the first time I made that," Murphy said about a diving play to his left while manning second base. "But the other one was in the Dominican Republic. So there wasn't a lot of people around. It's one of those things -- it was nice to get that one out of the way, make a play like that, hopefully continue to build on that."
• Ike Davis became the first player in Mets history to drive in at least one run in nine of the team's first 10 games of a season, according to the Elias Sports Bureau. The only blemish? The Roy Halladay-led 11-0 loss to the Phillies.
• Right-hander Boof Bonser, who had to leave Sunday's Triple-A Buffalo game, was diagnosed with a right forearm strain.