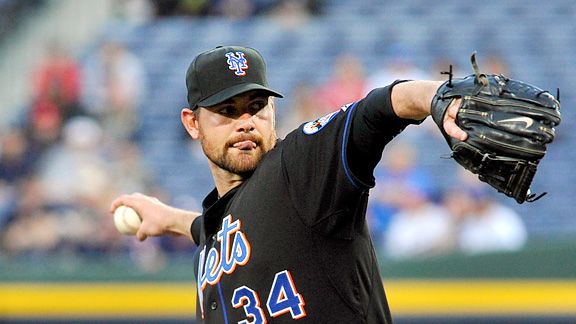 AP Photo/Gregory Smith
Mike Pelfrey lasted only five-plus innings against the Atlanta Braves in Game 2 on Saturday.
Daniel Murphy offered no excuses for getting thrown out at third base attempting to steal with none out and Mike Nickeas batting in the sixth inning of Game 2, with the Mets already trailing by three runs.
"It was an awful play," Murphy said. "There was nothing that could have been going through my mind to justify that. Bad play. I put a good swing on a ball. I started an inning off the right way with a guy who is throwing the 'rock' pretty well [Jair Jurrjens]. And I killed it. I've got to be better than that. It was a bad play."
After the Mets' 4-0 loss to the Braves in the nightcap, the Mets' seventh straight defeat, Terry Collins said about Murphy's transgression: "We used to call that an error of enthusiasm."
Murphy agreed, noting he needed to realize he can't make something happen to overcome a deficit of that size by himself.
"I'm not going to score three runs by myself," he said. "We had to string some stuff together. I killed it."
Collins acknowledged addressing the baserunning with Murphy in the tunnel immediately afterward.
"He was just trying to create something that wasn't there," the manager said. "We've got to do better than that."
• Collins held a team meeting after Wednesday's defeat against the Rockies, and there was no repeat on Saturday night.
"I've talked to some of the guys individually," he said. "They care. They're unhappy."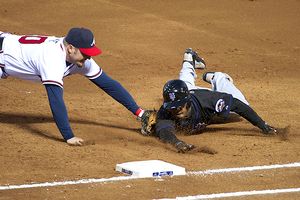 Dale Zanine/US Presswire
Willie Harris is tagged out by Braves first baseman Eric Hinske after a pickoff throw.
• Mike Pelfrey was displeased with his performance. His ERA stands at 9.72 after he allowed four earned runs on 11 hits in five-plus innings.
"I'm not pitching as well as I would like. Not even close," Pelfrey said. "It's obviously very frustrating with all the hard work that you put in, and this is the results that I get. I keep thinking that the ball probably came out of my hand today better than it has all season so far. I still gave up 11 hits in five innings. So that does nothing for me. Another rough night. I'll go back to work tomorrow and be better, because I definitely have to be better."
• On a positive note, Carlos Beltran did play both games of the doubleheader in right field. He went 1-for-6 with a walk.
• Getting swept in consecutive doubleheaders may not have occurred in Mets history since 1982, but it is not all that atypical in the majors. According to the Elias Sports Bureau, the last team to do it was the Detroit Tigers at the end of last season -- against Cleveland and Baltimore (Sept. 29 and Oct. 1).
ESPN Stats & Info adds that the Mets have been two-hit by the Braves in a game in each of the past four seasons.
• Collins said Jurrjens, who came off the disabled list for the Game 2 start against the Mets, had the best stuff the Mets saw since Opening Day against Marlins ace Josh Johnson.
"That might be the best command of all three pitches I've seen a pitcher have in a long time," Collins said. "He pitched to the corners all night long."
• D.J. Carrasco, who allowed three homers as a spot starter in Game 1, said he left too many pitches up in the zone.
"The first one, to Chipper [Jones], was kind of a pitch that was elevated," Carrasco said. "The second one, to [Alex] Gonzalez, was also an elevated cutter that really didn't have anything behind it -- no movement, no velocity. And the curveball, I think I missed my opportunity earlier in that at-bat to put him away, and I just hung that one."
• Collins was pleased Bobby Parnell tossed two scoreless innings in the first game.
"I was very proud of Bobby," Collins said. "I thought he came out tonight, went after everybody, showed that good arm that he's got. I wanted him to have a multiple-inning game where he had to go out and throw pitches. I think it's going to help him. I think the more we get him out there for two innings, the stronger his arm is going to get."
• David Wright summed up the doubleheader this way: "You know that you're going to go through bad stretches. And you just hope that either the hitting or the pitching kind of picks up the other half. That hasn't been the case. You understand that you're going to play some bad baseball for stretches. And there's no question that we're playing bad baseball. But then when you mix in the mental mistakes that we're making, along with what I mentioned earlier about the pitching's not picking up the hitters, the hitters are not picking up the pitchers, that adds up to what you see the last week or so."