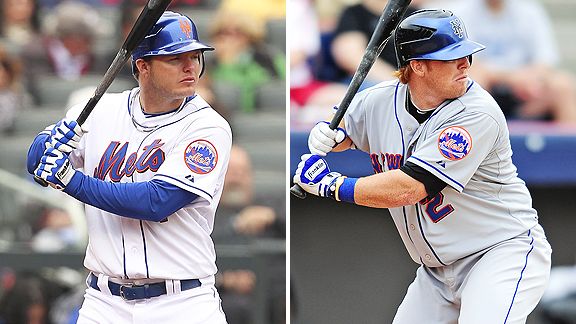 Getty Images, Icon SMI
Rule 5 pick Brad Emaus (left) is out with the Mets, with Justin Turner (right) taking his place.
The Mets have pulled the plug on Rule 5 pick Brad Emaus.
Days after Terry Collins said the 25-year-old second baseman had a limited number of at-bats to prove himself, Emaus was designated for assignment Tuesday. Justin Turner has been promoted to take his place.
Emaus hit .162 (6-for-37) with one RBI in 14 games. He must go through Rule 5 waivers before being offered back to the Toronto Blue Jays for $25,000 -- half the claiming price. At that point, the Mets could trade for Emaus, if interested, and place him in the minors.
Turner, 26, hit .300 (12-for-40) with two RBIs in 10 games for Triple-A Buffalo.
The Mets still have one Rule 5 pick remaining -- right-handed reliever Pedro Beato. He will become Mets property if he spends the entire season on the major league roster. The last Rule 5 pick to stick an entire season with the Mets and become team property via that route was catcher Kelly Stinnett in 1994.
Sandy Alderson deputy J.P. Ricciardi had been a particular advocate of Emaus, having drafted him while general manager of the Toronto Blue Jays. The Mets valued Emaus' ability to hit for power, while still walking more than he struck out. However, that was accomplished in Double-A and Triple-A with the Blue Jays, not at the major league level.
The decision should bode well for lefty-hitting Daniel Murphy, although righty-hitting Justin Turner could see more action against the Houston Astros, since Houston will start a left-hander in two of the three games in the series.
The Mets will need to make another roster move Thursday for Jason Bay's activatation from the disabled list. At that point, they are expected to go from eight to seven relievers, with Ryota Igarashi seemingly most vulnerable.