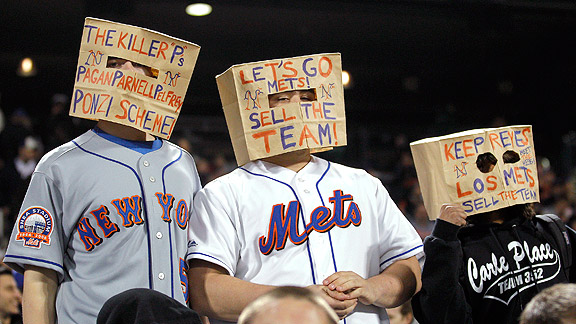 AP Photo/Paul J. Bereswill
These Mets fans were afraid to show their faces Wednesday night at Citi Field.New York Mets manager Terry Collins wasn't upset.
As he put it, center fielder Angel Pagan was just trying to make something happen when he tried to score on a wild pitch after pinch-hitter Justin Turner struck out in the bottom of the eighth inning.
"We've been sitting back, waiting for [something] to happen for a long time," Collins said. "And nothing's happened."
This time, something happened all right. It just wasn't the something the Mets were hoping for.
Pagan, who kept his lead foot up instead of down as he was sliding into home, was tagged out, leaving the Mets one run down. They went on to lose to the lowly Houston Astros 4-3 Wednesday night at Citi Field.
The Mets (5-13), who own the worst record in baseball, have lost seven straight at home and nine of their last 10 overall. Their 1-8 record at home is the worst start through nine games in franchise history.
"It's unfortunate," said Pagan, who is also in a 2-for-25 skid at the plate. "I thought it had gone far enough away where I could score. I thought I had a fair chance to make it."
But he didn't. The way the Mets are playing, he wasn't going to.
"It's frustrating," said third baseman David Wright, who with an 0-for-3 evening matched his career high by going hitless in his last 19 at-bats. "When you play poorly, you don't get those breaks and plays like that go against you.
"But we can't feel sorry for ourselves. We've just got to execute."
That's something the Mets haven't been doing. Catcher Josh Thole was one of the culprits on that front Wednesday night, popping up a bunt in the ninth inning that turned into a double play after shortstop Jose Reyes got too big a jump off first base.
"There's no reason for me to be off the bag there," Reyes said. "That's not supposed to happen. This is the major leagues."
"He's so aggressive, he probably just got too big a lead and came off the bag too far," Collins said.
"It's disappointing," said Thole, who went 0-for-5 and is hitting just .236. "I failed twice tonight trying to move runners over. We have to get bunts down. We have to get runners over."
Thole, however, wasn't the only Met to have failed 18 games into the 2011 season. He's just one of many. And that's the reason this team is off to the third-worst start in the 49-year history of the franchise.
Only the 1962 and 1964 Mets were worse. And those teams went a combined 93-229.
"We have to find a way to be honest with ourselves about what kind of team we are," said knuckleballer R.A. Dickey, who threw eight innings of four-run ball but gave up the decisive home run to Hunter Pence in the eighth. "We can't keep telling ourselves we're a better team than this. We need to identify what we're doing wrong and do it better."
And that begs the question, what exactly are they doing wrong?
"Collectively, each one of us has to own what we have to own," said Dickey, who mentioned that he walks too many batters (14 in 26 1/3 innings). "I'm not pointing the finger at anyone. I'm just saying we can't keep waltzing through the season, because we're going to kick ourselves at the end of it. We have to be able to take some positive out of what's going on. We have to find a way to do that."
The problem is, other than Carlos Beltran (.286), Reyes (.329) and Ike Davis (.290), there just aren't that many positives right now. The offense has manufactured just 32 runs in the last 10 games, while Mets pitchers came into Wednesday night's game with a collective 5.25 ERA, which ranked 28th in the majors.
And just when you thought the Mets had found a way to lose every which way possible, they found another Wednesday night.
"It's exasperating," Dickey said.
Collins was hired as Mets skipper to raise a sinking ship. But with these players, it's going to be a battle.
The only thing that seems likely at this point is more fans wearing paper bags on their heads.
"I signed up to make this team better," Collins said. "But if you don't hit and you don't pitch, the game can be ugly."
Ain't that the cold, hard truth.
And to think, it's only April.