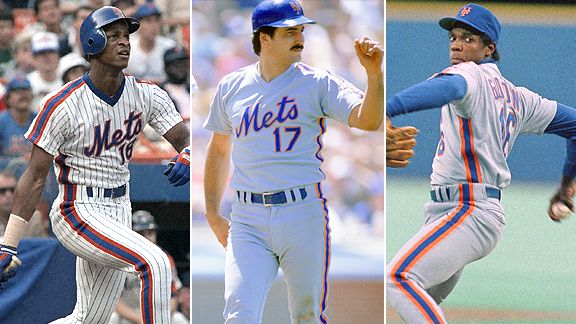 Getty Images, AP Photo
Darryl Strawberry, Keith Hernandez and Dwight Gooden were among the keys to the best run of success the Mets ever had.
Each Thursday, Mark Simon will commemorate the Mets' 50th season with stories and notes related to the history of the team.
If you're a Mets fan who is feeling down about the team's current losing ways, this would seem like a good time to celebrate the most dominant period of winning in club history.
We've just passed the 25th anniversary of the beginning of that run, an 18-1 stretch by the 1986 club that started with a streak of 11 wins in a row. A club record reached three other times, the 11-game streak was rudely interrupted by defeat, and was then followed by seven more victories.
Manager Davey Johnson promised that team would dominate. It took until the season's sixth game for the Mets to establish they would do so loudly and proudly.
The Mets opened the season 2-3 entering their game against the Phillies on April 18, but by May 10, they were 20-4 and on their way to an NL East romp.
How good is an 18-1 run? Only three teams have had one in the regular season since the 1986 Mets (the 1991 Twins, the 2002 Athletics and the 2006 Twins; the 2007 Rockies had a run that included postseason games). Those Mets are the last NL team to have such a streak. The only other NL team with one in the Divisional Era (since 1969) is the 1977 Phillies.
The Ulti-Met Run
April 18-May 10, 1986
The Mets' top four starters -- Dwight Gooden, Bob Ojeda, Ron Darling and Sid Fernandez -- were unhittable during this stretch, combining to go 15-0 with a 1.74 ERA.
The Mets' offense was led by Wally Backman, who hit .432 in 10 games, platooning with Tim Teufel, Keith Hernandez, who had a .440 on-base percentage, and Darryl Strawberry, who had six home runs, averaged an RBI per game, and had six game-winning RBIs. Gary Carter went through a brief slump, but also chipped in three game-winning RBIs.
Third baseman Ray Knight also came up with a couple of game-winning RBIs, and had a big home run in an eventual walk-off win against the Pirates.
"What I remember about that streak was the grind-it-out type of team we became," said Darling, now a Mets TV analyst, who started the win streak by beating future Hall of Famer Steve Carlton and the Phillies. "Seven innings plus of real fine pitching. A late rally. Roger [McDowell] and Jesse [Orosco] being impeccable. It wasn't like we were blowing guys out 10-2 all year. The games were very close. I remember saying 'This is the way we're going to be all year.'"
The Mets won seven one-run games during this run. The most significant of these were two in St. Louis as part of a four-game sweep of the defending NL champion Cardinals.
Third baseman Howard Johnson tied the series opener with a two-run ninth-inning home run off Todd Worrell and the Mets won in the 10th on a George Foster hit. Two days later they'd win 4-3, with reliever McDowell getting a key force out at third base on a bunt, and Backman snaring Terry Pendleton's groundball with a diving stop, turning a possible game-tying hit into a game-ending double play.
"I do remember that was such a critical series in April in St. Louis," said Hernandez, now part of a three-man booth with Darling and Gary Cohen on SNY. "They had beaten us out in 1985. To go in and sweep them, that set the tone for the whole year.'"
The only blemish during the streak was a 7-2 loss to the Braves. Nemesis Zane Smith struck out 12 on a day in which the Braves hit four home runs off Mets pitchers. The next day, the Mets were back, jumping out to an 8-2 lead on the Reds and hanging on for an 8-7 win, as Orosco closed after some struggles by McDowell.
They would win the next six after that, including two exciting clashes in an NLCS preview against the Astros. By the time they were finished, they were five games up on the Expos. It might as well have been 25 games. No one would come close to catching them the rest of the way.
"I remember that first streak we were saying to ourselves: 'Finally! This what I'm talking about. This is how good we're going to be,'" Darling said.
Five Things You May Not Have Known About the Mets' 18-1 Run in 1986
1. The MVP of that run may have been Gooden, who went 4-0 with an 0.51 ERA, three complete games and an eight-inning effort in four starts.
Many remember that Gooden was 24-4 with a 1.53 ERA in 1985. He actually started the 1986 season even better than that -- 5-0 with a 1.04 ERA in his first six starts. The best of those was a two-hit shutout of the Astros on May 6, as the Mets beat Bob Knepper, 4-0.
2. The Mets went through almost all of the streak without center fielder Mookie Wilson, who had suffered an eye injury when he was hit by a ball during a rundown drill in spring training. He didn't make his season debut until May 10. With Wilson out, rookie Kevin Mitchell split time in center field and the leadoff spot with Lenny Dykstra and hit .314 with five RBIs and six runs scored in 10 games. Wilson would play a much more integral role later in the year.
3. Orosco pitched 10 1/3 innings during that stretch and didn't allow a run. In fact, Orosco opened the season by allowing no runs, six hits, and only two of nine inherited runners to score in his first 16 1/3 innings.
4. The Mets have had three other win streaks of 11 games -- in 1969, 1972 and 1990. They've never had another 18-1 run, with the closest they've come being a 17-2 stretch in 1990.
5. The Mets' chances of going 19-1 ended in bizarre fashion with a 3-2 loss to the Reds. Cincinnati scored in unusual fashion, netting three runs on a bases-loaded, two-out, full-count single by player-manager Pete Rose. They would be the last RBIs of Rose's career against the Mets.
ESPN The Magazine's Doug Mittler contributed