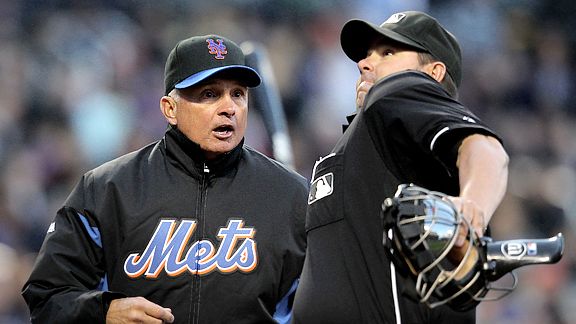 Nick Laham/Getty Images
Terry Collins gets ejected in the first inning by plate umpire Doug Eddings.
Terry Collins portrayed his first-inning argument with plate umpire Doug Eddings that led to his first ejection as Mets manager as strictly about getting the call right and not designed to get ejected and get his team jumpstarted.
Eddings ruled catcher Mike Nickeas had not held onto a tipped third strike, which gave Angel Sanchez more life in his at-bat.
"I didn't think about that at the time," Collins insisted after the Mets' 9-1 win, referring to trying to fire up his team and the fans. "I just wanted the call correct."
David Wright didn't sound so sure.
"I kind of had the feeling over the last couple of games that it wasn't going to take much," Wright said. "But that's just what Terry brings to the table. He's been great at having his finger on the pulse -- what's been going on in the clubhouse, kind of the mood of the team. So I think that he wants us to bring that energy. He wants to lead us with that energy. A lot of it had to do with trying to get the fans into it, trying to get us into it and kind of bringing that energy."
Nickeas said he did not need a replay to know he held onto the ball.
"I was very surprised, and obviously a little surprised [Eddings] wouldn't go get some help," Nickeas said. "And I think that's what frustrated TC. But things like that sometimes spark a little energy and a little emotion into the game."