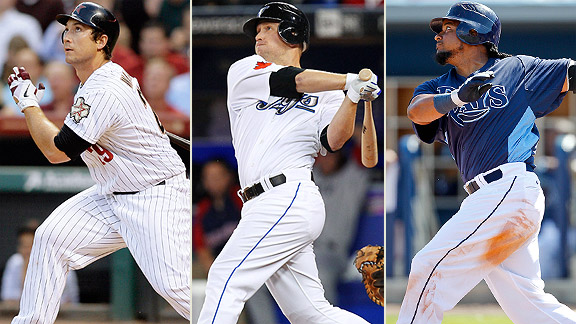 US Presswire
The Mets pick 13th overall in the draft on June 6. Former players taken in that slot include (l to r) Brett Wallace, Aaron Hill and Manny Ramirez.
Paul DePodesta began last week in California. He then traveled to Florida and Georgia. He swung through New Jersey and Pennsylvania. He then made his way back across the country to Seattle.
DePodesta, the Mets' vice president of player development and amateur scouting, is scouring the country in advance of the June 6-8 draft while working in conjunction with new amateur scouting director Chad MacDonald, who came from the Arizona Diamondbacks. The Mets pick 13th overall, then 44th -- the latter pick as compensation for losing "Type B" free agent Pedro Feliciano to the Yankees.
"I'm sort of bouncing all over the place and seeing these guys," DePodesta said.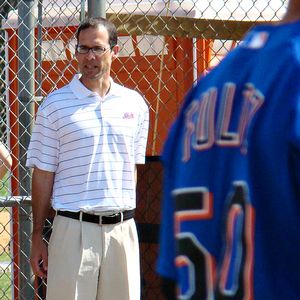 Adam Rubin
Paul DePodesta is crisscrossing the country in search of amateur talent.
ESPN's Keith Law identifies potential Mets draft picks at No. 13 as LSU outfielder Mikie Mahtook, UCLA right-hander Trevor Bauer, Texas right-hander Taylor Jungmann and Columbia, S.C., high school right-hander Taylor Guerrieri.
In other years, the 13th overall pick has yielded notables such as current Houston Astros first baseman Brett Wallace (2008), Toronto Blue Jays second baseman Aaron Hill (2003), Tampa Bay Rays first baseman Casey Kotchman (2001) and now-retired Manny Ramirez (1991).
Still, it is hardly a can't-miss slot. The last time the Mets drafted 13th overall, they selected outfielder Rob Stratton in 1996 out of San Marcos (Calif.) High School. He was dealt to the Colorado Rockies with Jay Payton and Mark Corey for John Thomson and Mark Little at the trading deadline six years later. Stratton topped out in Triple-A, having slugged 205 homers in 11 minor league seasons.
Of the 46 players taken in the No. 13 slot since 1965, 25 have appeared in a major league game -- 54.3 percent.
As for the depth of this class and what will be available at that spot, DePodesta said: "We're excited about it. We think it's a pretty deep draft -- not necessarily in every category, but in general. There are definitely some good top-end players. There's no doubt. We're going to have a good choice at 13. I think we're going to have at least a few different guys that we like an awful lot that we'll have a chance to choose from. The draft is particularly deep in pitching, both in college and high school. College position players are probably not as deep as in some other years, but that's probably the one group that doesn't have sort of an unusually strong year."
Of course, part of successful drafting is contingent upon how much an organization is willing to spend.
With limited exceptions, the Mets traditionally have been good Major League Baseball citizens in adhering to a "slotting" system.
LUCKY 13
A look at the last 10 players selected 13th overall in the draft.
Trying to contain signing bonuses for draftees, MLB recommends amounts to spend for each slot in the draft.
Many large-market teams use their deeper financial reservoirs to exploit the draft system and ignore those MLB recommendations. That allows them to sign players who slide in the draft.
Why would a player slide? One reason: Teams may be scared off by having to shell out big bucks because the prospect is using the leverage of threatening to go to college. Another reason: An advisor (agent) has the reputation for asking for big dollars.
The Mets generally have fallen into the category of a large-market team that follows MLB's guidelines -- to the organization's detriment. There have been exceptions, such as the Mets signing 24th-round pick Erik Goeddel out of UCLA last year for $350,000. Baseball America, which charts signing bonuses, lists no other team paying more than $150,000 for a player in that round.
BA added up how much teams paid for their draft picks in the first 10 rounds last year. The magazine then compared that sum with what MLB recommended to pay those picks.
The result: The Mets ranked 20th in the majors in terms of spending relative to the recommended amounts for their picks. They spent: $3.86 million, while MLB recommended those picks get $3.73 million.
The Yankees, by contrast, blew away the MLB recommendations, signing 10 picks for $5.13 million. The MLB recommendation was $2.72 million given where those players were drafted.
Sandy Alderson and DePodesta have pledged to change the organization culture and pay above slot when warranted. DePodesta said that intention remains in place despite any ownership financial issues.
"I think we plan to be aggressive," DePodesta said. "There does get to the point where there are diminishing returns on amateur players, because there are only so many big leaguers out there who are currently amateurs. It doesn't necessarily make sense to go completely overboard. But I think where it makes sense and we pick our spots, we plan to be aggressive. That was our approach coming in. There's nothing that's happened between now and then that's changed."
As for the slotting principle in general, DePodesta said: "It's sort of a difficult spot. Certainly you want to be good citizens. At the same time, if other people are not playing that role and they're getting an edge on you competitively because of that, it becomes a difficult choice as to what you think you should do. Our mission at this point is to do everything we can to help the Mets."
Building from within is a sound philosophy regardless of circumstances. But given the ownership financial situation and its potential impact on pursuing free agents next offseason -- even given the hefty dollars coming off the payroll -- does DePodesta feel added pressure to get this draft right?
"I don't think so," he said. "This is really a long-term process. This isn't the NFL draft where, 'Man, we have to get this right so we can be in a better position at the major league level come April of 2012.' That just isn't the way it works. Right now we'll be investing in this year's crop of amateur players, both internationally and domestically, with an eye toward 2015, 2016. While we certainly want to get it right, I don't think there's a greater sense of urgency than there would be at any other time."
Asked if the draft would be an extension of sabermetric principles -- preferring players with more walks than strikeouts, for instance, regardless of body type -- DePodesta said: "At the top we want everything. We want tools, skills, guys who can run and hit for power and defend. We want to be greedy. We want it all. The reality is those guys come off the board awfully quickly. And, at that point, you really have to start weighing the different factors. There's no player out there that's perfect. So you start looking at, 'What can this player do to help our organization, and hopefully help our major league team?' Sometimes we're going to take a relatively polished guy who's had terrific performance throughout his career. Other times, and in other areas of the draft, it means we're going to take somebody who is incredibly raw from a baseball standpoint, but has great athletic ability.
"One of the advantages I think we have right now is that because the job the guys have done in Latin America, our player-development system is accustomed to dealing with very young players, and players who have plenty of ability but need plenty of time to develop. Not every organization's player-development system has that experience or expertise. So I actually think we can take advantage of that and take some guys that maybe are a little bit more raw currently, and may take a little bit longer, but have significant upside.
"I think there will be a blend in our draft. It's not going to be just a whole slew of polished, skilled players. I'm sure there will be some of those. But I'd like to be able to think we'll be able to find maybe some higher-risk, higher-reward guys."
Meanwhile, players from the Dominican Republic and Venezuela, among other countries, are not subject to the draft. DePodesta sees the Mets being active in signing those players as free agents come July 2, when 16-year-olds from those countries are eligible.
"We've actually already signed a bunch, even going back to last November and December," DePodesta said. "I do think we plan to be active on or around July 2. We'll see how that actually pans out. It's a little different down there, because depending on the players' ages, it's kind of draft day every day if they're eligible. So we've signed a lot of players in the last couple of months. When the new crop [of 16-year-olds] becomes available on July 2, I suspect we'll have some activity."
In-depth appears Tuesdays during the regular season