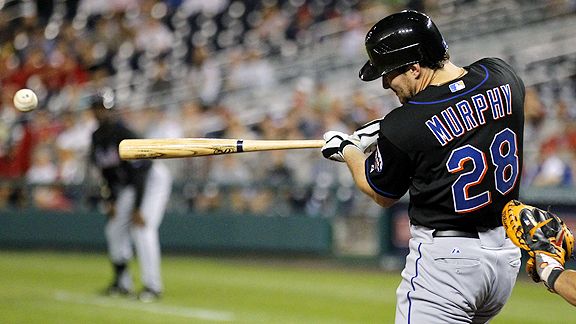 AP Photo/Manuel Balce Ceneta
Daniel Murphy delivers a ninth-inning two-run double Wednesday to lift the Mets to a 6-3 comeback win.
It would be a nice storyline if Daniel Murphy, inspired by Jose Reyes seemingly unjustly getting called out at third base, resolved to homer in the next at-bat to pull the Mets even. However, Murphy said, it was not quite that way.
Murphy said he was merely trying to get an extra-base hit to get into scoring position for David Wright and Carlos Beltran when he instead took Tyler Clippard deep as a pinch-hitter to pull the Mets even at 2 in the eighth. Murphy also delivered a two-run double in the ninth as the Mets rallied twice for the 6-3 win.
Asked if the Reyes issue charged him up, Murphy said at best it perhaps forced him to focus more.
"In that situation, Clippard has such a good changeup that I can't come out there and just come unglued. It's a real good one," Murphy said. "He actually threw me two of them to start the AB. I feel like if I'm looking to come unglued right there, he's probably going to beat me. So I tried to take a deep breath as much as I could and slow it down and understand the situation. I wasn't trying to hit a homer. I was trying to hit a double. I wanted to get it to David and Carlos. The fact that it went out of the ballpark was just kind of a bonus."
Murphy soon thereafter was kicking himself.
With the score tied at 2 a half-inning later, Adam LaRoche sent a fly ball to the left-field line that Jason Bay narrowly missed making a sliding catch on. Bay came up firing to second base and may have caught LaRoche trying to make it a double, but Murphy got caught up in the moment and did not speedily cover second base. A pinch-runner for LaRoche eventually scored the go-ahead run as the Nats took a one-run lead into the ninth.
"I got caught watching the play," Murphy said. "I don't know if it was maybe the excitement of what had just taken place. Hopefully with a little more maturity on defense you watch that offense and now it's time to play defense. And I caught watching that play. Jason goes full bore after it, gives me a good throw and I wasn't there. We would have had a chance to get him. Another learning opportunity."
As for the sliding catch attempt, Bay was shaded way over toward left-center for the pull hitter. Still, the left fielder said: "I'd like to think I catch that ball nine out of 10 times. I slid and I had to put my glove right in front of my face. And I had no idea where the ball was. It's like Outfield 101. You don't want ever to get the glove between the ball and your face. But when I slid, that's where I ended up. I just didn't know where [the baseball] was. I knew it was there. It was the perfect storm at a bad time in the game, but the boys picked me up."