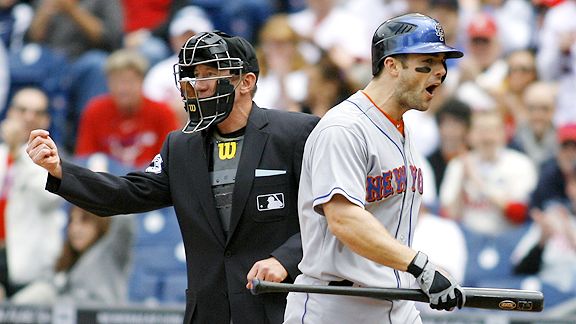 AP Photo/H. Rumph Jr.
David Wright has dealt with some offensive frustrations at the start of 2011.What's the most significant thing Mets fans can watch for heading into the month of May? Let's focus on one -- David Wright's performance against left-handed pitchers, such as Cliff Lee, whom he will face on "Sunday Night Baseball" at 8 p.m. ET.
From 2007 to 2010, Wright was among the very best hitters in baseball against left-handed pitching. He hit .373 (best in the majors), with an OPS of 1.125 (trailing only Albert Pujols) against southpaws.
That .373 batting average was the best for any player over a four-season stretch against left-handed pitching since Manny Ramirez hit .384 from 2000 to 2003.
Wright has good histories against some pretty good lefties. He mauled Andy Pettitte for a .476 batting average and hit .421 against Randy Johnson (albeit at the end of the Big Unit's career). He also typically crushes average left-handed pitchers, such as Horacio Ramirez, against whom he was 8-for-12 with four home runs.
ESPN analyst Jamie Moyer struggled for years to get Wright out. Wright hit .415 against him with four home runs in 53 at-bats.
"He has a very good approach regardless of who he is facing," Moyer said prior to Saturday's "Baseball Tonight." "But against left-handers, he knows who he is facing. And he tries to use his skills to work the pitcher into throwing him the pitch he wants, rather than what they were looking to throw."
Wright's numbers carried over through most of 2010 even as he struggled with some aspects of his game. But since Aug. 30, 2010, he has experienced a bit of a decline in performance.
Wright closed 2010 with four hits in his last 22 at-bats against left-handed pitching, dropping his season batting average against southpaws from .371 (even with his usual performance) to .339. Then, in the first month of 2011, he went 5-for-20 against lefties. Among those he's had issues with over these two seasons –- Mike Minor, Zach Duke, Chris Narveson and Tom Gorzelanny.
When He's Wright
2007 to 2010 vs LHP
Now, these are VERY small sample sizes. A couple of hits would have changed the numbers significantly. And there may be little predictive value to them. We do not dispute that. But a closer look indicates a couple of things that bear further watching.
How have lefties gone about getting him out this season?
Historically, Wright has mauled the pitch that a left-hander throws to the outside part of the plate. That was a pitch that he would typically line to center or right-center for a base hit when things were going well for him.
In 2009, he went 12-for-25 in at-bats that ended with a pitch thrown to the outer third or further away. Through late August 2010, he was 13-for-28 on such pitches. Of the 42 balls he put in play, Wright hit 16 line drives.
But since then, Wright has run into a funk that he hasn't shaken himself out of yet. Since mid-September, he's just 1-for-his-last-13 in at-bats ending on those pitches, with only one of nine batted balls classified as a line drive, according to video review.
Also of note: Wright's propensity for strikeouts against lefties has been higher than usual this month. From 2007 to 2010, he averaged about three strikeouts for every 20 at-bats against lefties. This April, he had seven strikeouts in those 20 at-bats, six of them swinging. Three of those strikeouts came against Gorzelanny, whom he could see again when Washington visits Citi Field on May 18 and 19.
Wright will get a chance to turn things around starting on "Sunday Night Baseball" against Lee, whom he's never previously faced. He's also likely to see Jonathan Sanchez and Clayton Kershaw in the Mets' next two series, against the Giants and Dodgers, and could see Yankees ace CC Sabathia later this month. So there will be a chance in the early part of the month for Wright to get right against left-handers. Keep an eye out for that.
Five stats that sum up April for the Mets
1. The Mets' .407 win percentage in April was their second-worst in that month in the past 10 seasons. The only year that was worse was 2004, when the Mets went 9-14, for a .391 winning percentage.
2. For the first time since 1993, the Mets had a losing streak of at least seven games that started in April. Lest we remind you that the 1993 Mets went 59-103. Other Mets teams to have a losing streak that long that began in April came in 1962, 1974 and for the pre-strike team in 1981.
3. The problems the Mets have had hitting home runs at Citi Field were not an issue in the opening month of the season. They hit 16 in 13 games, which puts them on pace for 100 in 2011. However, there's a new power issue. In 14 road games, the Mets were out-homered, 17-7.
4. Hitters in the No. 2 spot hit a combined .205 for the Mets in April, with 24 strikeouts, nine walks and a .303 slugging percentage (the kind of numbers you'd expect from Luis Castillo). A lot of that (lack of) damage was done earlier in the month. Daniel Murphy is hitting .279 in 43 at-bats and seems to have established himself as the go-to No. 2 hitter.
5. In 2010, Mike Pelfrey tied the Mets' club record, previously set by Nolan Ryan in 1970, for best ERA in March/April (0.69). In 2011, he nearly set the mark for the worst ERA in those months. His 7.39 ERA in April 2011 is topped only by Steve Trachsel's 8.28 in 2001.