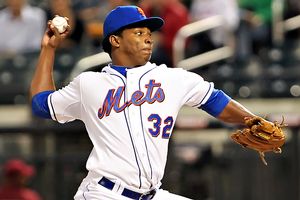 Anthony Gruppuso/US Presswire
Jenrry Mejia is headed for Tommy John surgery.
The future of prized Mets pitching prospect Jenrry Mejia could be in the bullpen, as opposed to the starting rotation.
Mejia, who was 1-2 with a 2.86 ERA in five starts at Triple-A Buffalo, is out for the rest of the season with a torn MCL in his right elbow.
"There'll probably be a conversation [about his role]," Mets manager Terry Collins said on Tuesday. "Until we get the pitching guys involved and take a look at the mechanical side of it, see what's going on. But for sure, I think we need to re-evaluate him."
Mejia, 21, appeared in 33 games for the Mets last season before being shut down with a strain in his right shoulder, going 0-4 with a 4.62 ERA. Thirty of those 33 appearances were in relief, but the plan was to make him a starter in the major leagues.
"I know he'll come back, he's a big strong guy," Collins said. "And when he does, then I'm sure we'll readjust what our thought process is gonna be."