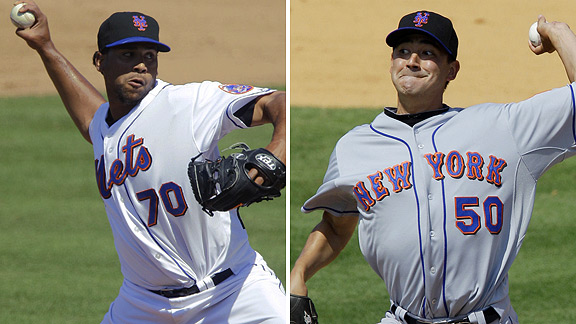 AP Photo/Carlos Osorio
Pedro Beato (left) landed on the DL with right elbow inflammation, resulting in the promotion of left-hander Mike O'Connor (right).
Pedro Beato has been placed on the disabled list with right elbow tendinitis, three days after tossing three scoreless relief innings in a 44-pitch effort on Sunday in Philadelphia.
Left-hander Mike O'Connor has been promoted from Triple-A Buffalo.
Beato has not allowed an earned run in 17 innings, the second-longest streak to open a Mets career in franchise history. Jack DiLauro did not allowed an earned run for 17 2/3 innings to open his major league career in 1969.
O'Connor, 30, last appeared in the majors with the Washington Nationals in 2008. He was 2-1 with a 3.31 ERA in 16 1/3 innings spanning 10 relief appearances with Triple-A Buffalo this season.