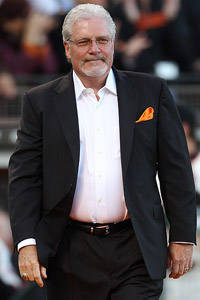 Brad Mangin/MLB Photos/Getty Images
San Francisco Giants GM Brian Sabean
San Francisco Giants general manager Brian Sabean minimized a report out of San Francisco that stated the Giants had discussions about trading for Jose Reyes. Sabean said "there's nothing to talk about" and had a few more choice words for the report.
"I can't respond to that. Honestly, I haven't seen or talked to Sandy Alderson since January ... I haven't talked to anybody from the Mets so I have no idea where the hell it came from," Sabean said prior to the Mets-Giants game. "So typical of today's world, I guess we're playing in New York and our shortstop [Miguel Tejada] isn't playing too well and [Reyes] is a free agent to be. It's connect-your-dots, so there's nothing to talk about. Talk to the clown from CBS or whatever outlet [expletive] came up with it."
Read the full news story here.