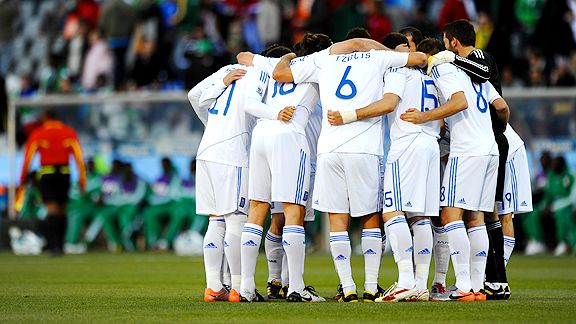 Vincenzo Pinto/AFP/Getty Images
Greece's national football team players gather together prior to the start of the Group B first round 2010 World Cup football match Greece vs. Nigeria on June 17, 2010 at Free State Stadium in Mangaung/Bloemfontein.
The Mets announced that Ecuador and Greece will meet in the inaugural soccer match at Citi Field on June 7 at 8 p.m. Here's the press release:
Tickets go on sale to the general public this Monday, May 9 at 10:00 a.m. online at 507TIXX.com and by phone at 718-507-TIXX. Tickets can be purchased in person this Tuesday, May 10 at 9:00 a.m. at the Jackie Robinson Rotunda ticket windows located at Citi Field. The game will take place rain or shine.
The match features two national teams with a large presence in New York, as both nationalities each have over 100,000 residents in the area. Queens County has the largest population of Ecuadorians of any county in the United States, while Astoria, Queens has the largest population of Greeks outside of Greece.
Ecuador is currently ranked No. 56 in the world and led by head coach Reinaldo Rueda and is preparing to compete in the 2011 Copa America in July. The team qualified for the 2006 FIFA World Cup where it advanced to the Round of 16.
Greece is currently ranked No. 12 in the world and is led by head coach Fernando Santos. The team is currently at the top of its group in qualifying for the 2012 European Championship which will take place next summer. Most recently, Greece qualified for the 2010 FIFA World Cup but was eliminated in the first round after placing third in its group.
The baseball field will be converted to a soccer field with the end lines and goals placed along the third baseline and in right field.
For more information visit 507TIXX.com or call 718-507-TIXX.