Mike Pelfrey is not a major league ace. A No. 2 or No. 3 starter on a big-league staff, maybe. But not a No. 1.
Yet that is what the Mets are asking him to be in 2011, with Johan Santana on the disabled list now and for the foreseeable future.
Fair or unfair, Pelfrey hasn't lived up to that role so far this season. But on Thursday afternoon, he stepped up in a big way to lead the Mets to a desperately needed victory.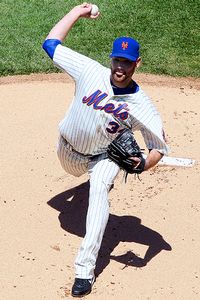 Jim McIsaac/Getty Images
Mike Pelfrey pitched a season high 7 2/3 innings Thursday.
Pelfrey pitched 7 2/3 innings -- his longest outing of the season -- giving up just two runs on four hits, as the Mets salvaged the final game of a three-game set against the defending World Series champs, beating the San Francisco Giants 5-2.
"Mechanically I felt awesome," Pelfrey said. "And that allowed me to be able to put the ball where I wanted to. We were working the inner part of the plate a lot, and I was able to get it there. The fastball coming in on the inside of the plate was the best it's been all year."
Pelfrey entered the game with a disappointing record of 1-3 and an ugly ERA of 7.39. In his previous outing, six days ago in Philadelphia, he lasted just 4 1/3 innings, giving up four runs on eight hits in what ended up being a 10-3 Phillies victory.
The 6-foot-7 right-hander was suffering through a stomach virus last week, which caused him to lose 11 pounds, and manager Terry Collins' gut instinct was to hold Pelfrey out of that game and give him some extra time to recuperate. But Pelfrey convinced Collins to let him pitch -- a decision Collins second-guessed after that game.
Before Thursday's game against the Giants, Collins said Pelfrey was back to 100 percent, and that he hoped to see him start pounding the strike zone more. And that's exactly what Pelfrey did -- particularly at the beginning of the ballgame. Through three innings, he had not allowed a hit, needing just 27 pitches to get nine outs -- 22 of which were strikes.
The Giants got on the board with two outs in the fourth, when Mike Fontenot drilled a 3-1 fastball into the upper deck in right field, pulling the Giants within 3-1. Then Pelfrey labored through the fifth, throwing 30 pitches and allowing another run. But that wasn't entirely his fault -- the runner who eventually scored reached base on a Jose Reyes throwing error.
"In the middle innings, I thought I worked a little too hard, trying to do too much," Pelfrey said. "And then I thought in the seventh and eighth that it kinda clicked again. I got back to what I was doing earlier in the game."
He certainly did. Pelfrey cruised through a 1-2-3 seventh, and allowed just a single in the eighth before being lifted after throwing 116 pitches -- 78 for strikes -- with five K's and only two walks. Closer Francisco Rodriguez was summoned from the bullpen for a four-out save.
"I thought in the seventh and eighth inning [Pelfrey] actually had as good a stuff as he had the whole game," said Collins. "The ball had great movement, he was locating it. … I think this is a great start for Mike, and I hope it gets him on track."
Last season was Pelfrey's best at the major-league level, as the then 26-year-old started the season 9-1 with a 2.39 ERA through June 13. He suffered through a rough July and early August, in which he lost four straight decisions, but still finished the year with a career-high 15 wins, to go along with nine losses and a 3.66 ERA.
Collins is hoping Pelfrey's rough stretch for this season is already in the rearview mirror.
"I think he's just starting to have a feel for it," Collins said. "I know he had a real bad month last year, and maybe that's the month he had in April this year, and [he] put it behind him."
With Santana out indefinitely, and the rest of the starting rotation besides Chris Young underwhelming so far this season, the Mets will need more of the same from Pelfrey if they are going to make any kind of noise in the National League. Pelfrey hopes to build on this win, which kept the Mets from being swept by the Giants at home, and ended a streak of five losses in six games.
When asked after the game if he felt extra pressure being the team's No. 1 starter right now, Pelfrey dismissed the notion.
"I just want to pitch better than what I have been," Pelfrey said. "Every time I go out there, I'm trying to win -- I don't care if I'm on a 10-game win streak, or a 10-game losing streak, I'm going out there to win. That doesn't really have an effect. Every time I'm out there, I expect to win and I want to win."
And he admitted that he hasn't felt as good as he did on Thursday since the 2010 season -- a hopeful sign for Mets fans.
"I haven't really felt as good as this mechanically this year," Pelfrey said. "I felt it click, and hopefully it'll continue to get me going, and [I'll] have a lot better May than April."