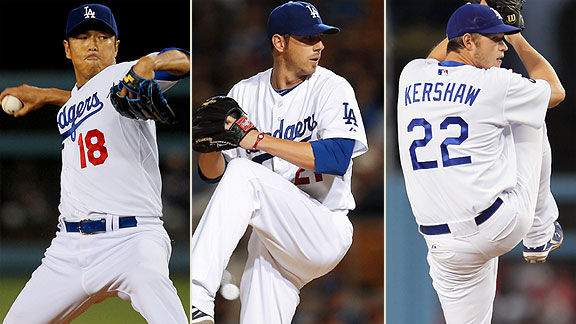 Getty Images
The Mets will face (l to r) Hiroki Kuroda, Jon Garland and Clayton Kershaw this weekend.
METS (13-18, fifth place/NL East) vs. LOS ANGELES DODGERS (15-17, third place/NL West)
Friday: LHP Jon Niese (1-4, 4.71) vs. RHP Hiroki Kuroda (3-2, 3.10), 7:10 p.m. ET
Saturday: RHP Chris Young (1-0, 1.88) vs. RHP Jon Garland (1-2, 3.81), 7:10 p.m. ET
Sunday: RHP R.A. Dickey (1-3, 4.62) vs. LHP Clayton Kershaw (3-3, 3.38), 1:10 p.m. ET
Dodgers short hops
• Right fielder Andre Ethier takes a 29-game hitting streak into Citi Field, tied for second-longest in franchise history with Brooklyn Robins player Zack Wheat in 1916. Ethier missed Wednesday's home stand finale at Dodger Stadium with mild left elbow inflammation. The franchise record is a 31-game hitting streak by Willie Davis in 1969. The last major leaguer to reach 30 games was Washington's Ryan Zimmerman in April/May 2009.
• Like the Mets, the Dodgers have severe financial woes. However, Dodgers owner Frank McCourt does not have an ally in commissioner Bud Selig, which makes the West Coast version vastly different from Fred Wilpon's plight. McCourt, who has gone through an ugly public divorce, has railed against Selig appointing former Texas Rangers president Tom Schieffer as a monitor of the organization's spending.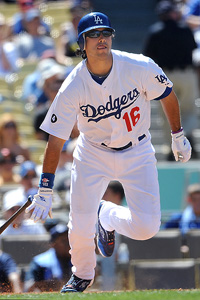 Jayne Kamin-Oncea/US Presswire
Andre Ethier brings a 29-game hitting streak and sore elbow to Citi Field.
• Closer Jonathan Broxton (5.68 ERA) has been shut down at least temporarily with right elbow pain and was sent for an MRI. He is not on the DL at this point. The Los Angeles Times reports Broxton has a bone spur and bruising. Vicente Padilla becomes the de facto closer until Broxton is available. On Tuesday, Broxton averaged a way-below-normal 91 mph with his fastball and issued consecutive four-pitch walks to the Chicago Cubs' Marlon Byrd and Carlos Pena, after which the closer was pulled. Wrote Dodgers beat writer Ken Gurnick:
[Manager Don] Mattingly said one of the immediate issues was to find an MRI tube large enough for Broxton to get his 300-pound frame into. "I'm serious," said Mattingly.
Padilla had earned his third career save last week in an extra-inning game at Florida. His other two saves came in 2000 with the Philadelphia Phillies, after arriving in a trading-deadline deal from the Arizona Diamondbacks with Omar Daal, Nelson Figueroa and Travis Lee for Curt Schilling.
• Left-hander Hong-Chih Kuo was activated from the disabled list Sunday after missing 16 games with a lower-back injury. Kuo is 3-0 with a 0.32 ERA and 29 strikeouts in 28 innings in his career against the Mets. Ideally, he would be the interim closer, not Padilla. But Kuo's multiple elbow surgeries and injury history prevent him from being used consecutive days.
• Ex-Met Rod Barajas, who was claimed off waivers by the Dodgers last Aug. 22, then re-signed on a $3.25 million contract for 2011. He is hitting .213 with five homers and 11 RBIs in 89 at-bats. Barajas has four walks and 26 strikeouts.
• Right-hander Jon Garland signed a one-year, $5 million free-agent contract last offseason with innings-pitched bonuses that could raise the value to $8 million. The Dodgers have an $8 million option for 2012 that also can vest at 190 innings. Garland has allowed only 18 baserunners (11 hits, seven walks) in 22 innings over his past three starts, although he has only one win in that stretch to show for it. He had started the season on the disabled list with a strained oblique muscle.
• Center fielder Matt Kemp's .352 average ranks sixth in the National League. Kemp (6 HR, 20 RBIs, .423 OBP, 10 steals) has played in 237 straight games, the longest active streak in the majors. His uptick in steals -- he had a career-high 35 in 2008 -- can be attributed to the return of first base coach Davey Lopes from the Philadelphia Phillies. Kemp feuded with previous coaches Larry Bowa and Bob Schaefer, and was only 19 of 34 on steal attempts in 2010. Lopes' best friend is former major league pitcher Dave Stewart, who is Kemp's agent. Lopes and Stewart even lived together this spring training in Arizona.
• Third baseman Juan Uribe, who defected from the San Francisco Giants on a three-year, $21 million deal, was hit by a pitch in the fourth inning Wednesday against the Cubs, the fourth time he has been plunked this season. He then was spiked in the same spot and had to leave the game. After hitting .143 in his first 13 games as a Dodger, Uribe is 16-for-45 (.346) with three homers and 12 RBIs in 14 games (12 starts). The Dodgers initially planned to use Uribe at second base, but a series of infield injuries disrupted that plan and has moved him to the hot corner. Original third baseman Casey Blake has been out since April 24 because of a staph infection in his left elbow issue. Shortstop Rafael Furcal is on the disabled list with a broken left thumb. Replacement Jamey Carroll (.280), originally intended to be the backup infielder, is 4-for-his-last-28.
• Right-hander Hiroki Kuroda remained with the Dodgers on a one-year, $12 million deal. Kuroda, 36, established career major league bests last season with 11 wins, 196 1/3 innings, 159 strikeouts and a 3.39 ERA. Despite arguably being the No. 2 pitcher on the free-agent market behind Cliff Lee, Kuroda did not entertain offers from other clubs -- likely which would have been for multiple years -- because he wanted to remain a Dodger.
• Matt Guerrier is tied with Broxton for the team lead in appearances with 14. The ex-Twin Guerrier cashed in on the lucrative market for set-up men, signing a three-year, $12 million deal. From the beginning of the 2007 season through Wednesday, Guerrier has logged more innings (328) than any other pitcher who exclusively has worked as a reliever, ahead of second-ranked Heath Bell (323 1/3), Carlos Marmol (323), Aaron Heilman (313) and Broxton (302).
• Marcus Thames landed on the disabled list Tuesday with a right quadriceps strain. He is expected to miss four weeks. Jay Gibbons, who was sidelined with persistent vision trouble, which included seeing double and had prompted him to return home from winter ball in Venezuela, was activated after a 14-game rehab assignment with Triple-A Albuquerque.
• Don Mattingly succeeded Joe Torre as manager.
Matchups
Niese vs. Dodgers (career: never faced)
Aaron Miles .333, 3 PA
Juan Uribe .000, 1 K, 3 PA
Young vs. Dodgers (career: 2-5, 4.02 ERA)
Dioner Navarro 1.000, 1 HR, 2 RBI, 2 BB, 6 PA
Andre Ethier .414, 6 HR, 10 RBI, 5 BB, 4 K, 34 PA
James Loney .353, 1 RBI, 2 BB, 1 K, 19 PA
Matt Kemp .333, 1 HR, 2 RBI, 1 BB, 5 K, 16 PA
Jamey Carroll .250, 1 BB, 2 K, 13 PA
Juan Uribe .182, 1 BB, 3 K, 12 PA
Aaron Miles .167, 1 K, 6 PA
Tony Gwynn .000, 1 PA
Dickey vs. Dodgers (career: 0-0, 0.00 ERA)
Matt Kemp .500, 1 K, 2 PA
Andre Ethier .500, 2 PA
Juan Uribe .333, 1 RBI, 6 PA
Rod Barajas .250, 1 RBI, 4 PA
Marcus Thames .250, 1 HR, 1 RBI, 2 BB, 8 PA
Jamey Carroll .000, 4 PA
James Loney .000, 1 K, 2 PA
Kuroda vs. Mets (career: 1-3, 5.18 ERA)
Daniel Murphy .667, 3 PA
David Wright .500, 3 RBI, 2 BB, 3 K, 14 PA
Jose Reyes .417, 1 RBI, 12 PA
Scott Hairston .375, 1 HR, 1 RBI, 2 K, 9 PA
Carlos Beltran .333, 1 HR, 2 RBI, 3 PA
Willie Harris .333, 1 K, 3 PA
Ike Davis .200, 1 BB, 2 K, 6 PA
Jason Bay .167, 1 HR, 1 RBI, 2 K, 6 PA
Ronny Paulino .000, 3 PA
Josh Thole .000, 1 K, 3 PA
Garland vs. Mets (career: 1-1, 3.00 ERA)
Jose Reyes .833, 6 PA
Ike Davis .667, 1 RBI, 3 PA
Willie Harris .333, 1 K, 3 PA
Jason Bay .333, 2 K, 3 PA
Scott Hairston .333, 3 PA
Carlos Beltran .297, 2 HR, 5 RBI, 8 BB, 6 K, 46 PA
Daniel Murphy .250, 4 PA
Ronny Paulino .125, 1 RBI, 2 K, 8 PA
David Wright .077, 2 RBI, 3 K, 13 PA
Kershaw vs. Mets (career: 2-0, 2.04 ERA)
Scott Hairston .385, 2 K, 13 PA
Jose Reyes .333, 1 RBI, 1 BB, 7 PA
Ronny Paulino .333, 3 K, 6 PA
Ike Davis .333, 3 PA
Josh Thole .333, 3 PA
David Wright .143, 2 BB, 1 K, 9 PA
Carlos Beltran .000, 1 RBI, 2 K, 5 PA
Willie Harris .000, 1 BB, 1 K, 4 PA
Jason Bay .000, 1 K, 3 PA
Last series results
Dodgers won, 3-1, at Dodger Stadium, July 22-25, 2010 (AP game recaps)
Dodgers 2, Mets 0: Hiroki Kuroda threw eight outstanding innings before Hong-Chih Kuo closed out the victory. The Mets lost their fourth in a row and fell to 1-7 on their 11-game road trip, with three shutout losses. The Mets are scoreless in their last 17 innings after going 24 straight innings without a run last weekend in San Francisco. The Dodgers gave Kuroda just enough support, with Matt Kemp hitting a homer and driving in both runs. Kuroda outpitched countryman Hisanori Takahashi in the sixth major league meeting of starters born in Japan. Takahashi, who played for the Yomiuri Giants, and Kuroda, who pitched for the Hiroshima Toyo Carp, faced each other six times in Japan, with Kuroda going 4-0 in those matchups. Dodgers catcher Russell Martin threw out David Wright and Jose Reyes trying to steal, two plays that Kuroda said "really changed the momentum of the game."
Mets 6, Dodgers 1: Johan Santana tossed seven strong innings, Ike Davis homered and Jason Bay had the whiplash-inducing catch that eventually sent him to the disabled list with a concussion as the Mets snapped a four-game skid. Santana (8-5) allowed one run and five hits, struck out four and walked one. The left-hander has allowed no more than one run while pitching at least seven innings in any of his last five starts. The Mets ended a streak of 17 scoreless innings when they took a 1-0 lead in the first. The run was unearned, the result of an error by second baseman Blake DeWitt. The Mets had runners at the corners with one out in the first when Luis Castillo took off for second on a third strike to David Wright. The throw from Russell Martin was in time, but the ball popped out of DeWitt's glove as he applied the tag and Jose Reyes sprinted home. Davis hit his 14th homer in the second to make it 2-0. The Dodgers' bullpen imploded in the eighth when the Mets parlayed four walks, a sacrifice fly by Wright and a bases-loaded double by Bay into a four-run rally. Bay made an inning-ending catch of Jamey Carroll's extra-base bid on the warning track in left field in the second inning before his momentum sent him crashing face-first into the Dodgers' bullpen gate. He eventually got up and walked off.
Dodgers 3, Mets 2 (13 innings): James Loney homered in the 13th inning, giving the Dodgers a victory over the Mets. Oliver Perez (0-4), starting his second inning of relief, retired Matt Kemp on a broken-bat flyball before Loney drove a 1-0 pitch into the pavilion seats in right-center. Loney's homer was timely because the Dodgers had no true relievers left in the Los Angeles bullpen. Much-maligned reliever George Sherrill (1-1), the ninth Dodgers pitcher, worked a perfect inning.
Dodgers 1, Mets 0: Clayton Kershaw scattered seven hits over eight innings in his first start since appealing a five-game suspension and Russell Martin hit a late RBI double in the Dodgers' victory over the punchless Mets. Former catcher Kenley Jansen got his first major league save, handing New York its fourth shutout loss on a 2-9 road trip to San Francisco, Arizona and Los Angeles. Mets starter R.A. Dickey came out in the sixth with an injured left leg. Kershaw (10-5) stranded six runners, struck out three and issued an intentional walk. The 22-year-old left-hander was suspended last Wednesday, one day after hitting San Francisco's Aaron Rowand with a pitch. Pedro Feliciano (2-5) gave up the winning hit.