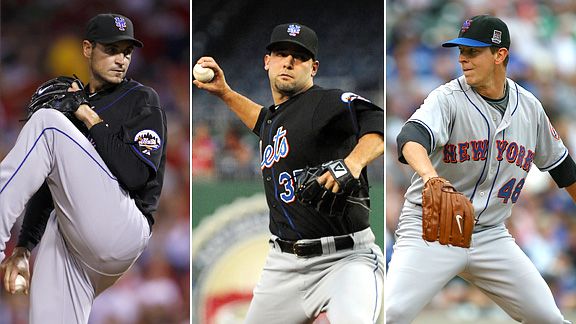 AP Photo/Getty Images
Shoulder woes for Chris Young (left) prompted Dillon Gee (center) to get Saturday's emergency start. Pat Misch (right) should join the team Sunday from Triple-A Buffalo
Chris Young will have an MRI on Sunday because of the latest flare-up of shoulder woes that have plagued him in recent seasons.
Young abandoned making Saturday's scheduled start against the Los Angeles Dodgers when he felt tightness behind his right shoulder while long-tossing in the outfield before the game, he said. He never made it to the bullpen mound to begin that phase of warming up for the start. Young had received two anti-inflammatory injections during the week.
Young acknowledged he was concerned even while driving to the ballpark that he would be unable to go. He added that he did not know the severity of the injury.
"I'll probably know more tomorrow," Young said, alluding to the pending MRI. "It's hard to say. Today was the most effort I've put into throws this week. … It's responded OK -- just the recovery hasn't been to the point where it was going to allow me to pitch close to even 90 percent. That wasn't going to be possible tonight."
General manager Sandy Alderson said left-hander Pat Misch will be summoned from Triple-A Buffalo and likely will be activated, although the Mets have not yet committed to putting Young on the DL.
Dillon Gee had been on standby for Young's start, but the rookie had figured his services would not be needed because Young had reached close to game time. Gee found out 20 minutes before the start he would be needed.
Now, Gee temporarily could step into Young's rotation spot, although Thursday -- the next time Young's turn comes up -- is an off-day between series in Colorado and Houston anyway.
Young was limited to four appearances with the San Diego Padres last season because of continued shoulder woes related to 2009 surgery. He already has spent time on the disabled list this season with biceps tendinitis at the spot where the tendon meets the shoulder.
"Last year I could barely even pick up a ball," Young said, downplaying the relative severity now. "I couldn't even get my shoulder in position. This, I can go through the motion. It's just grabbing as I try to increase the intensity. I think the preliminary speculation in talking to the doctors is that it's muscle tightness or fatigue. ... At this point I have no idea. Hopefully that's it."
Gee struggled with control, particularly in the early innings, but escaped bases-loaded jams in the first and second innings. Overall, he limited the Dodgers to two runs on seven hits, three walks and two hit batters while striking out three in 5 1/3 innings. He received a no-decision in the Mets' 4-2 win.
"They told me to show up today like I was going to start," Gee said. "So I did. Probably somewhere around 4, 4:30ish, it looked like Chris was going to be able to start. So I went outside and threw and went out for BP and stuff. I was getting ready to go to the pen [for relief duty]. I was walking down to the pen like a normal day. As soon as I got down there, they told me to start getting 'hot.' It was a little crazy, but it was all right.
"Definitely, I wasn't very good tonight. I was all over the place. I didn't really have a good feel tonight. I don't know if it was because of that [short notice] or because mentally it was just really tough on me today just kind of back and forth -- I don't know what it was. But tonight wasn't as good as the outcome. I was pretty lucky tonight."