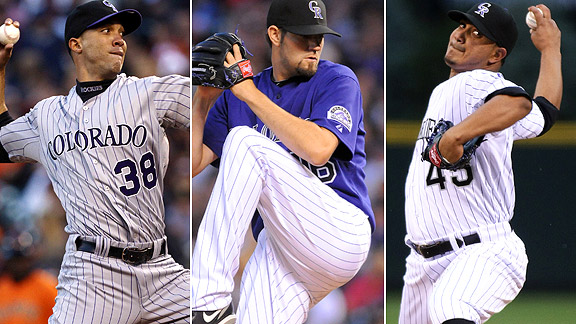 US Presswire/Icon SMI
The Mets face (r to l) Jhoulys Chacin, Jason Hammel and Ubaldo Jimenez during a three-game series against the Colorado Rockies.
METS (15-19, fifth place/NL East) vs. COLORADO ROCKIES (18-14, first place/NL West)
Monday: LHP Chris Capuano (2-3, 5.40) vs. RHP Jhoulys Chacin (4-2, 2.85), 8:40 p.m. ET
Tuesday: RHP Mike Pelfrey (2-3, 6.06) vs. RHP Jason Hammel (3-1, 2.63), 8:40 p.m. ET
Wednesday: LHP Jon Niese (1-4, 4.71) vs. RHP Ubaldo Jimenez (0-2, 5.88), 3:10 p.m. ET
Rockies short hops
• Shortstop Troy Tulowitzki has cooled off considerably since the Rockies' mid-April four-game sweep at Citi Field, during which Tulowitzki went 10-for-16, slugged four homers and drove in eight runs. Since leaving Flushing, Tulowitzki is hitting .182 and has only one homer and four RBIs in 77 at-bats. His season average has tumbled 116 points during that span, to .248. Manager Jim Tracy suggested Tulowitzki is likely to get a day off during the series against the Mets at Coors Field. Tulowitzki's lone homer since the first Mets series, which came Friday off San Francisco's Matt Cain, was the 100th long ball of his career. He became the ninth Rockie to reach that plateau, joining Todd Helton (336), Larry Walker (258), Vinny Castilla (239), Dante Bichette (201), Andres Galarraga (172), Matt Holliday (128), Brad Hawpe (118) and Ellis Burks (115).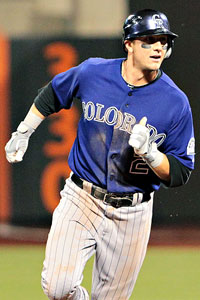 Anthony Gruppuso/US Presswire
Troy Tulowitzki has slumped since belting four homers in four games against the Mets at Citi Field last month.
• Helton passed Lou Gehrig on Thursday for 30th on the all-time doubles list with No. 535. Next up: Hall of Famer Al Simmons at 539.
• Ubaldo Jimenez, who raced to a 17-2 start last season before the Mets handed him a 1-0 defeat last Aug. 10 at Citi Field behind seven scoreless innings from Mike Pelfrey, is winless this season. Jimenez had landed on the disabled list April 6 with a cut of the cuticle on his right thumb, and stumbled upon returning. He lasted a combined 14 innings in his first three starts after the DL trip, with a 7.07 ERA. Jimenez, though, may have started putting things together in his last outing. He did require 118 pitches for six innings, but limited San Francisco one run and two hits while walking five and striking out seven in what became a 4-3 loss by the Rockies. Colorado has lost each of Jimenez's five starts this year, and eight in a row dating back to last season, when he won 19 games. Even during the recent slump, Jimenez had one pitch touch 100 mph in Pittsburgh and others at 97 mph.
• Colorado's Triple-A affiliate, Colorado Springs, employs several ex-Mets. First baseman Mike Jacobs is hitting .293 with five homers and 22 RBIs in 116 at-bats in the Pacific Coast League. John Maine is 1-1 with a 7.16 ERA in six starts. Brad Emaus, who was immediately traded to Colorado after clearing Rule 5 waivers and being returned to the Toronto Blue Jays, is hitting .267 with two homers and eight RBIs in 11 games. Emaus has walked four times, for a .343 on-base percentage.
• Catcher Chris Iannetta may have only a .230 batting average, but he has a .406 on-base percentage. Among catchers with at least 50 at-bats, Ianetta's OBP leads the majors, ahead of second-ranked Chris Snyder of Pittsburgh (.390), then Washington's Wilson Ramos (.377), Atlanta's Brian McCann (.370) and the Yankees' Russell Martin (.368). Iannetta has started 25 of Colorado's 32 games, with Jose Morales (.231) handling the other duty.
• Right-handed reliever Felipe Paulino, who was acquired from the Houston Astros in November for Clint Barmes, is going through a miserable stretch that has left his future with the Rockies in question. Paulino (0-3, 7.59 ERA) was charged with three losses in three appearances during the Rockies' trip to Arizona and San Francisco and has struggled to command his fastball. The complication is that Paulino is out of options, so he cannot be sent to the minors without being exposed to waivers. The Rockies have a qualified replacement candidate at Triple-A: Matt Daley, who has a 0.77 ERA in 13 relief appearances with Colorado Springs. Daley graduated from Garden City High School on Long Island.
• Ex-Met Ty Wigginton landed on the disabled list last Tuesday with a right oblique strain. Infielder Ian Stewart rejoined the Rockies from Triple-A, but is 1-for-15 since the promotion.
• The Rockies were swept by the Giants over the weekend and are 7-12 since their 11-2 start. They have lost six of their past seven games. Under first-year hitting coach Carney Lansford, Colorado ranks 14th in the National League in batting average (.233), ahead of only Washington (.224) and San Diego (.215).
• Center fielder Dexter Fowler leads the National League with 41 strikeouts, two ahead of runner-up Drew Stubbs of Cincinnati. David Wright is tied for fifth at 37. Still, Fowler has a healthy .372 on-base percentage. The leadoff hitter's steal total (two in five attempts) is way down this season.
• Huston Street, the National League Delivery Man of the Month for April after going 10-for-10 in save conversions, blew his first save Thursday. After inheriting a 2-0 lead, Street surrendered homers to Arizona's Gerardo Parra and Chris Young. The only other Rockie to win that award had been Manny Corpas in September 2007.
• Left fielder Carlos Gonzalez has returned to the No. 3 hole, ahead of the cleanup hitter Tulowitzki. Helton was placed in that spot four times in a five-game stretch last week. Gonzalez's return coincides with a nine-game stretch in which he has picked up his production, hitting .313 with a homer and five walks.
• Right-hander Jason Hammel has limited opponents to two earned runs in 20 2/3 innings over his past three starts. He blanked Arizona for seven innings Thursday.
Matchups
Capuano vs. Rockies (career: 4-4, 3.79 ERA)
Troy Tulowitzki .800, 2 HR, 2 RBI, 3 BB, 8 PA
Ryan Spilborghs .500, 1 BB, 9 PA
Dexter Fowler .500, 2 RBI, 1 K, 4 PA
Chris Iannetta .500, 1 BB, 1 K, 3 PA
Jonathan Herrera .333, 3 PA
Todd Helton .269, 3 RBI, 1 BB, 6 K, 27 PA
Carlos Gonzalez .000, 1 RBI, 2 K, 3 PA
Alfredo Amezaga .000, 3 PA
Ian Stewart .000, 1 K, 1 PA
Pelfrey vs. Rockies (career: 5-2, 2.91 ERA)
Chris Iannetta .667, 3 BB, 8 PA
Jonathan Herrera .667, 3 PA
Todd Helton .600, 1 HR, 5 RBI, 4 BB, 1 K, 14 PA
Seth Smith .455, 2 BB, 2 K, 13 PA
Troy Tulowitzki .353, 1 RBI, 2 BB, 19 PA
Ian Stewart .273, 1 BB, 12 PA
Carlos Gonzalez .250, 1 HR, 2 RBI, 1 BB, 2 K, 9 PA
Jason Giambi .250, 1 RBI, 2 BB, 2 K, 6 PA
Alfredo Amezaga .182, 2 BB, 2 K, 13 PA
Dexter Fowler .167, 1 RBI, 4 K, 13 PA
Ryan Spilborghs .000, 1 K, 4 PA
Niese vs. Rockies (career: 0-2, 5.55 ERA)
Troy Tulowitzki .500, 1 HR, 3 RBI, 2 BB, 1 K, 12 PA
Ian Stewart .500, 3 PA
Todd Helton .462, 1 RBI, 1 K, 13 PA
Ryan Spilborghs .333, 2 HR, 5 RBI, 12 PA
Chris Iannetta .333, 1 RBI, 2 BB, 1 K, 9 PA
Jonathan Herrera .333, 1 K, 3 PA
Seth Smith .222, 1 BB, 1 K, 11 PA
Dexter Fowler .167, 6 PA
Carlos Gonzalez .167, 3 K, 6 PA
Jose Lopez .000, 3 PA
Chacin vs. Mets (career: 0-0, 0.00 ERA)
Chin-lung Hu 1.000, 2 RBI, 3 PA
Ronny Paulino 1.000, 1 RBI, 1 PA
Scott Hairston 1.000, 1 PA
Hammel vs. Mets (career: 0-2, 6.91 ERA)
Chin-lung Hu 1.000, 1 PA
Daniel Murphy .500, 1 K, 4 PA
Jason Bay .500, 1 HR, 1 RBI, 1 K, 2 PA
Jose Reyes .429, 1 RBI, 7 PA
Carlos Beltran .400, 1 RBI, 1 K, 6 PA
Josh Thole .400, 2 K, 5 PA
David Wright .333, 1 RBI, 1 K, 4 PA
Scott Hairston .286, 1 BB, 1 K, 8 PA
Willie Harris .273, 2 RBI, 1 BB, 2 K, 12 PA
Ike Davis .167, 6 PA
Jimenez vs. Mets (career: 2-2, 2.50 ERA)
Chin-lung Hu 1.000, 1 HR, 2 RBI, 2 PA
Willie Harris .455, 3 RBI, 2 BB, 13 PA
Josh Thole .333, 1 K, 3 PA
Scott Hairston .273, 1 HR, 3 RBI, 1 BB, 4 K, 12 PA
David Wright .200, 2 BB, 3 K, 12 PA
Jose Reyes .200, 1 HR, 2 RBI, 1 BB, 12 PA
Daniel Murphy .200, 2 RBI, 6 PA
Jason Bay .200, 1 BB, 2 K, 6 PA
Ronny Paulino .200, 5 PA
Carlos Beltran .167, 1 BB, 7 PA
Ike Davis .000, 3 K, 3 PA
Last series results
Rockies won, 4-0, at Citi Field, April 11-14 (AP game recaps)
Rockies 7, Mets 6: Troy Tulowitzki homered and drove in three runs, Carlos Gonzalez also had three RBIs and the Colorado Rockies took advantage of a struggling New York Mets bullpen. Tulowitzki made a terrific jump throw from shortstop to preserve a seventh-inning tie and Seth Smith reached base four times, including on a triple and a double. The Rockies improved to 7-2, with the only two losses coming in extra innings, to match the best nine-game start in franchise history. Jason Hammel pitched six respectable innings and Colorado took the opener of a four-game series. The NL West leaders even found a way to win in New York. They are 5-23 on the road against the Mets since 2003, dropping eight consecutive series. David Wright hit his second homer and Willie Harris had a two-run double for New York. Jose Reyes tripled twice for the fifth time in his career. Trailing by three, the Mets mounted a rally in the eighth. Wright led off with a homer against Rafael Betancourt and Carlos Beltran doubled. A run-scoring single by Ike Davis cut it to 7-6, but Betancourt retired the next three batters. Huston Street worked a perfect ninth for his fifth save in five chances. Matt Belisle (2-0) got the final two outs in the seventh, with some help from Tulowitzki. Reyes tripled with two outs and Daniel Murphy hit a grounder toward the hole at shortstop. Tulowitzki, a Gold Glove winner last year, fielded the ball on his backhand and jumped, twisting his body in the air to make a strong, accurate throw to first for the third out.
Rockies 5, Mets 4: Every time they give him something to hit, Troy Tulowitzki is making the Mets pay. Tulowitzki sliced a go-ahead homer through the thick fog and the Colorado Rockies, off to the best start in club history, beat New York. Ryan Spilborghs also connected and Esmil Rogers (2-0) won his second straight outing to begin the season. Tulowitzki burned the Mets again when they pitched to him with first base open in a key spot. He hit a three-run shot off Jon Niese (0-2) in the fifth inning to give Colorado a 4-3 lead. The slugger also doubled and singled, meaning eight of his 11 hits this season have gone for extra bases. He is 5-for-8 in the series with six RBIs. Carlos Beltran and Daniel Murphy each had an RBI double for the Mets (4-7), who have dropped six of seven following a three-game winning streak. First-year manager Terry Collins held a quick, closed-door meeting after the game and made it clear what he expects.
Rockies 6, Mets 5
Rockies 9, Mets 4: Sweet-swinging Troy Tulowitzki clobbered home runs in each game of a doubleheader, and the Rockies wrapped up a four-game sweep of the New York Mets in style. They won the opener 6-5, hanging on through a wild ninth inning, before taking the second game 9-4. Tulowitzki went 10-for-16 with eight RBIs, homering in each of the four games against New York. The 26-year-old also scored five times and drew four walks against balky Mets pitching. Off to its best start in franchise history, Colorado (10-2) has won five straight and 10 of 11 overall, the lone defeat coming against Pittsburgh in extra innings. Meanwhile, the Mets (4-9) have lost five straight and eight of nine. Greg Reynolds (1-0) won Game 1 despite a couple shaky innings, and Jorge De La Rosa (2-0) held on long enough in the second game for the Rockies' offense to deliver his win. The Rockies spotted the Mets 2-0 leads in both games. In fact, New York has scored first in six straight games while winning just once. In the opener, Seth Smith got Colorado within 2-1 with an RBI in the fifth, and the Rockies went ahead for good in the sixth. Scott Hairston inexplicably stopped chasing Jose Morales' fly ball to right, letting it bounce off the warning track for a two-run double. Colorado added three more runs in the seventh when Carlos Gonzalez drove a 2-2 pitch from R.A. Dickey (1-2) into the right-field seats for his first home run of the year. Tulowitzki followed the two-run shot with a homer of his own off Bobby Parnell. Jose Reyes homered for the Mets in the eighth, making it 6-3, and Huston Street came on in the ninth to close things out. He gave up a two-run shot to Hairston, a walk to Josh Thole and a single to pinch hitter Carlos Beltran before Matt Lindstrom came in from the bullpen. He got Reyes to ground into a fielder's choice, then walked Daniel Murphy to load the bases for David Wright, who flied out to the warning track in right field to end the game. Game 2 didn't have nearly as much drama. New York again took a 2-0 lead on the first career RBIs for longtime minor leaguer Mike Nickeas, after a strange play in which a fan hanging over the railing appeared to touch a drive by Hairston that hit off the orange line on the fence that marks a home run. The umpire crew ruled the play a double, then upheld the decision after watching a video replay. Nickeas cleared the bases anyway with his double moments later. The Rockies tied it in the third on Dexter Fowler's RBI single and Gonzalez's run-scoring grounder, and the Mets pulled back ahead in the fourth on Reyes' two-run single. Tulowitzki led off the sixth with a solo shot to left, Todd Helton added a one-out single, and Ryan Spilborghs singled to right on a ball Beltran misplayed. Iannetta walked to load the bases for De La Rosa, who chopped a grounder to Brad Emaus at second. He fumbled the play and could only get the runner at second, allowing Helton to score and the inning to continue. The miscue, one of several by the Mets' defense, proved costly. Fowler lashed a single through the left side to give Colorado a 5-4 lead and knock Chris Capuano (1-1) from the game. Taylor Buchholz then served up a plumb pitch to Jonathan Herrera, who hit a three-run homer to right field, the second of his career.