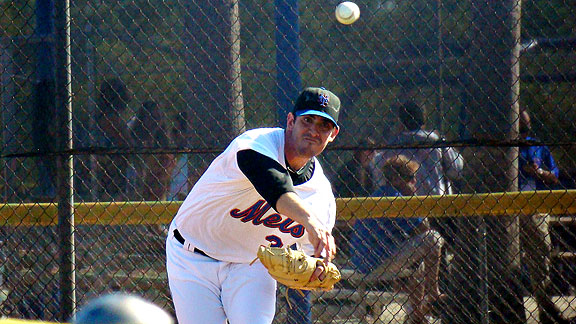 Adam Rubin
2010 first-round pick Matt Harvey is off to a solid start at Class A St. Lucie, but the majors this season is probably out of the question.
Paul DePodesta, the vice president for player development for the New York Mets, has a message for fans who clamor for the farm system's best pitching prospects to reach Citi Field this season: Don't bank on it, even after rosters expand in September.
On a day manager Terry Collins candidly assessed what remains at Triple-A in terms of starting pitching depth by saying, "I'm not sure what else is down there that can help us," DePodesta said the next wave of pitchers would advance through the system at a deliberate pace.
DePodesta was specifically referring to promising right-handers Jeurys Familia and Matt Harvey.
Familia, 21, made his Double-A debut Tuesday night for Binghamton. Harvey, the team's first-round pick out of the University of North Carolina last June, will not be far behind Familia in getting promoted to the B-Mets, although the 22-year-old Harvey had his worst professional line Tuesday night for Class A St. Lucie: 3.2 IP, 7 H, 8 ER, 1 BB, 3 K, 2 HR, 1 HBP.
"I think a September call-up for these kind of guys right now is probably unlikely, because it doesn't necessarily serve that long-term development plan, although I'll never say never," DePodesta said. "Oftentimes these guys will dictate to us what that long-term plan is in terms of whether or not we should speed it up or slow it down. But I think it's probably aggressive at this point to expect one of those guys to be up here and contributing in September."
Read the full story here