The explanation Justin Turner received when demoted eight days before the New York Mets broke spring training camp made sense but still stung.
Turner had done nothing to warrant failing to make the Opening Day roster of the New York Mets. Yet he was assigned to Triple-A Buffalo to open the season anyway.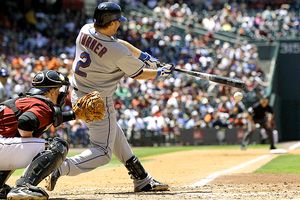 AP Photo/David J. Phillip
Justin Turner produced five RBIs on Sunday, including his first major league homer.
Coaches Chip Hale and Ken Oberkfell told him as much, too.
"We both wanted him to know the circumstances were that we had a Rule 5 player, and that we wanted to give [Brad Emaus] a chance, and that he had done nothing wrong in big league camp to warrant not making the team So don't go down there and let getting sent down, which it does a lot, affect you and have a bad start," Hale said.
Added Hale: "We knew if he had a good start he'd be up as a second baseman or as a utility man."
Sure enough, the Mets gave up on Emaus, returning him to the Toronto Blue Jays, who spun him in a minor league trade to the Colorado Rockies. That resulted in Turner getting an April 19 promotion from Buffalo and a second-base platoon with Daniel Murphy. When Ike Davis then landed on the disabled list Thursday with a left-ankle sprain, Murphy moved to first base, and Turner became the full-time second baseman.
A May 25, 2010 waiver claim from the Baltimore Orioles, Turner had been spurned for a September call-up last season despite going 6-for-6 and hitting for the cycle on the final day of Buffalo's regular season. Now? Turner has taken off with the regular role.
Read the full story here