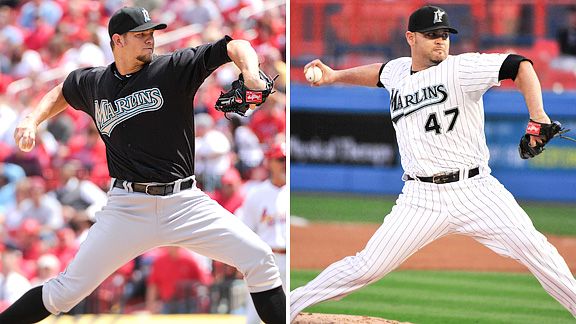 Getty Images
The Mets face Marlins ace Josh Johnson (left) and unbeaten Ricky Nolasco (right) in a two-game series.
METS (19-21, fourth place/NL East) vs. FLORIDA MARLINS (23-16, second place/NL East)
Monday: RHP Mike Pelfrey (3-3, 5.74) vs. RHP Josh Johnson (3-1, 1.63), 7:10 p.m. ET
Tuesday: LHP Jon Niese (2-4, 5.03) vs. RHP Ricky Nolasco (3-0, 3.02), 7:10 p.m. ET
Marlins short hops
• Josh Johnson, the National League Pitcher of the Month for April, is coming off an outing in which he topped Philadelphia ace Roy Halladay. Johnson limited the Phillies to one run in seven innings and sliced his ERA to 1.63. Johnson was nothing short of dominant during the season's opening month. He went 3-0 with a 0.88 ERA in six April starts. Batters in the first three innings were 3-for-57 with six walks against Johnson during the month. That's a .053 batting average. Not that it got much better in innings four through six, when the batting average against Johnson rose to .164 during that six-start stretch.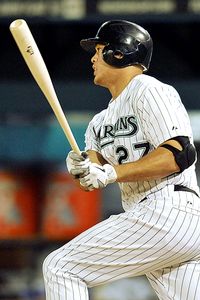 Steve Mitchell/US Presswire
Mike Stanton played only a half-game against the Mets during the season-opening series.
• Right fielder Mike Stanton homered in consecutive weekend games against Washington. He is now hitting .338 with seven homers and 15 RBIs in 20 career games versus the Nationals. Six of the long balls have come in nine games at Nationals Park. After leaving midgame on Opening Day against the Mets with hamstring tightness, Stanton missed six straight starts.
• First baseman Gaby Sanchez was the National League Player of the Week for the period ending May 8. He hit .464 with 10 RBIs for the week. Teammate Logan Morrison (@LoMoMarlins) has started a Twitter campaign to get Sanchez elected to the All-Star Game. Of course, Sanchez (and Ike Davis) have to contend with Albert Pujols, Prince Fielder and Ryan Howard at the position. Sanchez ranks third among NL first basemen in batting average (.331), homers (seven) and RBI (25).
• Morrison returned from the disabled list on Friday. The left fielder missed 21 games with a strained arch in his left foot. Morrison homered in his return and actually has a 13-game hitting streak spanning the DL stint.
• Slumping former Brave Omar Infante (.230) was out of the starting lineup Sunday for the first time this season, with Emilio Bonifacio getting the nod at second base. Sanchez is now the only Marlin to start every game this season.
• First-year Marlins catcher John Buck did not start Sunday for only the fifth time in 39 games this season. Brett Hayes instead handled the duty. Buck, who has drawn rave reviews from Marlins pitchers, always handles Johnson and Ricky Nolasco.
• Two years after winning the NL batting title, shortstop Hanley Ramirez's average has sagged to .213 after going 0-for-4 Sunday. Ramirez homered for only the second time this season on Wednesday, off Philadelphia left-hander Cliff Lee. The Marlins hope playing at Citi Field jumpstarts Ramirez. Ramirez has hit .403 with three homers and 11 RBIs in 16 games (15 starts) at the third-year ballpark.
• Manager Edwin Rodriguez is sticking with Chris Coghlan in the leadoff spot despite the center fielder's offensive struggles. Coghlan has the lowest on-base percentage out of the leadoff spot of any National League qualifier (.317), a full 20 points behind Atlanta's Martin Prado.
• Greg Dobbs (.350) has been the regular starter at third base against right-handed pitching, with Bonifacio and Wes Helms splitting the duty against southpaws.
• Closer Leo Nunez leads the majors with 14 saves, one ahead of the Yankees' Mariano Rivera. The success has come despite no shortage of baserunners. He has allowed 17 hits and nine walks in 20 2/3 innings.
• Nolasco has allowed three runs or fewer in all but one of his eight starts. Despite limiting Washington and Philadelphia to two runs apiece, the Marlins have lost his last two starts. The last loss charged to Nolasco came Aug. 28 of last season, before he was shut down for the final month and required knee surgery.
• Anibal Sanchez (3-1, 2.90 ERA), who does not face the Mets, has twirled consecutive scoreless efforts against Washington during which he has struck out 20 and allowed only five hits, two walks and a hit batter in 15 innings.
• Florida's bullpen has a 2.56 ERA, second only to San Diego's relief corps (2.18).
Matchups
Pelfrey vs. Marlins (career: 1-7, 5.63 ERA)
John Buck .500, 1 HR, 4 RBI, 2 PA
Omar Infante .471, 3 RBI, 1 BB, 1 K, 19 PA
Mike Stanton .429, 1 BB, 1 K, 8 PA
Greg Dobbs .412, 1 HR, 3 RBI, 1 K, 17 PA
Gaby Sanchez .375, 1 K, 8 PA
Scott Cousins .333, 3 PA
Hanley Ramirez .286, 1 HR, 3 RBI, 3 BB, 5 K, 38 PA
Chris Coghlan .273, 3 BB, 1 K, 14 PA
Logan Morrison .250, 1 BB, 1 K, 5 PA
Wes Helms .250, 4 PA
Emilio Bonifacio .143, 7 PA
Niese vs. Marlins (career: 1-4, 5.67 ERA)
Emilio Bonifacio .500, 3 PA
Logan Morrison .429, 2 RBI, 2 BB, 10 PA
Brett Hayes .333, 1 RBI, 3 PA
Hanley Ramirez .273, 1 HR, 2 RBI, 2 BB, 2 K, 13 PA
Gaby Sanchez .214, 1 RBI, 3 BB, 1 K, 17 PA
Chris Coghlan .200, 1 K, 11 PA
Wes Helms .200, 4 RBI, 1 BB, 3 K, 8 PA
Omar Infante .167, 2 RBI, 1 BB, 2 K, 19 PA
Mike Stanton .000, 1 RBI, 2 BB, 2 K, 6 PA
Osvaldo Martinez .000, 1 BB, 1 K, 4 PA
John Buck .000, 1 K, 3 PA
Johnson vs. Mets (career: 8-1, 2.73 ERA)
Fernando Martinez .667, 1 RBI, 3 PA
Jason Bay .444, 1 HR, 2 RBI, 3 K, 9 PA
Ronny Paulino .333, 3 PA
Daniel Murphy .286, 2 BB, 2 K, 16 PA
Willie Harris .278, 1 HR, 2 RBI, 7 BB, 6 K, 25 PA
David Wright .207, 1 HR, 3 RBI, 1 BB, 8 K, 30 PA
Josh Thole .200, 2 K, 5 PA
Carlos Beltran .192, 5 RBI, 4 BB, 6 K, 30 PA
Jose Reyes .160, 1 RBI, 3 BB, 3 K, 28 PA
Scott Hairston .000, 1 BB, 2 K, 6 PA
Nolasco vs. Mets (career: 5-6, 5.26 ERA)
David Wright .380, 4 HR, 11 RBI, 3 BB, 15 K, 53 PA
Daniel Murphy .353, 1 RBI, 3 K, 18 PA
Jose Reyes .349, 3 HR, 5 RBI, 2 BB, 7 K, 45 PA
Scott Hairston .333, 1 HR, 1 RBI, 6 PA
Carlos Beltran .333, 1 HR, 2 RBI, 5 BB, 9 K, 41 PA
Jason Bay .273, 2 HR, 3 RBI, 2 BB, 2 K, 24 PA
Josh Thole .250, 1 K, 8 PA
Ronny Paulino .200, 3 RBI, 6 PA
Willie Harris .111, 1 BB, 4 K, 10 PA
Last series results
Mets won, 2-1, at Sun Life Stadium, April 1-3 (AP game recaps)
Marlins 6, Mets 2: Josh Johnson took a no-hitter into the seventh inning, John Buck hit a grand slam in his Florida debut and the Marlins beat the Mets on Opening Day. Logan Morrison also homered and Gaby Sanchez added an RBI single for the Marlins, who played their 19th and final opener at Sun Life Stadium. The team moves into a new ballpark in 2012. Johnson moved to 8-1 against the Mets -- his only loss coming in last year's season opener at Citi Field. Willie Harris had a leadoff double in the seventh for New York's first hit off Johnson (1-0). Carlos Beltran lined an RBI double and Ike Davis knocked in another run with a groundout off Johnson for the Mets. Johnson allowed three hits and two runs in the seventh, leaving with two outs and getting an ovation from the crowd of 41,237, Florida's largest since a visit by the Yankees in June 2009. He struck out three and walked two in 6 2/3 innings. Mike Pelfrey (0-1) gave up five runs, four hits and four walks in 4 1/3 innings for the Mets, who saw their streak of five straight Opening Day wins snapped. Pelfrey loaded the bases with one out in the fourth by walking Mike Stanton and Morrison and giving up a double to Sanchez. Pelfrey quickly got a two-strike count on Buck, but made a mistake with a 2-2 offering. Buck, an All-Star for Toronto last year, who got an $18 million, three-year deal from Florida in November, drove a fly ball the opposite way to right-center, clearing the wall for his third career grand slam. The way the Mets fared against Johnson, it hardly mattered. The ace has faced the Mets 13 times and compiled a 2.73 ERA. One of the major offseason concerns for the Marlins was infield defense, which marked one of the reasons why the team wanted Omar Infante in the deal that sent second baseman Dan Uggla to Atlanta. It paid a dividend on the season's first batter. Jose Reyes hit a chopper that Infante barehanded before throwing over to first for the season's initial out. And in the third, Infante robbed Reyes again, this time ranging to his right to snare a grounder. Josh Thole had a chance for the Mets' first hit in the sixth, but his grounder up the middle was fielded by shortstop Hanley Ramirez, who spun and threw easily for the out. But in the seventh, Harris' double was clean, ending Johnson's bid to join Bob Feller in one of baseball's most exclusive clubs -- the one for those throwing Opening Day no-hitters. Feller had baseball's only one of those in 1940.
Mets 6, Marlins 4 (10 innings): David Wright's third hit of the game brought Jose Reyes home with the go-ahead run in the 10th, Willie Harris added a big two-run single later in the inning, and the Mets wasted a ninth-inning lead before beating the Marlins. The Mets also got three hits from Josh Thole and two hits from Ike Davis. Logan Morrison drove in two runs and Emilio Bonifacio had two hits for the Marlins, who jumped out to a 2-0 lead after the first inning before managing one hit over the next seven frames. Mets manager Terry Collins grabbed the lineup card on his way out of the dugout, giving it a kiss after his first victory with his new club. It didn't come easily. Francisco Rodriguez (1-0) got the win despite blowing a save chance by giving up three hits and a walk in the ninth for New York. Blaine Boyer gave up an RBI single in the 10th to Brett Hayes but held on for his second career save, the other coming May 14, 2008. Thole put the Mets up 3-2 with a two-out single in the ninth off Leo Nunez, and New York turned the game over to Rodriguez. K-Rod hadn't pitched in a real game since Aug. 14. He gave up a walk and three hits, including Greg Dobbs' two-out single to center that brought John Buck home with the tying run. But the Mets got him off the hook in the 10th against Ryan Webb (0-1), who faced three batters all of whom scored. Reyes led off with a single, his first hit in nine at-bats this season, went to second on Angel Pagan's bunt single, and scored easily on Wright's single to center. Wright could have likely been retired earlier in the at-bat, when Scott Cousins purposely didn't catch a fly ball the Mets' third baseman lofted into deep foul ground down the right-field line. Had Cousins caught the ball, Reyes would have easily gone to third base with one out. The gamble didn't work. Wright delivered a single. And Harris' single later in the inning brought home Pagan and Wright. The starters, Ricky Nolasco and Jon Niese, each gave up two runs in seven innings.
Mets 9, Marlins 2: The New York Mets waited more than two months to win a series on the road last year. This season, it took only a weekend. Willie Harris and Ike Davis homered, knuckleballer R.A. Dickey picked up where he left off last year and the Mets won their season-opening series. The Mets were 47-34 at home last season, but just 32-49 away from Citi Field. They went 2-8 in series rubber games on the road in 2010. Dickey (1-0) allowed an unearned run and five hits, struck out seven and walked three. New York jumped all over Javier Vazquez (0-1), who was making his Marlins debut. Jose Reyes led off the game with a double and Harris followed with a drive over the fence in right. The Mets added another run in the first when shortstop Hanley Ramirez made an errant throw attempting to turn an inning-ending double play. Vazquez pitched a scoreless second, then unraveled after Davis hit a one-out solo drive in the third. The next four batters reached. Daniel Murphy hit an RBI double and Josh Thole was intentionally walked before Edward Mujica replaced Vazquez, who is coming off a disappointing season with the New York Yankees. Dickey came to the plate with the bases loaded and hit a soft grounder to third baseman Emilio Bonifacio, who sailed a throw home over catcher John Buck's head. Two runners scored to make it 7-0. Vazquez, who signed a $7 million, one-year contract over the winter, was charged with seven runs, four earned, and six hits. He also walked five. Gaby Sanchez had three hits and drove in a run for the Marlins. Omar Infante and Bonifacio had two hits apiece. It was the shortest start for Vazquez since August 14, 2005, when he allowed nine runs in two innings for the Diamondbacks against Atlanta.