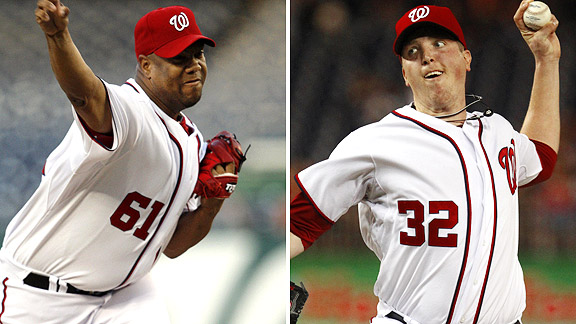 AP Photos/Jacquelyn Martin
The Nationals will skip Jordan Zimmermann's turn after Tuesday's rainout, keeping Livan Hernandez (left) and Tom Gorzelanny (right) as the arms to face the Mets in a two-game series.
METS (19-22, fifth place/NL East) vs. WASHINGTON NATIONALS (20-21, fourth place/NL East)
Wednesday: LHP Jon Niese (2-4, 5.03) vs. LHP Tom Gorzelanny (2-2, 3.40), 7:10 p.m. ET
Thursday: RHP Dillon Gee (2-0, 4.44) vs. RHP Livan Hernandez (3-5, 3.92), 1:10 p.m. ET
Nationals short hops
• Drew Storen, the 10th overall pick in the 2009 draft that also yielded Stephen Strasburg with the first pick, has emerged as the full-time closer. Storen has tossed 21 straight scoreless innings, the longest active streak in the majors. The lone earned run he has surrendered came in his first appearance of the season, against Atlanta on April 2, on a solo homer by shortstop Alex Gonzalez.
• Trying to limit Jordan Zimmermann's innings as he returns from Tommy John surgery, the Nationals decided to skip his turn entirely rather than push the 25-year-old Zimmermann back into the Mets series. His scheduled start on Tuesday was rained out in D.C.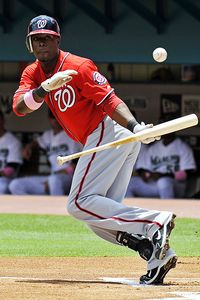 Steve Mitchell/US Presswire
Roger Bernadina is getting the job done with Rick Ankiel on the DL, and should move to left field when Ankiel returns.
• After working with Nationals pitching coordinator Spin Williams in Viera, Fla., since spring training, Oliver Perez has been assigned to Double-A Harrisburg and may make his first start Wednesday. Harrisburg faces Binghamton, the Mets' Eastern League affiliate, during the upcoming weekend, but Perez seemingly is not lined up to start opposite the B-Mets. The Mets are paying Perez's $12 million salary this season, less any prorated portion of the major league minimum the southpaw would receive if he was promoted to the Nats.
• With a seven-inning performance Saturday against the Florida Marlins in which he allowed the lone run in a 1-0 defeat, Livan Hernandez crossed the 3,000-inning threshold for his career. He joins Tim Wakefield (3,095 innings) as the only active pitchers to have surpassed that total. The next closest among active pitchers: Javier Vazquez (2,686 2/3 innings)
• Center fielder Rick Ankiel is on the disabled list with a sprained right wrist. He is eligible to be activated from the DL on Wednesday, but is not expected to be ready for the series against the Mets. Roger Bernadina has manned the position in Ankiel's absence and taken over as the Nats' leadoff hitter. Bernadina (.306, 3 RBI, 4 SB in 36 AB) has produced to the point that he likely will remain in the lineup in some capacity when Ankiel returns within days. Bernadina's relocation should be to left field, where Michael Morse (.247, 2 HR, 11 RBI) has struggled so much that Laynce Nix has started 10 of the past 12 games at the position. Ian Desmond began the season as leadoff hitter, then was replaced by Danny Espinosa, who also struggled.
• Right fielder Jayson Werth (seven years, $126 million) has continued to underperform, with a .238 average and six homers in 147 at-bats. Roughly half of Werth's 39 strikeouts have been looking.
• Third baseman Ryan Zimmerman has been out since April 9 with an abdominal strain that required surgery. He is expected to return in mid-June. Jerry Hairston and ex-Met Alex Cora have shared the hot-corner duty in Zimmerman's absence, although Hairston has started to assume the bulk of the activity in the past week.
• Highly regarded rookie catcher Wilson Ramos, who was splitting duty evenly with Ivan Rodriguez to open the season, now generally starts two of three games per series. After hitting .358 through April, Ramos is only hitting .139 with two RBIs in 36 at-bats this month. He was acquired from the Minnesota Twins at last year's trading deadline for reliever Matt Capps.
• First baseman Adam LaRoche (.182, 3 HR) continues to play through a slight tear of the labrum in his left, throwing shoulder. The Nats have reworked their relay throws from the right-field corner to avoid LaRoche being placed in a position to need to retire a runner with his arm.
• Desmond (.217), the shortstop, missed two games with a quadriceps strain before going 0-for-2 with two walks in his return Monday against the Pittsburgh Pirates.
• Espinosa's average has sagged to .196. In 21 games (20 starts) since April 25, the second baseman was 8-for-73 with 23 strikeouts before homering in his final at-bat Monday.
Matchups
Niese vs. Nationals (career: 1-0, 5.56 ERA)
Adam LaRoche .500, 2 HR, 6 RBI, 6 PA
Brian Bixler .500, 1 K, 2 PA
Jayson Werth .375, 1 BB, 5 K, 9 PA
Ivan Rodriguez .222, 3 RBI, 2 K, 9 PA
Ian Desmond .200, 1 K, 5 PA
Jerry Hairston .000, 4 PA
Michael Morse .000, 3 PA
Gee vs. Nationals (career: 1-0, 1.29 ERA)
Jayson Werth .333, 1 K, 3 PA
Roger Bernadina .000, 3 PA
Wilson Ramos .000, 1 BB, 1 K, 3 PA
Ian Desmond .000, 1 BB, 1 K, 3 PA
Danny Espinosa .000, 1 BB, 3 PA
Michael Morse .000, 2 PA
Gorzelanny vs. Mets (career: 2-4, 4.95 ERA)
Justin Turner .333, 1 RBI, 3 PA
Carlos Beltran .286, 2 HR, 3 RBI, 3 BB, 2 K, 10 PA
Jason Bay .167, 2 K, 6 PA
Jose Reyes .133, 2 RBI, 4 BB, 1 K, 19 PA
Scott Hairston .091, 2 BB, 3 K, 13 PA
Willie Harris .000, 1 K, 3 PA
Nick Evans .000, 1 PA
Josh Thole .000, 1 PA
Daniel Murphy .000, 1 PA
Hernandez vs. Mets (career: 13-14, 4.14 ERA)
Ronny Paulino .500, 2 RBI, 4 PA
Ruben Tejada .333, 1 K, 9 PA
Scott Hairston .333, 1 RBI, 2 K, 4 PA
Carlos Beltran .324, 2 HR, 5 RBI, 4 BB, 5 K, 39 PA
Jose Reyes .286, 2 HR, 4 RBI, 2 BB, 6 K, 59 PA
Josh Thole .286, 2 BB, 9 PA
Jason Bay .176, 1 BB, 4 K, 18 PA
Willie Harris .000, 3 BB, 1 K, 17 PA
Daniel Murphy .000, 1 K, 4 PA
Jason Pridie .000, 1 PA
Last series results
Mets won, 2-1, at Nationals Park, April 26-28 (AP game recaps)
Mets 6, Nationals 4: Jordan Zimmermann kept the streak alive. The Washington Nationals remained the only team in the majors to have its starters go at least five innings in every game this season. Then along came the sixth. Zimmermann gave up a pair of one-out singles and was replaced by Doug Slaten to create a lefty-lefty matchup against Josh Thole. Thole promptly hit a slider for a two-run double into the left-field corner, putting the Mets ahead for good. Zimmermann (1-4) allowed five runs and nine hits, his worst start of the season, but he made the case that he should have stayed in the game to face the Mets' catcher with the score tied at 3. Another reason to keep Zimmermann in: Slaten has allowed eight of 19 inherited runners to score. The Nationals, opening a seven-game home stand, scored three of their runs off solo homers. Wilson Ramos hit a pair the first multi-homer game of his career and Jayson Werth hit his fourth of the season. But Werth was also struck out by Ryota Igarashi (1-0) with men on second and third with two outs in the fifth. Ramos kept producing, moving the Nationals within a run with a two-out RBI single in the eighth that scored Rick Ankiel, but the Mets picked up a run in the ninth on an RBI groundout to restore the two-run lead. Thole finished with three RBIs as New York ran its winning streak to five. Chris Young lasted 4 2/3 innings, allowing three runs and four hits in his first start since returning from the disabled list with tendinitis in his right biceps. Igarashi (1-0) faced only one batter -- Werth -- and joined relievers Taylor Buchholz, Jason Isringhausen and Francisco Rodriguez to allow only one run over 4 1/3 innings. Rodriguez pitched the ninth for his fifth save.
Mets 6, Nationals 3: Daniel Murphy delivered a game-tying, pinch-hit homer in the eighth inning right after Jose Reyes was ruled out at third base on a disputed call. Murphy then added a two-run double in the ninth, helping the Mets to their sixth consecutive victory. In a seesaw game delayed 45 minutes at the start by rain, and seen by an announced crowd of only 13,568, the Mets led 1-0, trailed 2-1, tied it at 2 in the eighth, fell behind 3-2 later that inning, then produced a four-run rally in the ninth against Washington closer Sean Burnett (0-1). That allowed Pedro Beato (1-0) to record his first major league win despite giving up fellow rookie Wilson Ramos' sac fly in the eighth that momentarily put Washington ahead by a run. Francisco Rodriguez pitched the ninth to earn his sixth save in seven chances. The Mets loaded the bases with none out in the ninth thanks to three straight singles, and pinch-hitter Chin-lung Hu's sac fly made it 3-all, meaning Burnett blew his second save in five chances. Josh Thole followed with an RBI groundout that put the Mets ahead 4-3. After Reyes was walked intentionally, Murphy doubled to make it 6-3. When Reyes slid across home plate, he bounced up and threw his arms wide apart in an exaggerated "safe" motion, then pointed in the direction of third-base umpire Marvin Hudson. That was all follow-up from what happened an inning earlier, when Reyes argued vociferously after being called out trying to stretch a double into a triple. With one out in the eighth and his team trailing 2-1, Reyes tried to take the extra base. Slow-motion TV replays appeared to show that Reyes' right fingers stayed on the bag even as he slid through the tag made by third baseman Jerry Hairston Jr. from center fielder Rick Ankiel's throw. But Hudson called Reyes out. Reyes popped up and yanked off his helmet, then threw it to the ground while yelling at the umpire. As Reyes paced in the dugout, shaking his head, Murphy came to the plate to bat for Justin Turner. With the count full, Murphy hammered a solo shot to right, making it 2-2. Mets starter R.A. Dickey gave up two runs and eight hits in his 6 2/3 innings. Washington's Tom Gorzelanny went 6 1/3 innings, giving up one run and four hits.
Nationals 4, Mets 3: Ian Desmond homered and tripled in his first game back from paternity leave to lead Washington. Desmond's home run in the fifth was his third of the season. He had missed the Nationals' past two games after his wife, Chelsey, gave birth to the couple's first son, Grayson Wesley Desmond. Washington had lost six of seven before holding off the Mets behind Desmond's offense and eight strong innings from starter Livan Hernandez (3-2). Hernandez allowed three runs (two earned) and seven hits with five strikeouts and a walk. He also got his first hit of the season and drove in a run with a sacrifice bunt. The loss ended New York's six-game winning streak, the team's longest run since winning eight straight last June. Ike Davis had a single, a double and drove in a run for the Mets, extending his hitting streak to 10 games. Chris Capuano (2-2) allowed four runs and 10 hits in 5 2/3 innings, striking out two without a walk. Hernandez was pitching the day after his name surfaced at the trial of a convicted drug dealer in San Juan. All the runs came in the middle innings, with both teams scoring in three straight innings. While the Mets could only manage a single run at a time, the Nationals were able to get a pair in the fourth. The game was tied 1-all when Desmond tripled and scored on Jerry Hairston's single. Hairston advanced to third on Ivan Rodriguez's single, and Hernandez then perfectly placed a bunt in front of the plate. Mets catcher Josh Thole fielded the ball but his dive back to the plate was too late to get Hairston, who scored to give the Nationals a 3-1 lead. Davis led off the fifth with a single. The Mets loaded the bases on Thole's single and an error by Rodriguez, who fumbled Capuano's sacrifice bunt. Center fielder Rick Ankiel made a tough catch on Jose Reyes' sacrifice fly, but New York couldn't add another run as Hernandez struck out Daniel Murphy. Desmond's solo homer stretched the Nationals' lead to 4-2 in the fifth. The Nationals scored the game's first run in the third when Jayson Werth hit a flyball that right fielder Carlos Beltran appeared to misjudge. The ball sailed over his head, bounced off the warning track and into the Nationals' bullpen for a run-scoring ground-rule double.