Josh Satin's natural position is second base. In recent seasons, however, he has started to get more exposure to first base and even third base, in part because other prospects received priority at his customary spot.
But with Jordany Valdespin restored full time to shortstop in Double-A and 2008 first-round pick Reese Havens only now appearing in extended spring training games because of injury woes, Satin again primarily is playing second base. He also is continuing to hit, which never has fluctuated.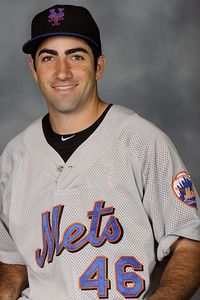 Courtesy of New York Mets
Josh Satin
"Really, at the end of last year, I wasn't playing much second at all. I went to instructional league and I pretty much didn't play at all at second," Satin said. "One of the reasons I went there was to work at the corner positions. Obviously, I can see what's going on and I would like to be a second baseman. But if that's not the case, that's OK."
Satin hit .308 with seven homers and 39 RBIs in 79 games during the second half of last season with Double-A Binghamton after a promotion. He then worked on the corner infield positions in the organization's fall instructional league in Fort Myers, Fla. Late in that stint, farm director Adam Wogan informed Satin he was being rewarded with a spot in the prestigious Arizona Fall League as a taxi-squad member -- meaning he was only eligible to play twice a week. But an injury to a prospect from another organization opened the door for Satin to be transferred to a full roster spot. Satin went on to hit .390, with a .479 on-base percentage, in 12 games in the AFL.
He has continued that level of success this season in a return to the B-Mets. In 126 at-bats, Satin is hitting .310 with three homers and 17 RBIs. He has a .425 on-base percentage. Satin has logged 21 games at second base and eight games at first base and five at DH.
There were rumblings in recent days he might be moved to Triple-A Buffalo, but that did not materialize.
"The main thing I want to improve here in my offensive game is being able to hit earlier in the count successfully," Satin said. "I have always, and especially this year, walked and struck out a lot because when I get in the box I like to get deep into counts. I don't like to swing early. I'm more comfortable seeing a few pitches. But this year I've tried -- actually I've failed a little more than I'd like to -- at trying to swing earlier. Because once you get to the big league level, you can't just take pitches. If that's the one pitch you're going to get to hit, you've got to hit it. That's really the main thing I'd like to improve, being able to hit that first-pitch breaking ball that's just hanging there that they're trying to get over instead of taking it."
The 26-year-old Satin is a sixth-round pick in 2008 from Cal-Berkeley. That's the draft that yielded Ike Davis and Havens in the first round.
Satin's Pac-10 baseball program recently was poised to be eliminated, but donors stepped forward and have come through with roughly $8 million of the $10 million needed to keep the program afloat for the next three years, according to Satin.
Jeff Kent is the program's most prestigious baseball product. Satin played with Tigers outfielder Brennan Boesch, Blue Jays right-hander Brandon Morrow, St. Cardinals outfielder Allen Craig and A's right-hander Tyson Ross while at Cal. Their success at the major league level gives Satin confidence he ultimately can succeed at the highest level, too.
"I still talk to all of those guys," Satin said. "I played with those guys for a couple of years and know exactly what they can do. I was the guy hitting third on the team."
Organization leaders
Average: Pedro Zapata, St. Lucie, .354; Cory Vaughn, Savannah, .349; Matt den Dekker, St. Lucie, .320; Josh Satin, Binghamton, .310; Kirk Nieuwenhuis, Buffalo, .306; Jefry Marte, St. Lucie, .302; Juan Lagares, St. Lucie, .293; Mike Fisher, Buffalo, .283; Robbie Shields, Savannah, .280; Wilmer Flores, St. Lucie, .277.
Homers: Brahiam Maldonado, Binghamton, 9; Aderlin Rodriguez, Savannah, 7; Kirk Nieuwenhuis, Buffalo, 6.
RBI: Wilmer Flores, St. Lucie, 26; Aderlin Rodriguez, Savannah, 25; Matt den Dekker, St. Lucie, 23; Sam Honeck, Savannah, 23; Brahiam Maldonado, Binghamton, 23.
Steals: Jordany Valdespin, Binghamton, 10; Pedro Zapata, St. Lucie, 9; Matt den Dekker, St. Lucie, 7; Cesar Puello, St. Lucie, 7; Robbie Shields, Savannah, 7.
ERA: Jeurys Familia, Binghamton, 1.25; Chris Schwinden, Buffalo, 1.69; Taylor Whitenton, Savannah, 2.35; Matt Harvey, St. Lucie, 2.61; Mark Cohoon, Binghamton, 2.74; Greg Peavey, Savannah, 3.00; Scott Moviel, St. Lucie, 3.02; Ryan Fraser, Savannah, 3.05; Brad Holt, Binghamton, 3.12; Erik Goeddel, Savannah, 3.16.
Wins: Matt Harvey, St. Lucie, 5; Scott Moviel, St. Lucie, 4.
Saves: Jeffrey Kaplan, St. Lucie, 8; Josh Edgin, Savannah, 6; John Lujan, Buffalo, 4; Ronny Morla, St. Lucie, 4.
Strikeouts: Jeurys Familia, Binghamton, 48; Matt Harvey, St. Lucie, 46; Darin Gorski, St. Lucie, 44; Greg Peavey, Savannah, 42; Chris Schwinden, Buffalo, 40.
Short hops
• First baseman/outfielder Lucas Duda (back) and corner infielder Zach Lutz (broken ring finger) remain sidelined with Buffalo. Duda is expected to begin light swings in a cage to see if his troublesome back will loosen. Wogan believes a weekend return to the lineup is possible. Duda (.241, 3 HR, 9 RBI, 83 AB) has not appeared in a game since May 8. Lutz, who broke the ring finger on his non-throwing hand when struck with a foul ball while already out with a hamstring injury, is currently back in Port St. Lucie. He was due to have the swollen finger drained to see if gripping a bat would be a hindrance.
• Nick Evans had a five-game hitting streak, during which he was 9-for-20 with four multi-hit games, before his promotion with David Wright landing on the disabled list. Because the out-of-options Evans was outrighted when he did not make the Mets out of spring training, he can declare free agency if the Mets again try to send him to the minors and he clears waivers. Evans should be a limited righty-hitting complement to Daniel Murphy at first base.
• The Mets added outfielder Bubba Bell and infielder Luis Figueroa to provide bodies to depleted Buffalo. Figueroa, 37, actually had a tour with the Mets in the minors before being sent to the Expos in the April 2002 trade that brought reliever Scott Strickland to New York. Wogan knew Figueroa from those Montreal days. He had been released from Milwaukee's Triple-A Nashville affiliate after hitting .296 with three RBIs in 41 at-bats. Wogan describes him as a hard worker who can play defense and will be a positive influence. Bell, 28, recently has been traded twice -- from Boston to Cleveland and then to the Mets. Bell was lost in a numbers game at Triple-A Columbus in the Indians organization, where he had appeared in only eight games. In his first start with Buffalo, Bell had a go-ahead two-run double in the eighth inning Sunday for a 4-3 win at Louisville. Figueroa is hitting .389 through five games with the Herd.
• Technically on a rehab assignment, Bobby Parnell allowed five inherited runners to score over a two-appearance stretch. In four relief appearances with the Bisons, he has allowed three runs -- including a homer to Yankees catching prospect Jesus Montero -- on four hits while striking out five and walking none in 3 2/3 innings. Terry Collins has indicated Parnell will remain with Buffalo until he demonstrates command of his upper-90s mph fastball. One observer said Parnell's slider has lacked bite, too.
• Jenrry Mejia underwent Tommy John surgery Monday. The recovery time is generally at least 12 months.
• Chin-lung Hu went through outright waivers while still on the Mets' active roster, so the team was able to send him to Buffalo after Monday's game without interruption. With Ruben Tejada's promotion, Hu joins Luis Hernandez and Figueroa as Buffalo's primary middle infielders.
• Right-hander Chris Schwinden has continued a remarkable string of performances with the Bisons that has even caught Mets staffers off-guard. An outing after taking a no-hit bid into the sixth inning, Schwinden tossed seven scoreless innings at Louisville on Monday. Schwinden's 1.82 ERA in seven starts ranks second in the International League, trailing only Durham's Alex Cobb (1.31 ERA).
• Ryota Igarashi returns to Triple-A, where the bullpen has been highlighted by left-hander Justin Hampson. The southpaw, who turns 31 next Tuesday, is 1-0 with a save and 2.04 ERA in 13 relief appearances spanning 17 2/3 innings. The success has come against left-handed and right-handed batters (.174 and .167 opponent batting average, respectively). Hampson pitched for the York Revolution and Long Island Ducks in the independent Atlantic League last season. He had undergone shoulder capsule surgery after appearing in 74 games for the San Diego Padres between 2007 and '08.
• Jeurys Familia justified a promotion from Class A St. Lucie to Binghamton. Familia was still registering 95-97 mph with his fastball in the seventh inning on Sunday at Trenton, when he limited the Yankees' Double-A affiliate to three hits, three walks and a hit batter in seven scoreless innings. Through two Eastern League starts, the 21-year-old right-hander has allowed two runs (one earned) in 14 innings, although he is still seeking his first B-Mets win. Familia also throws a hard curveball that resembles a slider and has made progress with a changeup.
• First baseman Allan Dykstra, the player acquired from the Padres late in spring training for reliever Eddie Kunz, delivered a game-winning homer Saturday and has raised his offensive game. Dykstra opened the season 1-for-13, but now has a .267 average with three homers and nine RBIs in 75 at-bats. He also has a .411 on-base percentage. Kunz is 1-0 with a 5.93 ERA at Double-A San Antonio. He has allowed 15 hits, 11 walks and hit three batters in 13 2/3 innings.
• The free-swinging Valdespin isn't walking much (eight times, once intentionally), but he's hitting his way on base at Binghamton. The shortstop is hitting .269 with two homers and 10 steals in 12 attempts in 35 games.
• Brad Holt had a brief flashback to his 2010 control woes with Binghamton. He walked four and threw two pitches to the backstop in a meltdown inning last Friday against Trenton. Holt, who had limited opponents to 10 walks through his first five starts, has walked another 10 in 7 1/3 innings over his past two appearances.
• Binghamton right-hander Edgar Ramirez received a 50-game suspension from Major League Baseball for testing positive for Methylhexaneamine, the commissioner's office announced.
• 2010 first-round pick Matt Harvey rebounded from his roughest professional outing (eight runs in 3 2/3 innings on May 10) by tossing five scoreless innings against Brevard County. Wogan indicated Harvey's next start again will be with St. Lucie.
• St. Lucie left fielder Juan Lagares homered three times in a doubleheader Sunday at Brevard County. An athletic player, the 22-year-old Lagares already was playing full-season minor league baseball at age 17 and battled through injuries early in his pro career.
• Havens, who has been tormented by oblique issues that led to surgery to remove an inch of a rib last offseason, has started swinging a bat while playing in extended spring training games. Wogan said Havens' current activity is akin to March spring training for other players.
• The Mets signed 21-year-old Dominican right-hander Luis Mateo for $150,000, Baseball America reported. He reportedly originally signed with the Giants in 2008 for $625,000, but the contract was voided over elbow concerns related to bone chips. The Padres, then operated by Sandy Alderson and Paul DePodesta, got involved. Writes Baseball America:
That November, the Padres agreed to a $300,000 deal with Mateo, though that contract also never became official. Major League Baseball's investigation into Mateo's background turned up "inconclusive," MLB's way of saying that it feels it lacks sufficient evidence to either confirm or reject the accuracy of a player's age and identity. MLB finally suspended Mateo in March 2010 for one year for lying about his age, and his date of birth changed from March 17, 1992, to March 22, 1990.
• Armando Rodriguez, who went 8-9 with a 3.08 ERA in 27 starts for Savannah last season, is pitching in extended spring training games. He had been out since the start of the season with a strained oblique.
• St. Lucie right-hander Kyle Allen, a 24th-round pick out of high school in Florida in 2008, drew compliments for attacking the strike zone in his most-recent outing. Allen, who had walked 18 in 23 2/3 innings over his first six appearances, tossed a season-high seven innings while allowing two hits and no walks Monday.
• Tobi Stoner returned from a shoulder impingement with mixed results for St. Lucie. He tossed five scoreless innings in his first Florida State League appearance, but followed that up by allowing eight runs on 10 hits in five innings Tuesday in his second start.
• 2010 New York-Penn League batting champ Darrell Ceciliani, who missed early time with Savannah with a hamstring injury, has started to heat up at the plate. Ceciliani has a six-game hitting streak and has lifted his average from .190 to .265 during that span. The spurt included a 5-for-5 performance Saturday at Rome. Teammate Cory Vaughn (eight-game hitting streak) also had a big week that has lifted his average to .349, which ranks ninth in the South Atlantic League.
Adam Rubin's farm report appears Wednesdays during the season